Honeymoons 2023/2024: Top destinations by weather
Find the best places to go on honeymoon with our special honeymoon weather finder. Get started by selecting your ideal weather and type of destination or world region. The results will display the finest honeymoon destinations that match your criteria, and when to visit them for wonderful weather.
Honeymoon weather finder
Looking for honeymoon ideas: Where to go on honeymoon for the best weather
Your honeymoon is that one special time when you get to choose somewhere truly indulgent and do exactly what you want, no apologies or explanations needed.
Be it far away, budget, close to home, lavish, or simply a once-in-a-lifetime journey, whatever your dream honeymoon destination, we are here to ensure you find it in 2023/2024.
The thing is, we know weather. We know when to avoid Hong Kong because it's a bit murky and you won't see the view from the Peak.
We know the secret to booking a Caribbean break in the hurricane season, and we know when the winds sweep down and can ruin any Greek island odyssey.
It's this knowledge that we want to share with you through our honeymoon weather finder, to ensure your precious time together is the very best it can be.
Are you planning your honeymoon? Call our honeymoon experts on 0844 243 9951.
Top 10 honeymoon destinations by month
To give you a little more inspiration, we have picked our top destinations for honeymoons based on the weather in each month of the year. These places have been chosen because they are either fabulous weatherwise, or - at best - fabulous weatherwise and offer something special for those on a romantic getaway.
Top 10 honeymoons in January
Western Europe and much of North America offer few places for a warm and sunny holiday in January.
Days are typically short and temperatures rarely hit double figures. The closer you edge towards the equator, the warmer and lighter conditions become - such as in the Caribbean or the Canaries - but really it's when you head east and into the southern hemisphere that things begin to perk up.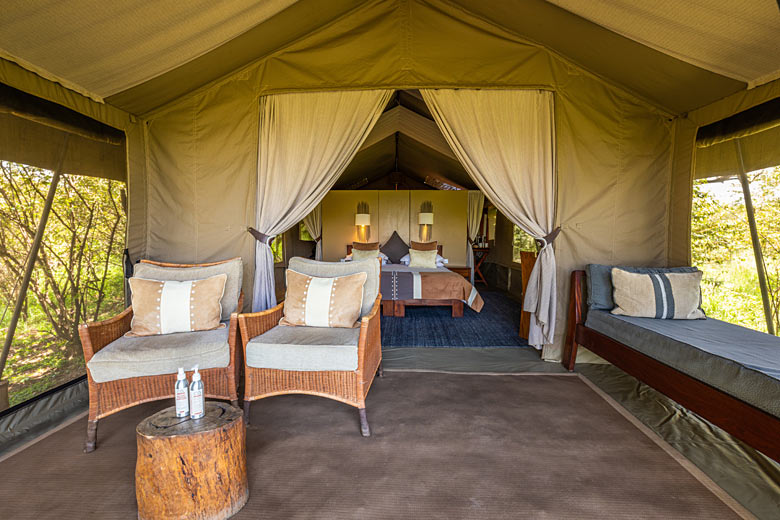 Below you'll find our list of places that offer everything from delightful weather - warm to hot, and sunny - as well as destinations ideal for honeymooning, such as Thailand with its tropical vibe and beautiful beaches, Kenya with its Big Five, and Buenos Aires, the cosmopolitan capital of Argentina.
Whatever type of honeymoon you're looking for in January, you're sure to find a memorable destination with great weather from the following selection.
More about weather in January >>

Top 10 honeymoons in February
Similar in many ways to January, February still calls for those after some exotic sunshine to travel further afield than Europe.
While the Canary Islands offer reliable sunshine and warm temperatures, it's the Caribbean, Indian Ocean and Southeast Asia among others that see the lion's share of wonderful holiday weather.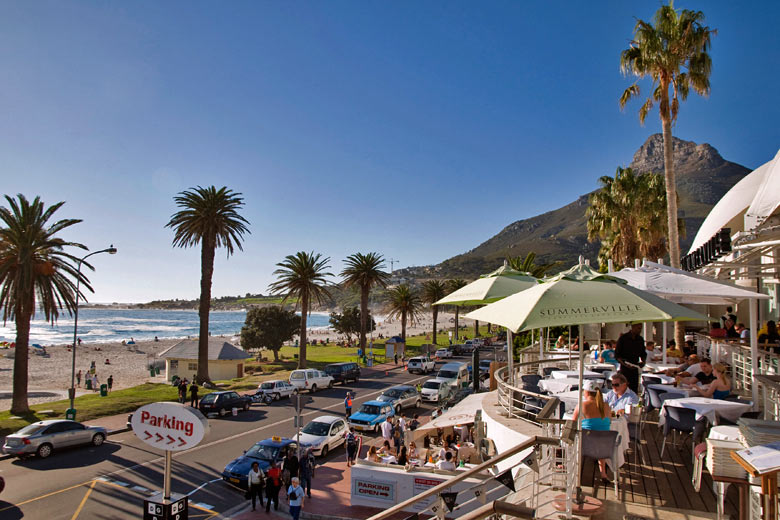 For a spot of jungle trekking, head to eco-heaven in Costa Rica, while Cape Town is a sophisticated city break destination with plenty of wineries to sample.
The Maldives and Barbados are just two of the wonderful beach options with warm water to boot, ideal for those after a laid back honeymoon in February. Use the search to find even more honeymoon destinations to suit your plans and perfect weather conditions.
More about weather in February >>

Top 10 honeymoons in March
While Europe thinks about emerging from its winter chrysalis, destinations across the Caribbean, Asia, and dotted around the Indian Ocean are still basking in sunshine, often lapped by warm waters perfect for swimming.
Closest to home in our pick of top honeymoon destinations for March has to be Marrakech, which - although not hot - is warm with lots of sunshine at this time.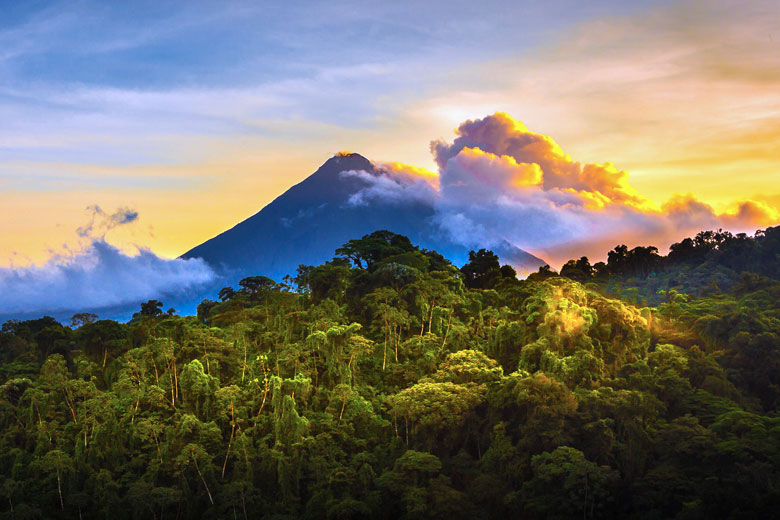 Looking further into the distance, places such as the Maldives remain a great option in March, while Miami comes into its own with increasing temperatures, Sri Lanka sees some of its finest weather of the year, and the Philippines makes for a true island escape.
Check out more honeymoon destinations for March below, or use the honeymoon search for an even more comprehensive list of places with great weather.
More about weather in March >>

Top 10 honeymoons in April
Shedding the last of its wintry coat, in April, Europe is doused in greenery, as new shoots burst, days start to feel longer, and lambs bounce happily in the fields. Temperatures begin climbing although it's still not quite warm or sunny enough for that dream honeymoon just yet.
Marrakech remains an enticing urban option close to home, while Los Angeles bathes in generous lashings of sunshine.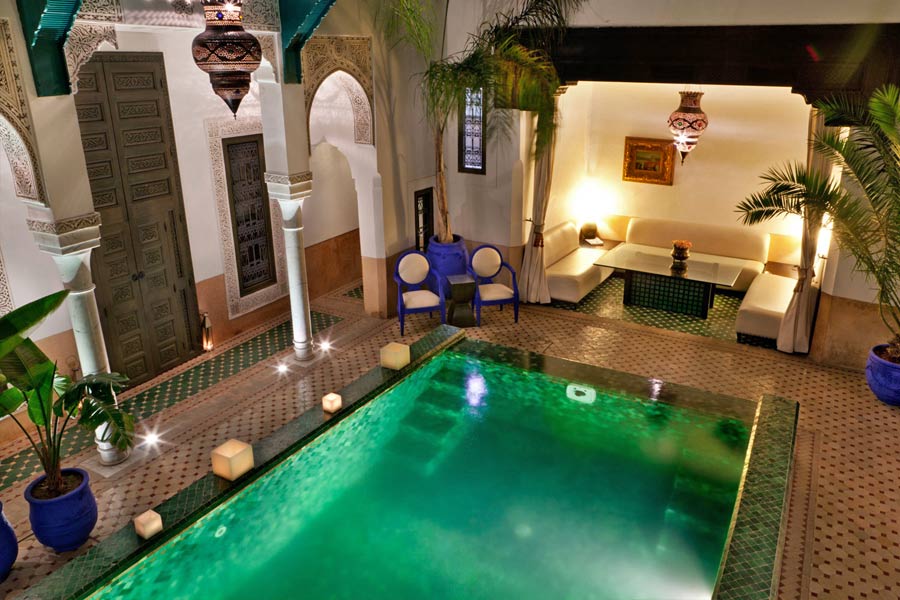 It's the Caribbean however, which offers some of the best, most honeymoon-worthy, weather anywhere in the world in April.
Palm-fringed islands across the region, from Jamaica to St Lucia, Anguilla to Barbados, see lots of sunshine and thoroughly pleasant temperatures - everything you could possibly wish for a honeymoon in April.
More about weather in April >>

Top 10 honeymoons in May
May traditionally kick starts the wedding season in the UK, which naturally sees a surge in people looking for idyllic honeymoon destinations.
It's also the first month of the year that is realistic for a warm and sunny break within Europe; head to the eastern Mediterranean for higher temperatures, while the Algarve offers plenty of sunshine.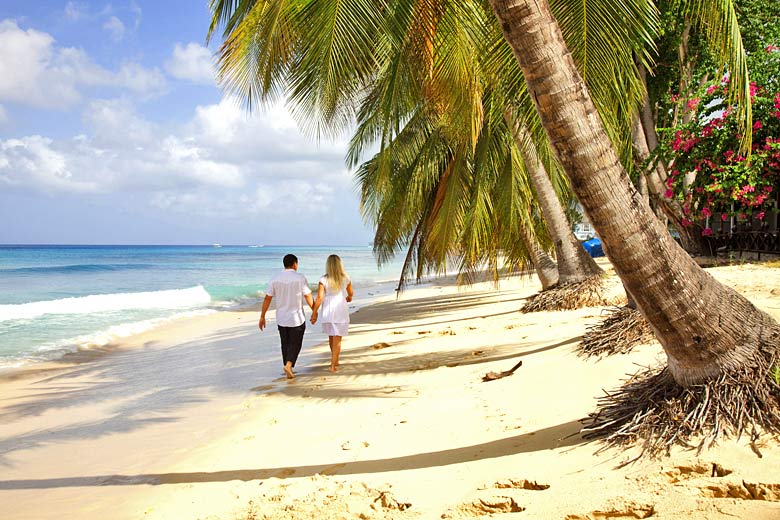 For truly a tropical experience, the luxurious shores of Bora Bora call, while Madagascar offers something different for wildlife lovers.
The Caribbean continues to be a wonderful region in May, sealing its reputation as dreamy destination for honeymooners. For even more honeymoon inspo, do give our honeymoon weather finder a whirl.
*Please note: owing to the destruction caused by Cyclone Idai, we recommend that you check carefully to see if travel to Mozambique is advisable in May.
Top 10 honeymoons in June
Hurrah! The first truly summery month in Europe has arrived, giving you plenty of options within a short flight of the UK.
For chic honeymoon destinations in the Med, you can play it cool in Ibiza or live it up in the Greek islands of Mykonos and Santorini where the sun shines brightly all day long.
Alternatively, make for a city break in Rome with all of its historic treasures and tasty trattorias.
For something a little different, Mozambique's white sand beaches and crystal water make for a memorable honeymoon, while Tanzania is the ideal 'two-in-one' destination with the chance to go on safari in the Serengeti and relax into island life on platinum Zanzibar.
If you're planning a honeymoon in June, you're really spoilt for choice with all sorts of destinations worldwide serving up fabulous weather.
*Please note: owing to the destruction caused by Cyclone Idai, we recommend that you check carefully to see if travel to Mozambique is advisable in June.
Top 10 honeymoons in July
Not only is the wedding season in full swing by July, but temperatures have heated up nicely across Europe.
As newlyweds prepare to jet off, the list of destinations is quite extensive, with places all over the Mediterranean offering sun, sea, cocktails and culture. The rugged Italian Riviera with colourful Cinque Terre is a huge draw while the French Riviera remains a classic thanks to destinations such as Nice and Cannes.
New York, with all of its sassy swagger, cool museums and endless eateries, is hot and sunny in July, as in the blissful island of Bali in Indonesia, which sees its best weather in July.
For an escape with a difference, the waves of Hawaii come crashing in under sunny skies.
To dig deeper, use our honeymoon weather finder to see just how many amazing places there are to go on honeymoon in July.
Top 10 honeymoons in August
The beauty of August is that many places in Europe benefit from the heat of previous months.
The long, hot days of July ensure many destinations - and their sea temperatures - are truly warmed up by August, making beach resorts across Europe warmer than at any other point in the year so far.
The Italian Lakes is a good example, as is the Canaries, and Corfu among other Greek islands.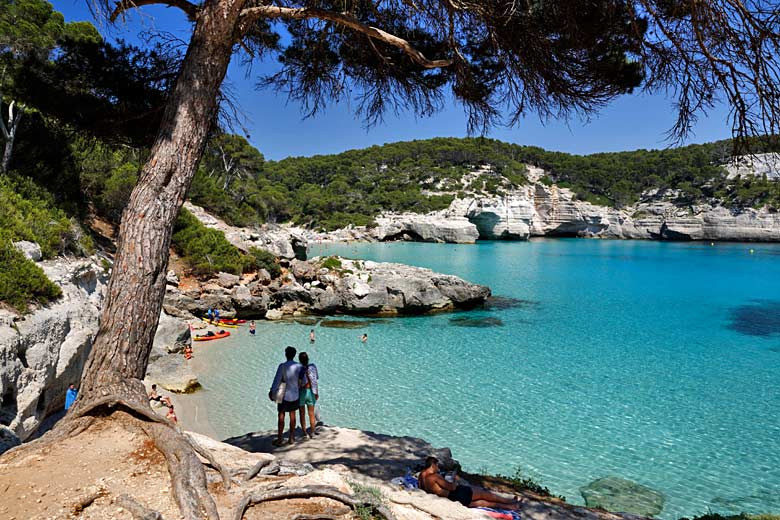 For honeymooners keen to discover far flung shores, Bali continues to offer incredible conditions as well as affordable luxury and pampering, while the Bahamas is hot, sunny, and ideal for water sports such as snorkelling or diving.
Namibia meanwhile, is an alternative destination with great rewards for those looking to explore the national parks and see record breaking sand dunes.
More about weather in August >>

Top 10 honeymoons in September
Banishing busy beaches and the surge of summer crowds, September is arguably one of the best times to take your honeymoon as resorts quieten down, prices become more competitive once more, and the weather is still really good in Europe. The Algarve, Barcelona, Ibiza, Malta, Sicily and Istanbul are all excellent options with fabulous weather, each offering something a little different from east to west.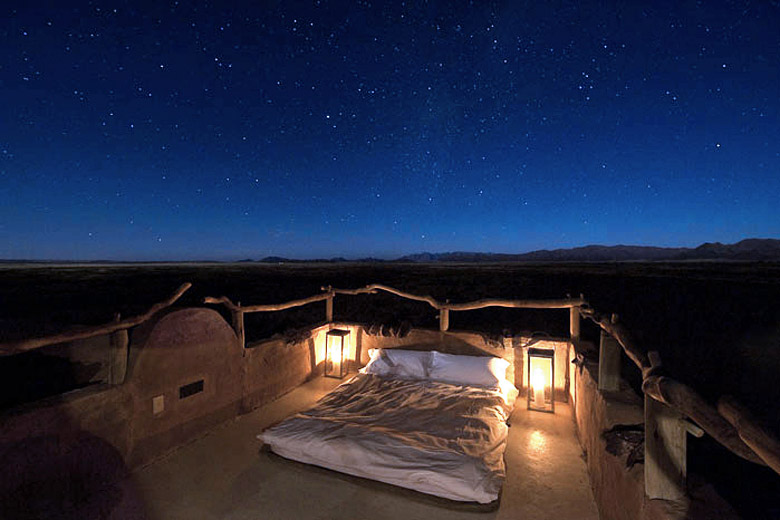 Looking westwards to the USA, Las Vegas and San Francisco are two contrasting city break destinations with hot and sunny weather - Las Vegas more so - in September.
Although we've highlighted our favourites below, if you're still looking, do try our honeymoon weather finder for somewhere to go on honeymoon in September.
More about weather in September >>

Top 10 honeymoons in October
October is an exciting time - you can sense the shift in the air as summer moves into autumn and other destinations burst into life after their southern hemisphere winter or monsoon season.
Cyprus is your best viable option in the Med, while striking Oman has both city and beach destinations to choose from.
If you crave a combo of history, culture, camel riding, and hot weather, then Rajasthan is the dish for you.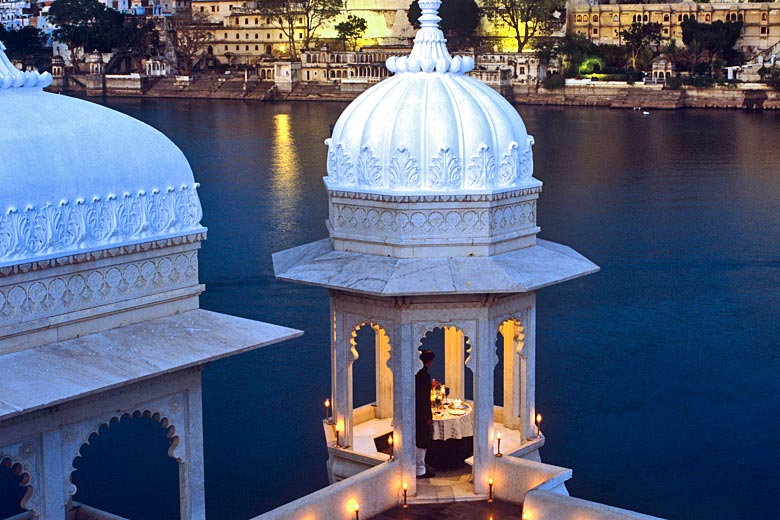 For some, however, a honeymoon means one thing and only thing only: a glorious beach holiday with plenty of sun, sea, sand, and champers.
Step forward the Seychelles with its delicious selection of luxury resorts, or try Cape Verde for a slice of the all inclusive pie topped with plenty of sun and high temperatures.
Remember to use our honeymoon weather finder to help you discover the perfect place to go for your honeymoon in October 2023/2024.
More about weather in October >>

Top 10 honeymoons in November
Well and truly past any lingering summery temperatures, if you're honeymooning in November and fancy hot and sunny weather, you'll be hopping on a medium to long haul flight.
Dubai is mighty fine in November, post the furnace-like temperatures of summer; it's really very pleasant with lots of sunshine and high temperatures in abundance.
The same goes for Oman, with Muscat making for a wonderful city break, especially if combined with a holiday to Dubai.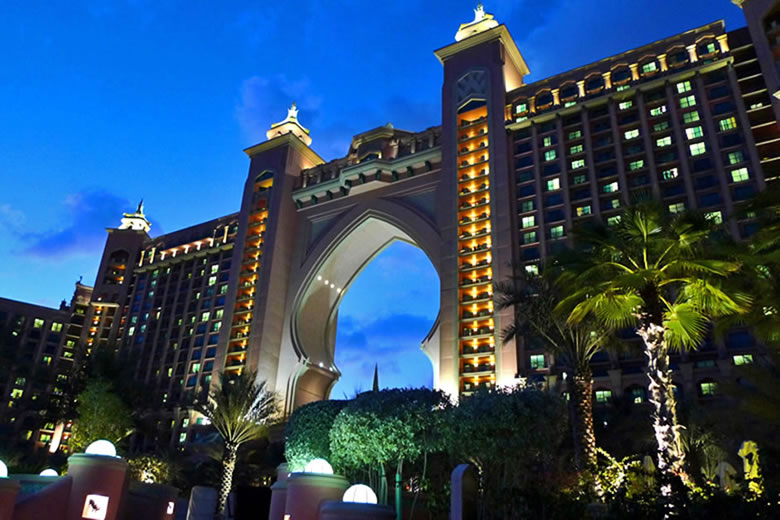 Beach lovers will want to look towards Mauritius, while adventure seekers will find Bhutan, Ethiopia, and Myanmar beautiful at this time of year.
Hong Kong is another exciting option - let this intoxicating city draw you in and sample everything it has to offer with sunny days and warm temperatures.
More about weather in November >>

Top 10 honeymoons in December
Perhaps the only thing better about taking a smug break to warmer climes in December is when it's your honeymoon.
Add all the love and romance to the joy of escaping dipping temperatures at home, and you have the recipe for a memorable seasonal escape.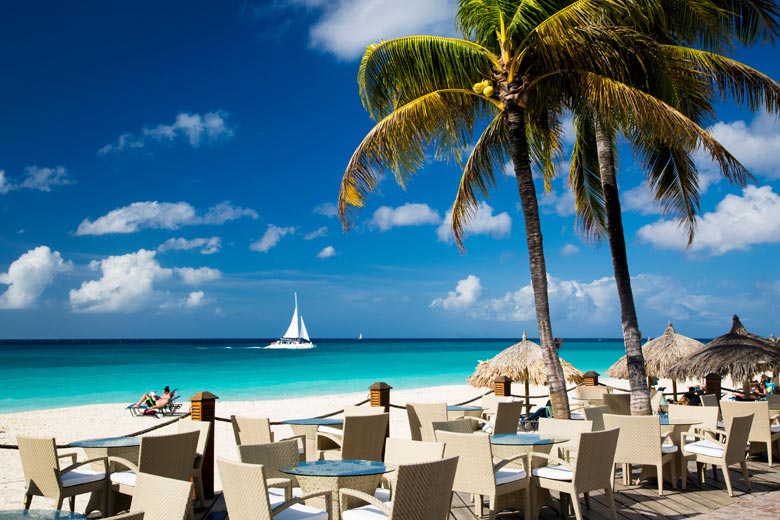 Take yourselves around the world to Australia for some warm snorkelling at the Great Barrier Reef, or stop in Goa for some feet-up, drink-in-hand sunbathing.
Cambodia offers a cultural injection with UNESCO sites to explore, while Aruba is the destination of choice in the Caribbean.
More about weather in December >>

Popular honeymoon destinations 2023/2024
Think honeymoons and you're most likely dreaming of palm trees, soft white beaches, and sparkling warm water with plenty of cocktails and fizz to hand.
While many places around the globe offer exciting and adventurous options, there are a select few destinations that simply scream 'honeymoon' and naturally sit at the top of many people's travel bucket list.
Read on to find out more about some of the world's most tempting honeymoon destinations plus when to go for the best weather, and to see which companies could get you there for less than you might expect.
Are you planning your honeymoon? Call our honeymoon experts on 0844 243 9951.
Hawaii, USA
The Polynesian archipelago of Hawaii is a blissful escape for those on honeymoon. Full of character and immensely diverse, it's the perfect place to do as much or as little as you like.
If you want luxurious digs with nonstop service, you can choose from a wide range of beachfront hotels well equipped with spas, swimming pools and restaurants.
Hilton*, Sheraton* and Marriott* are just three well-known names that make for wonderful honeymoon resorts in Hawaii.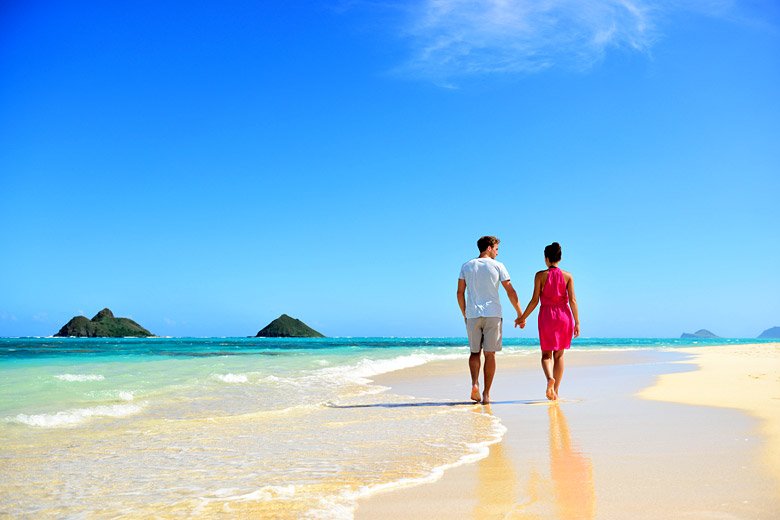 If however, you're after something a little more adventurous, or just fancy planning a day trip or two, the good news is that there's so much to see and do on honeymoon in Hawaii.
Thrill seekers will want to hit Hawaii's famed waves, which make it a surfer's paradise, while wildlife lovers will want to go whale watching or embark on a memorable night snorkel to see manta rays.
For more land based activities, you could always hike up one of the region's impressive active volcanos, visit the memorial at Pearl Harbor or take a trip to any of the eight main islands.
More about the weather in Hawaii >>

Mauritius
Blending rugged landscape with clear shallow waters and soft sandy beaches, Mauritius is a truly romantic destination for honeymooners. Emerging from the depths of the Indian Ocean, the volcanic island of Mauritius is excellent for snorkelling and diving, as well as dolphin and whale watching.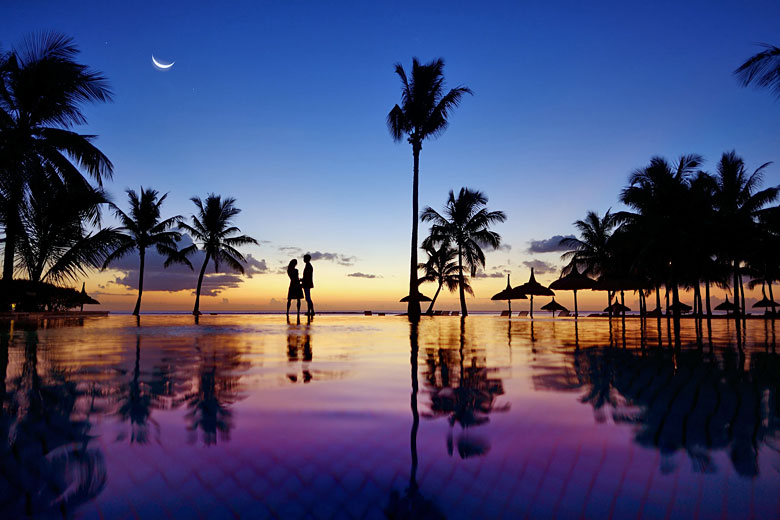 Take a boat trip for a memorable evening's sunset at sea, indulge in a couple's massage on the beach, or pay a visit to Black River Gorges for some incredible hiking. See some of the world's most fascinating creatures at La Vanille Nature Park, home to giant tortoises, crocodiles, and the Fossil Museum.
Here, you can discover everything about the dodo, which called this island home. Holiday companies such as Letsgo2* offer great value honeymoons while First Choice and Mercury Holidays also offer luxury breaks to Mauritius.
Read more: Explore the natural wonders of Mauritius
More about the weather in Mauritius >>

Seychelles
The Seychelles remains a pretty exclusive destination, typically the preserve of the well-heeled and deep-pocketed.
It's no accident that the large archipelago, which sits around 1,100 miles north of Mauritius in the Indian Ocean, is an expensive destination: the nation prides itself on its sustainable tourism, which keeps cost and - more importantly - standards high.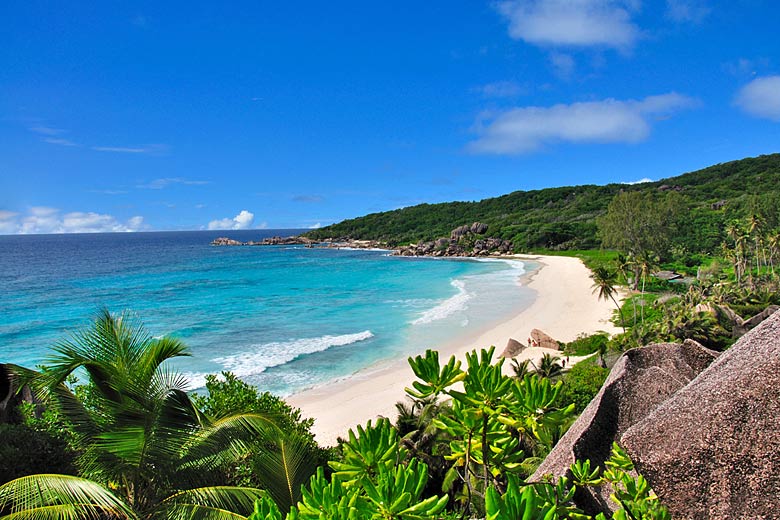 This means that any honeymoon to the Seychelles is sure to be a special one, with simply exceptional eco-accommodation on offer plus natural highlights such as the giant tortoise, native orchids not found anywhere else, and large seabird colonies.
The Seychelles also has some of the most iconic beaches thanks to its smooth granite boulders, with warm water making it a superb place to snorkel and dive.
Of course, you could simply sit back and soak up the sun to truly relax on your honeymoon in the Seychelles.
Check out honeymoon deals from Letsgo2* and The Holiday Place for multiple ways to experience the Seychelles.
More about the weather in the Seychelles >>

Did you know: it's no coincidence that the majority of these popular honeymoon destinations are in the tropics, where the climate is hot and sunny year round. Just remember, it's not all about the temperatures; also check when the wet and dry seasons are.
Maldives
Ah, the Maldives. Is there a more idyllic destination out there? Thanks to its platinum beaches, palm trees, abundance of marine life, and choice of exquisite resorts, possibly not.
The Maldives is a real honeymoon hot spot, with lovers often choosing this chain of remote Indian ocean atolls on which to recline, relax and seek out some serious R&R.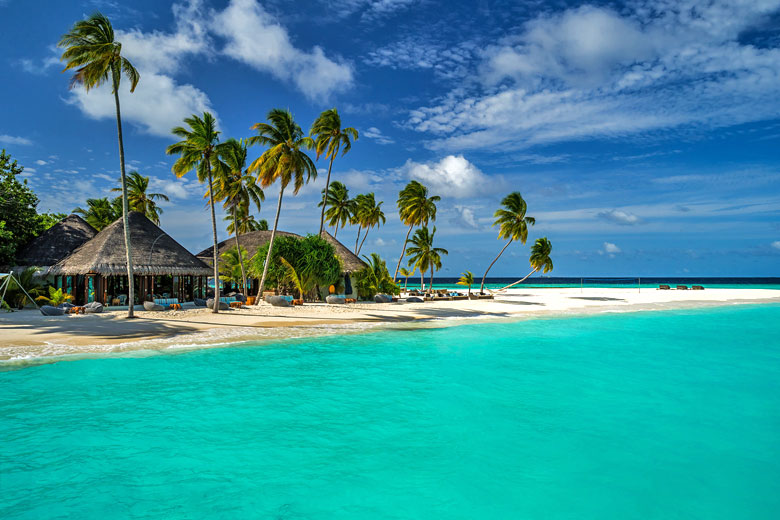 Given the nature of the landscape in the Maldives, once you arrive on your specific atoll, you're likely to remain for the majority of your trip unless you fancy forking out for frequent plane rides.
There are, of course, boat trips, water sports aplenty, and excursions, but really, a honeymoon in the Maldives is all about putting your feet up, taking in the scene and chilling out. British Airways, Teletext Holidays* and TUI are your go-to companies for the best deals on holidays to this exotic enclave.
More about the weather in the Maldives >>

Cancun & the Caribbean coast, Mexico
Mexico's Caribbean coast is one of the more affordable and easily accessible options for a romantic escape.
Offering all of the charm and beauty of the Caribbean, resorts such as Cancun and Playa del Carmen are well served by airlines and holiday companies direct from the UK, making it a real winner in terms of the time it takes to travel there and for finding competitive deals.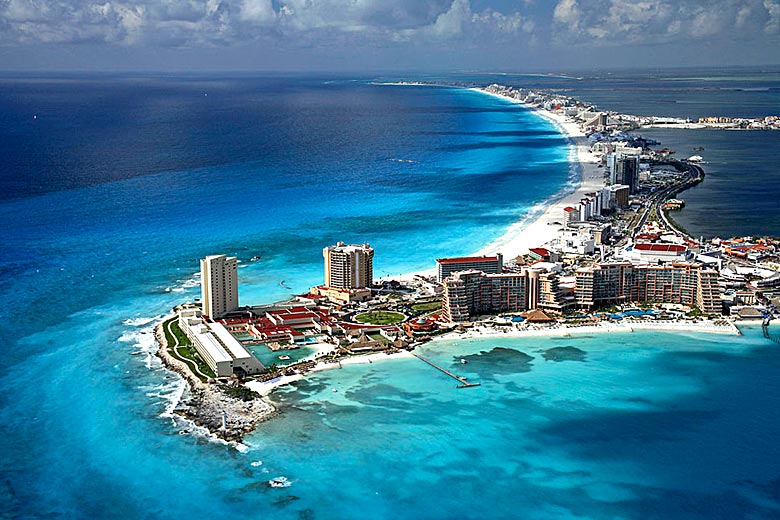 The biggest names in hotels are sprinkled along this glorious stretch of turquoise coast, with the likes of Marriott Hotels & Resorts*, Melia Hotels & Resorts* and Hilton Hotels all offering sophisticated accommodation and top notch service.
You can also check out On the Beach and Love Holidays for a multitude of deals on everything from budget-friendly to all inclusive breaks.
As for things to do on honeymoon in and around Cancun, choose from exciting water sports like diving and snorkelling, while day trips provide endless opportunities to discover more about this part of Mexico.
Head to the Mayan ruins of Tulum, swim under the stalactites of the Rio Secreto Nature Reserve, or whizz through the treetops on North America's longest zipline - all fantastic things to do while on honeymoon in Mexico.
Read more: A beginner's guide to Mexico's Caribbean coast & Cancun & the Riviera Maya
More about the weather in Mexico >>

Bora Bora, French Polynesia
Giving the Maldives a run for its money in the 'paradise island' stakes, Bora Bora is the quintessential honeymoon destination: think private villas hovering over incredibly clear waters surrounded by dramatic scenery with little to do except totally zone out and give in to all of the luxuries - plentiful supplies of each can be found at resorts from InterContinental*, Conrad*, and Starwood Hotels* in Bora Bora.
This remote island in the South Pacific is the place to come for an unforgettable and totally indulgent escape.
Spend your time bobbing about in the beautiful ocean, book spa treatment after spa treatment, and sample the freshest seafood around.
Given its location, Bora Bora is not one for the budget honeymooners; it's awkward to get to and resorts are pricey, but the weather is wonderful (especially in the dry season) and the promise of a honeymoon you'll treasure makes it all worthwhile.
More about the weather in Bora Bora >>

Caribbean
Much like Mexico's Caribbean coastline, the Caribbean offers an eclectic mix of destinations which are both easy to get to and competitively priced.
Whether you want unwavering five-star luxury, or you're after something at more of a two-to-three star level, the good news is that there's something for everyone on honeymoon in the Caribbean - your only real issue is deciding where to go.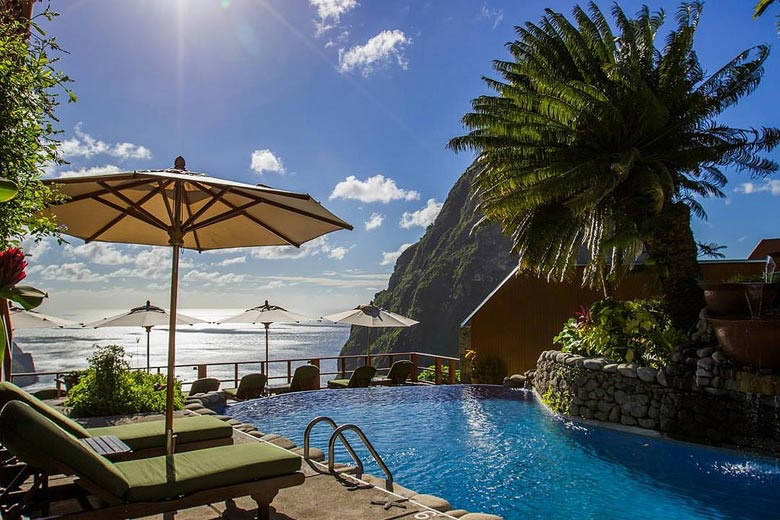 Sophisticated St Lucia is home to some of the region's most exclusive resorts, while Jamaica is full of colour and character, not to mention fiery jerk chicken. Barbados is another great option guaranteeing plenty of beach time and water sports, while Antigua knows how to throw a good party (don't miss the Sunday night showdown at Shirley Heights).
Meanwhile, the southerly Dutch island of Aruba enjoys drier weather than many of its Caribbean neighbours to the north and east.
High end all inclusive giant Sandals delivers serious opulence for honeymooners in Jamaica, Bahamas, Antigua, St Lucia, Grenada, Barbados and more. For some peace and privacy, opt for one of Sandals' signature Love Nest*® suites.
Read more: Which Caribbean island is right for you? plus many more travel blogs on the Caribbean
More about the weather in the Caribbean >>

Did you know: Many of these destinations can be affected by tropical storms during the warmer wet season, so if you're thinking of going at this time check out our guide to tropical storms to see what the chances are of encountering one
Bali, Indonesia
Beautiful Bali - a haven for backpackers, luxury lovers, adventure seekers and sunbathers alike, not to mention home to some truly exceptional weather. If you're looking for a long haul honeymoon in a place that's easy going, hassle free, and great value to boot, then Bali is a sensational option.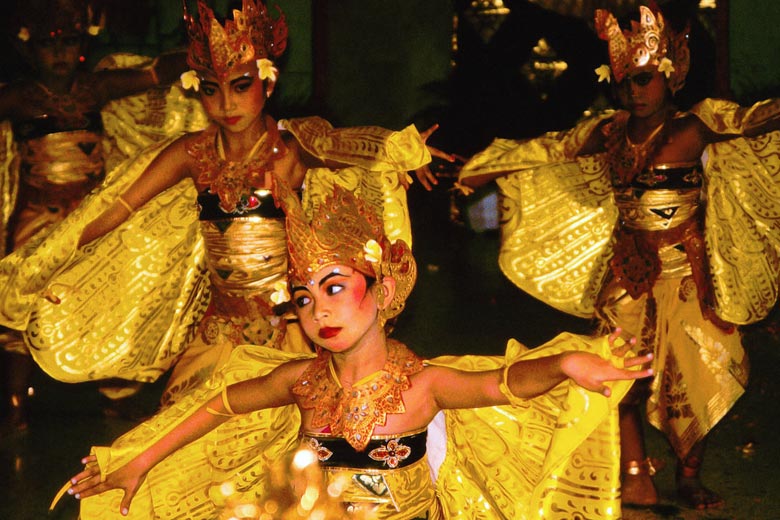 Everything from simple beach huts to ultra chic air-conditioned suites can be found in Bali, and the holistic spa and yoga options are endless.
Foodies will rejoice at the variety of seafood and noodle dishes, while those missing a taste of home won't struggle to find European favourites.
Whether you go for the beaches and snorkelling, the rich cultural experience, or to see the iconic rice paddy fields for yourself, Bali is a great destination for honeymooners.
Mercury Holidays and Pacific Holidays* share deals on fabulous places to stay when you visit Indonesia's hippest holiday island.
More about the weather in Bali >>

Read more: Bali's best spas & Tips for visiting Sacred Monkey Forest, Bali
Deciding where to go on your honeymoon can be tricky: there's a certain pressure to find the 'perfect' place that has fantastic weather and is affordable yet a little more luxurious than you might normally go for.
Our honeymoon finder has been specially created to help you find a destination that ticks as many of your boxes as possible based on the type of weather you want, how far you'd like to travel and what sort of vibe you're after.
For even more inspiration, you can always check out our travel blog, while our deals and discounts section will show you the latest online offers from leading airlines, holiday companies, hotel providers and more.
Are you planning your honeymoon? Call our honeymoon experts on 0844 243 9951 for help with planning and booking your perfect honeymoon.
Be inspired
Get your weekly fix of holiday inspiration from some of the world's best travel writers plus save on your next trip with the latest exclusive offers
We promise not to share your details
Explore holidays in the sun for less