Summer sun holiday destinations
If we're honest, summer is where it's at when it comes to planning a holiday. Here, you'll find tips and tools to help you decide where to go from our pick of the best destinations by month to our summer holiday destination finder, where you can enter your preferred weather and type of destination to browse the results.
Did you know? The northern hemisphere's summer runs from June to August, while the southern hemisphere's summer is between December and February. Our finder is based on the northern hemisphere's summer season.
Summer holiday destination finder
Our bespoke summer holiday finder, above, lets you search for destinations based on your preferred weather, how far you want to travel and what sort of holiday you're looking for.
Best summer sun destinations by month
Deciding where to go can be a real head-scratcher, which is why using the weather as a critical factor is an excellent way of narrowing down your search. Even then, creating a list of finalists is tricky - trust us, we know!
We've paired our detailed weather data and expert knowledge of destinations to create an eclectic selection of places for June, July and August that promises to offer something for everyone.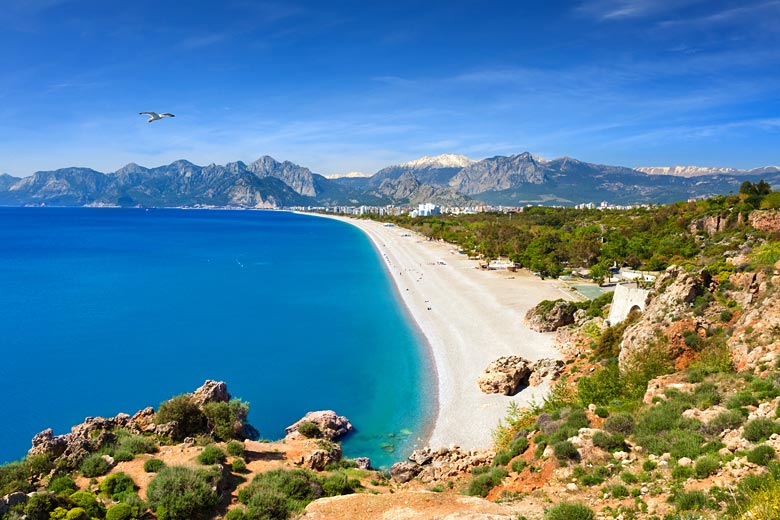 The one thing you can count on is sunshine! Every place listed offers an average of at least six hours of sunshine per day, if not more.
Top summer holidays in June 2023/2024
Sandwiched between the half term and summer breaks, June is a popular month for going away with those looking to avoid the busier season ahead.
The good news is that the weather is really starting to warm up in destinations across Europe and the Med although it's not yet too hot.
In fact, Antalya in Turkey is arguably at its finest in June, along with other eastern-Mediterranean lying destinations such as Cyprus and Rhodes in Greece, which sees a whopping 13 hours of sunshine each day, although the water is a touch warmer for swimming in Cyprus and Turkey.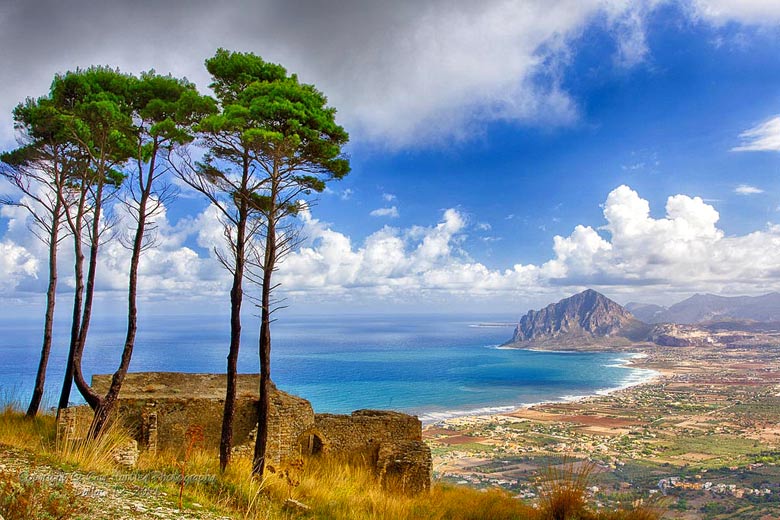 Sticking with the Med, Sicily, with its fascinating history, beautiful beaches and unrivalled cuisine, is another tempting option with plenty of sunshine, much like nearby Malta and the eastern coast of Tunisia.
Theme park capital Orlando features for its high temperatures, things are undoubtedly hot (and quite humid) in June.
If you're chasing the sun somewhere that has plenty to do for all ages, then this city in the heart of the Sunshine State is for you, just book yourself accommodation with a pool!
Meanwhile, for a destination with a difference and exceptional weather, try the ancient city of Evora in the Alentejo region of Portugal.
Visit Roman ruins, explore pretty winding streets, pop into the eerie Chapel of Bones, and soak up the hot conditions. Evora also makes a wonderful base for visiting the region's scenic towns and increasingly popular vineyards.
Top summer holidays in July 2023/2024
July is the quintessential summer month when thousands of couples, families and groups flock to Europe, the Med and further afield for some much-needed sun-drenched R&R.
A quick glance at our top 10 for July reveals why Spain is so enduringly popular; put simply, destinations across the country, including the Canaries and Balearics, enjoy some of the very best weather at this time.
Both the Costa Blanca and Costa del Sol (no misnomer) are hot, hot, hot in July, not to mention well-equipped with resorts for every budget. In particular, Costa Blanca (and the Balearics) benefits from warm sea temperatures, the best in Spain at this time.
For a taste of island life, the White Isle and Gran Canaria are hard to beat; go to Ibiza for the pine-clad, orchard-covered interior and beach resorts, and Gran Canaria for slightly fresher conditions but equally good facilities and captivating landscape.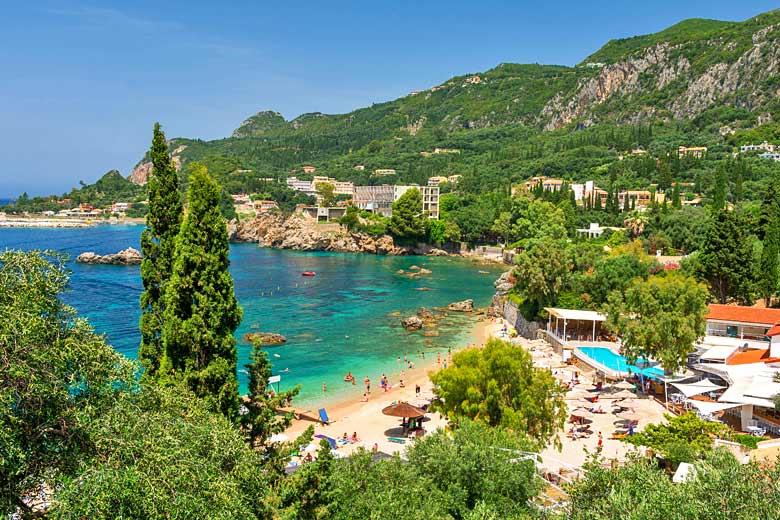 The eternally popular Greek island of Corfu puts its best foot forward in July, which is why it takes the top spot. With 12 hours of sunshine each day, high temperatures and stunning scenery with something for everyone, it's a seasonal go-to for summer-holidayers.
Did you know? Although summers are hot and dry in Corfu, statistically speaking, it is the wettest of the Greek islands.
In fact, this beloved destination experiences more than double the rainfall of southern England in a typical year. The result? Beautifully verdant countryside that sets it apart from other places in Greece.
If you're looking beyond the Med, there are two stand-out destinations that both offer long, sunny days without things being too oppressively hot.
For exotic beach babes, there's Bali, while slick city breakers with an eye on museums, shopping and outdoor pursuits should head to Los Angeles.
Top summer holidays in August 2023/2024
August fits the summer bill in much the same way as July. Many destinations reach peak temperature at this time, and seawater is undoubtedly at its warmest in our top Mediterranean picks, having slowly heated up over the preceding months.
Again, for the same reasons as July, Bali finds itself first in our top 10 for August. Temperatures are hot but not uncomfortably so, as the heat and humidity is manageable, and the wide-open beaches are as tempting as ever.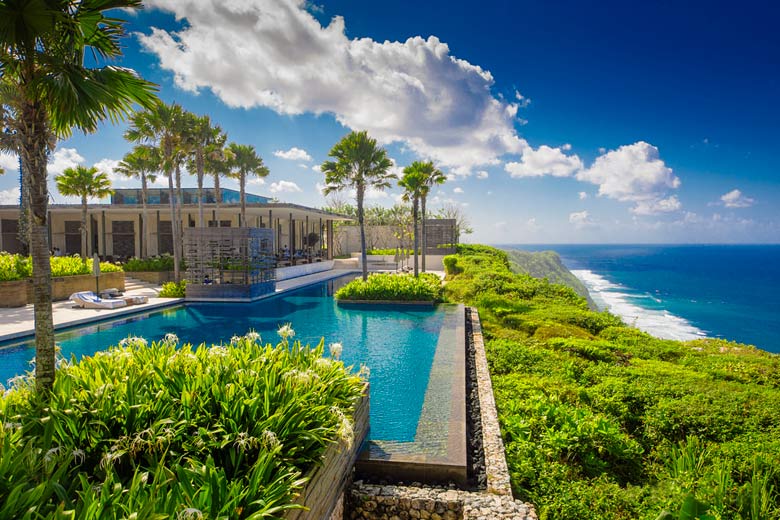 As you can see, Iberia and the Spanish isles remain highly desirable in August. The aptly-named Costa del Sol is hot and sunny throughout the month, and when you consider the vast array of facilities and activities available at the various resorts doting this stretch of southern Spain, you can see why it's an easy win for many holidaymakers.
Not everyone wants it hot, however, and if you prefer things more warm and sunny with a refreshing breeze, the Algarve might be more to your liking.
Days are still delightful, it's just that temperatures on land and in the sea are influenced by the Atlantic Ocean, which keeps the water a few degrees cooler than in the Med, and the air temperature that little bit fresher.
Croatia makes a worthy appearance in our top 10 for its glorious weather and quite simply stunning selection of beaches, attractions and landscapes.
Whether you're after a relaxing break by the pool, want to dive into the country's heritage or tuck into fresh seafood and local wine, Croatia has it all.
The Venetian-like town of Split on the Dalmatian Coast is a wonderful place to start your adventure, and where you'll enjoy plenty of sunshine and high temperatures in August.
France needs no upselling with the Brits. It has long been one of our most reliable and visited summer holiday destinations thanks to its proximity, accessibility and good weather.
The northwest region of Brittany continues to be a big hit thanks to its beaches, medieval towns, and exceptional cider, not to mention thoroughly pleasant conditions in August.
Whether you're seeking golden shores lapped by warm water or looking to dive into the sights, sounds and scents of one of the world's most enchanting cities, hopefully, our pick of the top 10 destinations based on the weather by month and our summer holiday finder have given you some food for thought.
Ready to book? Don't miss our selection of travel deals and discounts on winter sun holidays from the biggest and best names in the business. Search and book holidays, flights, hotels, car hire and so much more.
More holiday inspiration
Be inspired
Get your weekly fix of holiday inspiration from some of the world's best travel writers plus save on your next trip with the latest exclusive offers
We promise not to share your details
Explore holidays in the sun for less