TUI unveils summer 2025 holidays
Leading holiday provider TUI* has unveiled a number of holidays for summer 2025* including new all inclusive hotels and increased kids' places.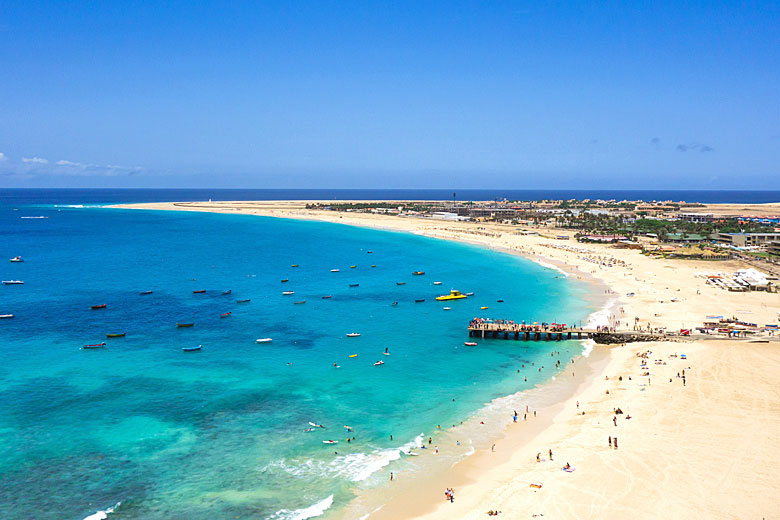 The holiday company has announced new three- and four-star all-inclusive TUI Suneo* hotels in Fuerteventura, Majorca, Rhodes, Spain, Cape Verde and Italy.
In addition, TUI will return to Porto Santo via weekly flights from London Gatwick.
TUI UK & Ireland Commercial Director Phillip Iveson said: "Our independent agent partners are vital to us, so it is great to be able to offer them these great value options for their customers including our free kids' places for summer 2025.
"Our TUI Suneo resorts are showing a 20% year on year increase in popularity, something we expect to continue with travellers looking for best value breaks.
"The range of both destinations and product is the best we have ever had and I'm confident whatever kind of trip customers are looking for they'll find it with TUI."
Ready to book your next holiday? Check out the latest offers with TUI today.
TUI to offer Antalya to British holidaymakers all year round
TUI has said it will increase capacity to the Turkish region by 30% for winter 2023/2024.
This increase will ensure British holidaymakers can make the most of Antalya* all year round.
"TUI Group CEO Sebastian Ebel said: "The demand for holidays goes far beyond the classic summer travel season. This is true for many countries in the western and eastern Mediterranean. Customers want a high degree of flexibility.
"In addition to the classic trips in high summer, there are an increasing number of customers who spend the winter in the south or travel to the holiday regions for sports and cultural activities in spring and autumn. Many regions have prepared well for the longer season and are launching joint initiatives with TUI."
TUI puts winter sun 2024 on sale including Egypt & Senegal
TUI has released its winter 2024/2025 programme with extra capacity added to resorts in Egypt* and a commitment to reinstate holidays to Senegal* too.
There will be increased flights to the Red Sea resorts of Marsa Alam*, Sharm el Sheikh* and Hurghada* as well as a brand new river cruise on the Nile*, with packages departing from London Gatwick and Manchester from November 2024.
TUI has also said it will recommence flights to Dakar in Senegal* from London Gatwick from 7 October 2024. Sticking with the west coast of Africa, Cape Verde* also remains a major destination along with resorts across the Caribbean* and, to the east, Thailand*.
Richard Sofer, TUI UK Commercial Director, said: "With exclusive direct flying in North and West Africa, exciting new additions in Egypt and a multitude of beach and city hotels available from the Canaries to the Caribbean, Lapland to Iceland, travelling from 22 regional airports; whatever kind of getaway customers are after, they'll find it with TUI."
TUI puts winter 2024/2025 tours to Lapland on sale early
TUI has put tours to Lapland* in Finland* for winter 2024/2025 on sale earlier than ever owing to demand.
Travellers can choose between three or four-night escapes to Kittila, Rovaniemi, Ivalo and Kuusamo between 1 December 2024 to 2 January 2025.
Flights will depart from seven regional airports: Gatwick, Birmingham, East Midlands, Newcastle, Bristol, Glasgow and Manchester.
Richard Sofer, Business Development and Commercial Director said: "Lapland has always been an important destination for TUI, and even more so because we know how much this magical destination means to our customers.
"We like to make dreams such as seeing the Northern Lights, meeting Santa in his home, and husky sleigh-riding in the snow, become a reality, and ensure that families make memories that will last a lifetime."
TUI expands collection of Green & Fair accommodation by 50%
TUI has expanded its portfolio is certified Green & Fair properties by 50% to reach nearly 1,000.
The collection showcases hotels and accommodation that meet strict sustainability criteria set by the Global Sustainable Tourism Council (GSTC).
Richard Sofer, Commercial Director at TUI, said: "We know making sustainable choices is becoming more and more important to our customers and we launched our Green & Fair label to make it easy for them to see which hotels offer the best sustainable options.
"We're delighted so many more of our hotel partners have now been certified as meeting the robust GSTC criteria and are proud to label them Green & Fair."
TUI adds extra holidays to Marsa Alam for winter 2023/2024
TUI has expanded its offering to the Red Sea resort of Marsa Alam* in Egypt* with more holidays on sale now.
Twice-weekly flights from London Gatwick to the Egyptian winter sun favourite are available to book with accommodation from 1 November 2023.
TUI's UK Commercial Director Richard Sofer said: "We're extremely excited to start taking guests to Marsa Alam.
"Egypt is an incredible holiday destination and great value, and I'm thrilled that we're now able to give visitors the opportunity to discover a whole new region of the country.
"Our charter flights will be departing from Gatwick twice a week, giving travellers plenty of opportunity to jet across the globe and make memories that will last a lifetime."
TUI releases summer 2024 holidays to Europe, USA & more
TUI has launched its summer 2024 holiday programme* with plenty of time for people to book an affordable holiday now.
Destinations that can be booked for summer 2024 include European favourites such as Greece*, Turkey*, mainland Spain*, the Balearic* and Canary Islands*, as well as those in North America such as Florida* and the Caribbean* (Cancun, Dominican Republic and Jamaica).
Aware of the current financial challenges faced by many, TUI has a number of options to make booking a holiday ahead of time as affordable and manageable as possible.
From £0 deposit holidays with direct debit* to thousands of free kids' places* and the TUI Flex* promise, there's never been a better time to lock in a future break at a great price today.
TUI launches Green & Fair sustainable certification for hotels
Leading holiday provider, TUI* has revealed its new Green & Fair label that will showcase hotels certified as sustainable according to the strict criteria set by the Global Sustainable Tourism Council (GSTC).
Following a third-party assessment, TUI will award the Green & Fair mark to any hotel in its portfolio that is considered to be sustainable according to the GSTC.
The criteria set by the GTSC is an international benchmark for sustainability focused on the four principles of sustainable management, environmental protection, social and economic support of the local community, and recognising and promoting cultural heritage.
There are currently more than 650 hotels now on sale with the Green & Fair stamp in places such as Las Vegas, Cancun, Cyprus and Majorca.
What's more, whenever a customer books a Green & Fair certified hotel, TUI will donate £1 per adult and 50p per child to the TUI Care Foundation.
Commercial Director at TUI UK and Ireland, Richard Sofer, said: "We're proud to be launching our Green & Fair Hotels label, making it easier for customers to recognise which hotels offer a more sustainable option.
"Research shows that consumers want brands to offer more eco-friendly options, but they want this to be as straightforward as possible, so we want our customers to know that we are taking care of it behind the scenes."
Ready to book your next holiday? Check out the latest offers with TUI today.
TUI Flex offers fee-free changes for passengers
TUI has relaunched TUI Flex*, giving holidaymakers the chance to purchase added peace of mind with their next break.
When customers add TUI Flex to their booking, they can relax with the knowledge that they can make selected changes for up to 28 days before departure without paying any fees.
These selected changes include the opportunity to alter the date, destination or hotel, fee-free. What's more, travellers can change passenger names or a get refund if they can no longer travel, minus the cost of adding TUI Flex* to the booking in the first place.
TUI Flex is available for those who are due to travel between 1 November 2022 and 30 April 2024, whose holiday includes flights with TUI Airways and whose departure date is more than 90 days away at the time of booking.
TUI to increase capacity to Barbados for winter 2022/23
TUI has announced that it will increase capacity from the UK to Barbados* for winter 2022/23.
It's due to increase the number of charter flights from seven per week to eight. While six flights will depart from London Gatwick, Manchester and Birmingham, two of the flights will be rover flights that will depart from different regional airports.
TUI increases capacity to Jamaica this summer
TUI has announced that it is increasing its capacity to the Caribbean* island of Jamaica* this summer.
TUI has added 10,000 extra seats to Jamaica as interest and bookings continue to grow. This boost in availability comes off the back of a surge in demand from holidaymakers keen to enjoy the sun, sea, sand and lively culture.
TUI adds North Macedonia for summer 2022
The more adventurous, outdoorsy arm of TUI*, TUI Lakes & Mountains, has added the southeast European nation of North Macedonia* to its schedule for summer 2022.
Departing from London Luton, seven-night holidays to the Lake Ohrid* area of this, as TUI referred to, "lesser-known" destination will be available between 15 June and 17 September 2022.
Managing Director of ski, lakes and mountains at TUI, Chris Logan, said: "We're really excited to be introducing North Macedonia into our product range.
"We know that our lakes and mountains customers love the great outdoors and North Macedonia is the perfect option for those looking to venture to a lesser-known European destination.
"The country has a wonderful mix of beautiful scenery, rich history and culture, and outdoor activity options with time to relax and unwind, so it is a great destination choice for those looking to get away this summer."
TUI adds new route to Cancun from Doncaster Sheffield
Leading operator TUI this week launched a brand new route from Doncaster Sheffield to Cancun*, Mexico, which will be carried out aboard a 787 Dreamliner.
It becomes TUI's second long-haul route to operate from the South Yorkshire airport, following the earlier commencement of a weekly route to Orlando*, Florida.
TUI Aviation Planning Director, Karen Switzer, said: "We're delighted to include Cancun as one of our long-haul routes from Doncaster Sheffield Airport.
"We're committed to providing customers more availability to our great range of holidays by expanding our regional flying programme.
"This will give holidaymakers even more choice when booking their holidays and the opportunity to experience our great range of hotel concepts and destinations."
TUI to offer 'Day Before Bag Drop' to ease airport congestion
In a bid to curtail lengthy queues at the airport over the coming weeks, TUI has launched a new 'Day Before Bag Drop' scheme.
The overnight service will be available to passengers travelling from London Gatwick and Manchester on flights with a TOM number that depart before midday on 19 April. The bag drop will be open from 14.00 to 21.00 on 18 April but excludes those travelling to the US.
TUI has also launched Self Service Bag Drop desks at Birmingham, Bristol, Cardiff, Gatwick, Manchester and Newcastle.
It said of the options: "We are working closely with our partners to monitor the situation and open check-in as early as possible. We are directly contacting all our customers travelling in the next two weeks to offer additional guidance on travelling throughout the busy holiday period."
TUI moves Orlando flights to new Floridian airport
Specialists in holidays to Orlando, TUI, has moved its base from Sanford International Airport (SFB) to Melbourne Orlando International Airport (MLB).
While Sanford is located 44 miles north of Orlando, the new Melbourne Airport can be found 70 miles to the south, right by the coast.
Although located further from downtown Orlando* it is close to popular tourist attractions such as Cape Canaveral and the Kennedy Space Center, and it's said to be just over an hour's drive to the main tourist strip of International Drive.
Melbourne Aiport has recently undergone a massive redevelopment and is, in the words of a TUI spokesperson, "Melbourne was ready for our first flight", which landed on Tuesday 22 March 2022.
TUI adds more summer flights from Birmingham & Manchester
Holidaymakers in the north of England are due to get a greater choice of flights, as TUI* is set to add more departures from both Birmingham and Manchester for summer 2022.
Birimgham is due to get six more flights to six destinations while Manchester will see eight extra flights to seven destinations.
The new flights have paved the way for more 10 and 11-night holidays from both airports to, among others, the Greek islands of Kefalonia*, Rhodes* and Crete*, Palma in Majorca*, Cyprus* and Dalaman and Antalya in Turkey*.
TUI's Commercial & Business Development Director, Richard Sofer, said: "To ensure we're offering maximum flexibility and choice we've increased the number of flights to our most popular summer destinations with extra based aircraft at both Birmingham and Manchester airport.
"We're delighted that international travel is bouncing back and the forecast for this summer's holiday season is bright."
TUI increases flight capacity for Easter 2022
One of Europe's leading holiday providers, TUI*, has announced that it is increasing capacity over a number of routes from London Gatwick and Manchester in time for Easter 2022 to meet growing demand.
London Gatwick will see an extra flight on 6 April to Cancun*, Mexico*, while Manchester will receive an extra flight to Cancun and Punta Cana* in the Dominican Republic* on 3 April, as well as two extra weekly flights to Antalya* in Turkey* throughout the month.
TUI's Commercial & Business Development Director Richard Sofer said: "We're seeing strong demand for family packages this Easter. There has been a general uptick for long haul across the year and Easter bookings for Mexico and the Dominican Republic are back to pre-Covid levels".
"Destinations nearer home are also looking positive as easier entry for teenagers and some great value offers, particularly in Turkey, unleash pent up demand. These additions mean customers can now choose from over 870 flights to 35 destinations this Easter."
TUI launches winter 2022/2023 programme
TUI has launched its winter 2022/2023* programme with holidays to 45 destinations including the Canaries, Egypt and the Caribbean as well as introducing Senegal as a new destination.
The TUI winter holidays season runs from 1 November 2022 until 30 April 2023 with zero deposits* available on selected holidays when you book online via Direct Debit.
Where to go on holiday in winter 2022/2023
TUI offers winter sun holidays* to many popular short and long haul destinations including the Mediterranean, Caribbean, America, Africa and Asia from firm favourites like Spain and Portugal to tropical paradises such as Costa Rica and Thailand.
Africa - Cape Verde, Egypt, Gambia, Morocco, Senegal, Tunisia
Asia - India, Sri Lanka, Thailand, UAE
Caribbean - Antigua, Barbados, Cuba, Dominican Republic, Jamaica, St Lucia
Europe - Balearics, Canaries, Cyprus, Greece, Iceland, Italy, Malta, Portugal, Spain, Turkey
Indian Ocean - Maldives, Mauritius
The Americas - Costa Rica, Mexico, USA
Senegal - new for winter 2022/2023
Senegal* is the all new holiday destination for winter 2022/2023 offering an exotic experience in the heart of West Africa close to the well established Gambia* and Cape Verde*.
TUI will run weekly flights to Dakar from London Gatwick and offer holidays to the new platinum hotel, Riu Baobab*, in Pointe Sarene approximately 50 km from Dakar / Blaise Diagne International Airport.
Richard Sofer, Commercial & Business Development Director at TUI said, "We know there is pent up demand for holidays and the desire to have a holiday to look forward to is more evident now than ever before.
"We're excited to launch Senegal as an exciting new winter sun destination and are confident it will appeal to customers seeking value for money, great all-inclusive resorts and guaranteed sunshine as well as an experience that is a little bit different."

Updated on Wednesday 8 November 2023
More stories
Be inspired
Get your weekly fix of holiday inspiration from some of the world's best travel writers plus save on your next trip with the latest exclusive offers
We promise not to share your details
Explore holidays in the sun for less