Beach holidays in 2023/2024
Looking for the perfect beach break? Give our beach holiday finder a whirl. Get started by selecting your ideal weather and type of destination or world region.
Simply browse the results to see beach holiday destinations that match your criteria plus when to visit them for great weather.
Best beach holiday destinations by month
Where to go for the best beach holiday weather in 2023/2024
Many myths and mistruths have established themselves over the decades about beach holiday destinations. Heard the one about the Caribbean only really being good for winter sun? What about wet seasons raining off beauty spots such the Maldives and Mauritius?
In reality, many destinations around the globe are wonderful at various times of year, it's just about picking the very best time to go.
Luckily our crafty beach destination finder is here to help you navigate the sea of misinformation, and shine a light on when and where to go for those blue skies and warm waters we all work so hard to enjoy.
If you're struggling to decide or simply don't know where to start, give our beach destination finder a go and you could be packing those bags sooner than you thought.
Top beach destinations for January
If the beach is calling in January, you're looking at a long hop to an exotic destination. Although you could consider the Canary Islands, which are renowned for the lashings of sunshine they receives in winter, the reality is that the best beach breaks - we're talking palm-lined sandy shores and Instagram-worthy water - are found further afield.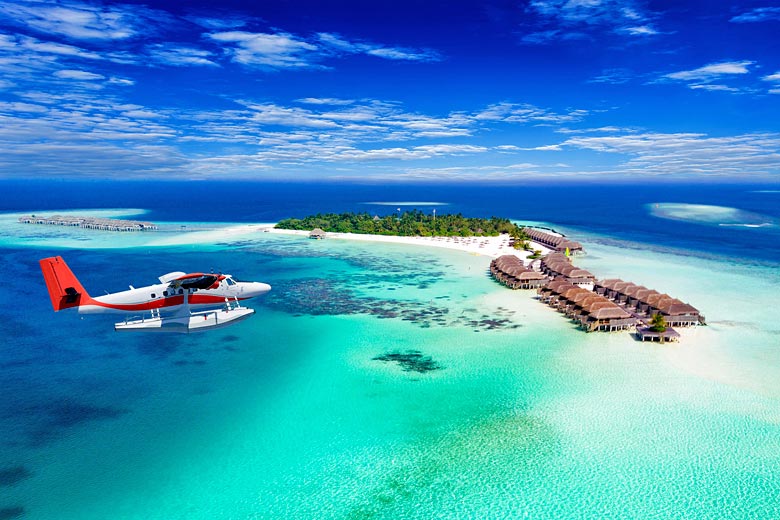 Goa is at the top of our list simply because it's one the sunniest beach destinations going at this time of year. Days are long and hot but evenings cool to keep things comfortable.
The Maldives is a close second for similar reasons, while Barbados is the nearest truly delightful beach hotspot at only nine hours away from the UK.
Cape Town makes the list for its all round wonderful weather in January: there's so much sun, and as an urban beach destination, it offers a little bit of everything - except, perhaps, swimming, as the water is chilly even in the height of southern hemisphere summer.
If you like it hot hot, the idyllic Tanzanian island of Zanzibar is the place to be, with both high temperatures and high heat and humidity - a winning combo if you crave that sort of intensity.
More about the weather in January >>

Top beach destinations in February
Many of the same challenges faced in January are presented to sand-seeking beach lovers in February: for that special getaway with long platinum stretches and glistening sea, you're going to have to travel outwith Europe and further than the Med.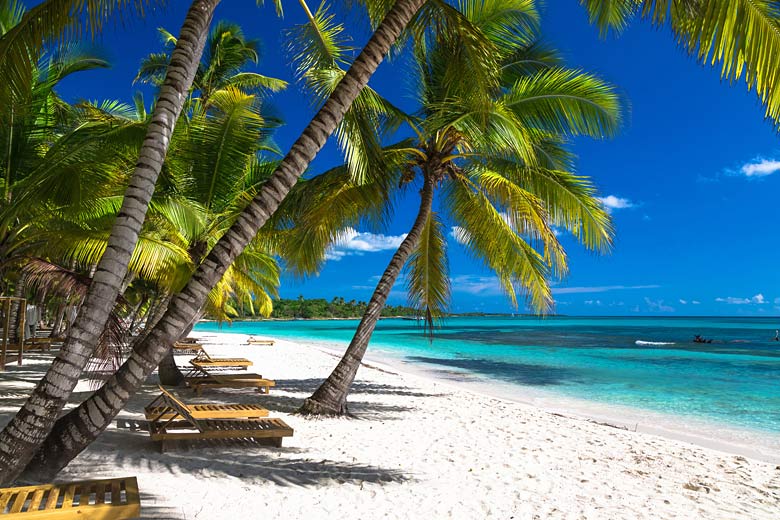 The Maldives takes top spot in February as this is really the very best month of the year to visit the scenic archipelago. It's hot, sunny, and you're only likely to see passing, isolated showers from your luxury lounger.
February is also the driest month in Thai favourite Ko Samui, although, along with Costa Rica (whose Pacific Coast is at its finest in February), it's the furthest destination from the UK in our top 10, making it one for committed long haulers only.
Meanwhile, the Malaysian island of Langkawi, which sits proudly in the warm waters of the Andaman Sea, is the winner of our hottest beach award, with average daily highs of around 34°C in February.
Brazilian superhit Rio de Janeiro enjoys its sunnesit month of the year in February, while the Caribbean is represented by affordable Dominican Republic, tiny Tobago and gorgeous Grenada - delightfully different destinations that offer lots of sunshine and warm daytimes - perfect for that winter sun beach break.
More about the weather in February >>

Top beach destinations in March
March is another awkward month for beach breaks close to home weatherwise, which is why you'll find even more paradisiacal beaches in various corners of the globe in our top 10 - think pretty islands hemmed with bright white sand, lapped by clear, marine life-rich waters made for exploring and enjoying.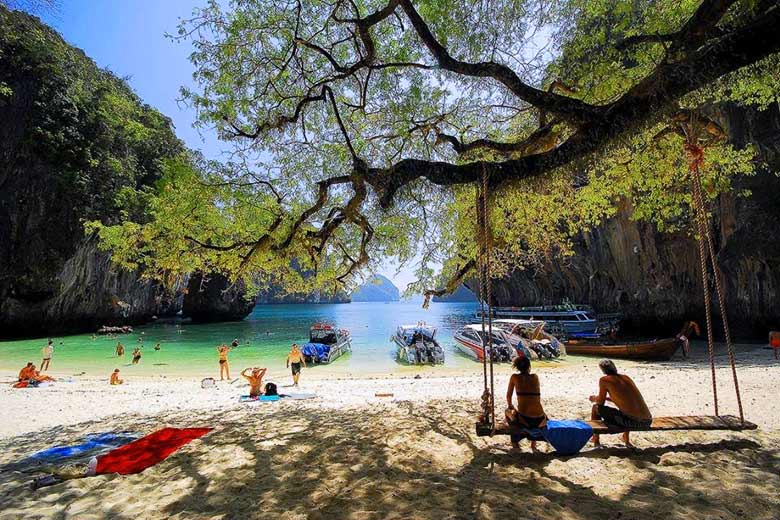 While it's the last month when the Maldives really shines, neighbouring Sri Lanka is an exciting alternative with long, hot, dry days, especially on its southwest coast. Head to Hikkaduwa for an expansive beach with all the trimmings or sheltered Unawatuna for a more laid back, budget-friendly, option.
Looking furth east, Vietnam and the Philippines offers something a little different: it's the height of the dry season in the Philippines, which means it's hot and sunny with balmy warm water for swimming and snorkelling in the archipelago. The trick here is to do your research and seek out the quieter, less visited beach spots - Boracay, for example, is currently closed to tourists.
There's a good dusting of prime beach destinations across the Caribbean including the Dominican Republic once more, which has every amenity and facility along its resort-lined coast, colourful Jamaica, and history-rich Antigua.
As with January and February, where you go for your beach holiday in March will depend on a mix of the weather you want, your budget, and just how far you're willing to travel for that dreamy sea view.
More about the weather in March >>

Top beach destinations in April
If April has you reaching for the SPF and shopping the latest S/S collections, the good news is that destinations ever-so-slightly closer to home are just starting to warm up - we're talking medium haul instead of full on long haul.
It's a popular time of year to get away thanks to Easter and the availability of many great seasonal deals, so why not make the most of it?
Florida's long swathes of Atlantic coastline are wonderful in April, when the weather is seriously sunny and pleasantly warm with very swimmable water at 25°C.
Over in the Indian Ocean, the silver shores of the Seychelles enjoy some repite between the two monsoon seasons, which makes for long, dry days - April is by far one of the best times of year to visit this lush archipelago.
Dubai makes its first appearance at this time too, as the closest place for some spring sunshine - no less than 10 hours per day with temperatures in the mid to high twenties on average.
Once again, the Philippines (by far the furthest destination in our top 10 for April) features as it's divine at the this time, with high temperatures and stunning beaches to choose from.
More about the weather in April >>

Top city break destinations in May
May is another popular time for beach breaks with those who want to get away for some much-needed sunshine before the summer rush. As with April, Florida (the Gulf of Mexico side of things this time) and Mexico's Caribbean coast, including the buzzing resort of Cancun, offer exceptional combos of sunshine, high temperatures, and warm water. What more do you need for beach break?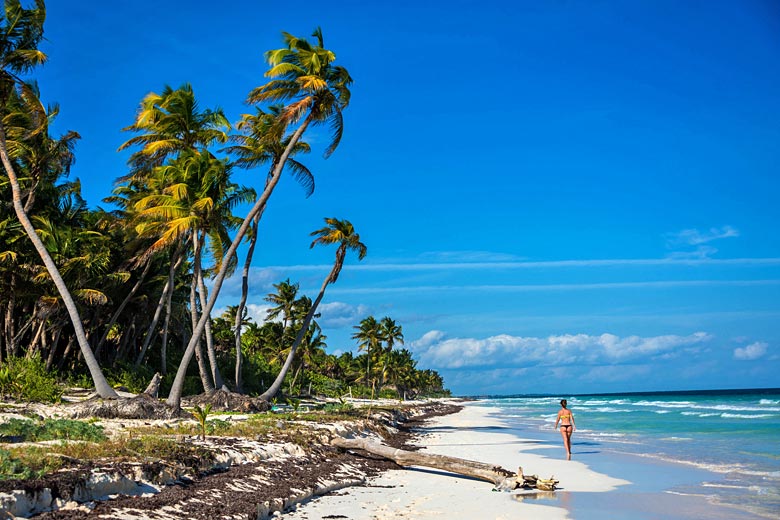 The Egyptian Red Sea resort of Marsa Alam guarantees hot sunshine as well with the added bonus of a wide range of activities from water sports to trekking in the desert for those who want to see a little more.
An interesting alternative for those after somewhere different is the east coast of Malaysia from Kelantan to Terengganu, which sparkles at this time of year: it's a cracking month to go for unparallelled heat and sunshine on quiet, pristine beaches.
The Caribbean throws up plenty of options from the northerly Bahamas, which is warm and sunny but not too hot, to Cuba, St Lucia and southerly Aruba. Whichever way you spin it, the Caribbean is a tempting region of the world weatherwise in May, and - nuances aside - you're sure to find a beach with your name on it.
More about the weather in May >>

Top beach destinations in June
Hurrah for June! Days are light and long, and people are generally full of the joys of summer. Miami is at the top of our top 10 for June simple because it is the start of the hottest time of year in the Magic City, with tons of sunshine to boot.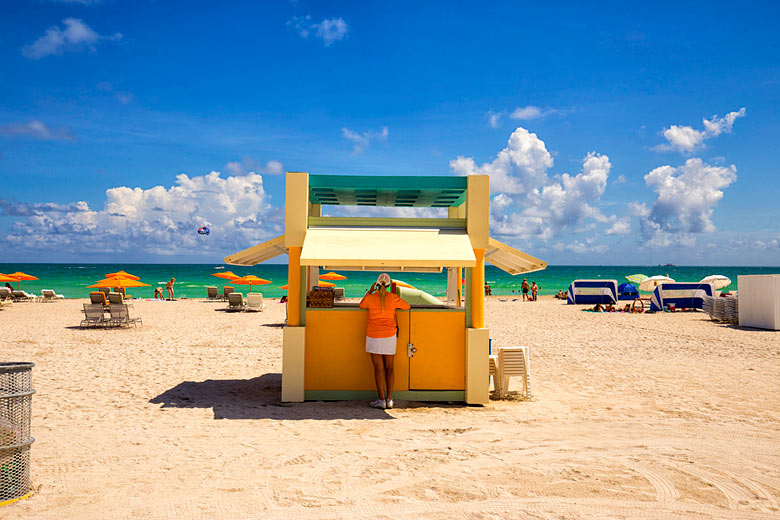 Looking to travel over a smaller pond? The good news is that June is the first month you can make for the Med: tucked into the eastern edge of the Mediterranean, the halloumi-rich, pine-clad, party-filled, Blue-Flag-beach-wielding island of Cyprus has something for everyone.
Expect as much as 12 hours of sunshine and temperatures which range from hot by day to cooler by night. Hot on the heels of Cyprus is Antalya on Turkey's Mediterranean coast which, for many of the same reasons as Cyprus, is excellent in June.
North Africa has another Red Sea hit up its sleeve in the form of Hurghada, Egypt, which is deliciously hot and sunny in June. Meanwhile, recently beleaguered Tunisia is making a comeback thanks to its unrivalled blend of fabulous weather, beautiful beaches, and interesting attractions.
Both destinations are also very budget friendly with plenty of affordable deals out there for bargain beach hunters.
For something altogether more exotic, the Pacific islands of Fiji and Tahiti promise the finest weather you can imagine coupled with those postcard-type of beaches strewn with coconuts and palm shadows.
More about the weather in June >>

Top beach destinations in July
A quick look at our top 10 for July reveals that it's the first really hot month for a true beach break in the Mediterranean, which is great news if you don't want to travel too far - but do want to make the most of the many summer holiday deals out there.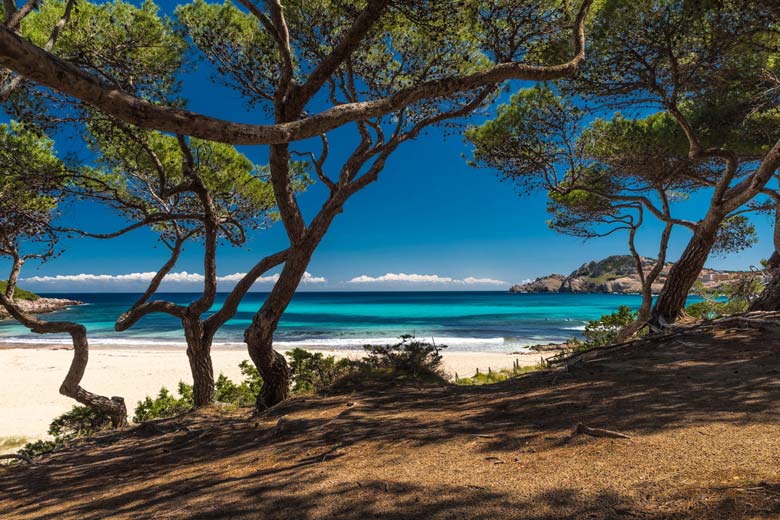 Cyprus takes top spot as it is simply one of the finest places for a holiday at this time - it's not quite a hot as the Turkish coast (which comes in second for that reason), but the water is gloriously warm, there's ample sunshine, and the beaches are divine.
If you fancy the charms of the Med without the searing heat of Cyprus, Aegean islands such as Santorini offer similar volumes of sunshine but with less intensive heat, and cooler water for swimming - things are just a little fresher.
Summertime favourites Costa Blanca and the Balearic island of Majorca put their best feet forward in July, when it's the sunniest time of year and temperatures are deliciously hot.
If you're thinking a long haul jaunt is in order, Bali is a great contender in July thanks to the dry season, which offers up so much sunshine not to mention incredible beaches lapped by warm water - it takes a lot of beating!
More about the weather in July >>

Top beach destinations in August
August is peak holiday season for Brits, and the Med has loads of cracking options at this time. Greece's largest island of Crete and Adriatic charmer Croatia both enjoy warm sea temperatures at around 25°C, although Crete is likely to be a touch hotter, and Croatia can see the odd - albeit fast moving - rain shower.
Stylish Mykonos is another Greek hit that sparkles in August, although it too is a little cooler than the island of Crete but it does bathe in as much as 13 hours of sunshine in August.
As the Algarve, Portugal, and Gran Canaria in the Canaries sit outside of the Med, sea temperatures are a few degrees colder - the Atlantic being an entirely different beast. However, there's still plenty of sunshine and hot days on offer in both destinations.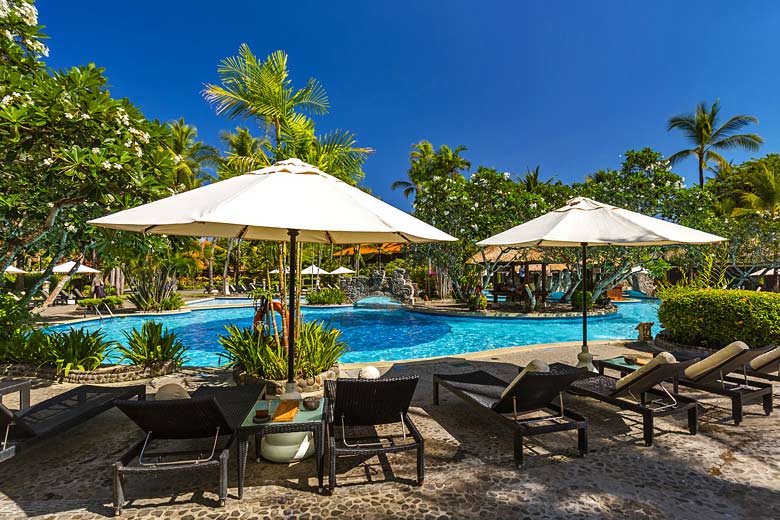 If a European break isn't floating your boat, you'll see Bali is in pole position in thanks to its wonderfully hot, sunny and dry weather. It's a beach lovers dream with warm water and picture perfect beaches.
Alternatively, head west side - and we mean far west side - to southern California, where you'll be greeted with all the sunshine making for long, hot days. The stretch from Los Angeles down to San Diego offers a plethora of places to be by the sea, such as laidback Newport Beach where you can simply put your feet up or indulge in some vintage fairground fun
More about the weather in August >>

Top beach destinations in September
One of the best things about going away in September is that you have so many places to choose from with amazing weather both near and far - the tough bit is deciding where to go with so much choice.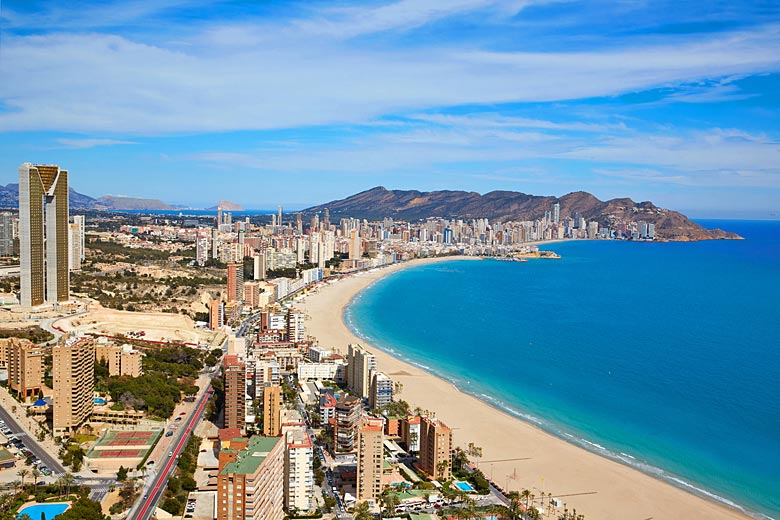 In the Med, the sizzling highs of August, which don't suit everyone, start to simmer down while leaving delightfully warm sea temperatures behind. This means places such as Halkidiki in Greece and the White Isle of Ibiza in the Balearics are quite wonderful - especially as the number of people visiting starts to decline as well.
Turkey's Bodrum is one of the hottest Mediterranean options, with really warm water and daily highs that may not be as warm as preceding months but still guarantee long, hot, sunny days.
Meanwhile, the Atlantic-lying islands of Lanzarote and Madeira are excellent, slightly cooler alternatives for those after a mix of hiking, fresh seafood, and a bit of beachtime. In addition, further across the pond, Los Angeles continues to offer delightful conditions for those after a perfect blend of urban vibes and chic beaching.
More about the weather in September >>

Top beach destinations in October
Thanks to the half term holidays and the fact that a lot of destinations become much quieter after the hustle of summer, October is many people's favourite time to go on holiday.
A lot of the most popular beach destinations in Europe could be considered too cold by this time however - if you are considering this, best seek out a hotel with a heated pool just in case.
Sitting in the far east of the Med, Cyprus and Antalya in Turkey offer the warmest waters combined with the most amount of sunshine, while Egypt's Red Sea resort of Hurghada is the next level up in terms of heat, as it is still hot both on land and in the sea at this time.
Much like Egypt, the Middle East throws up a few reliably hot, dry and sunny destinations. Oman is a real treat at this time after the furnace-like temperatures of summer with balmy sea temperatures and truly enjoyable hours of sunshine - great for lying on the beach, taking a boat trip or exploring the cultural delights of Muscat.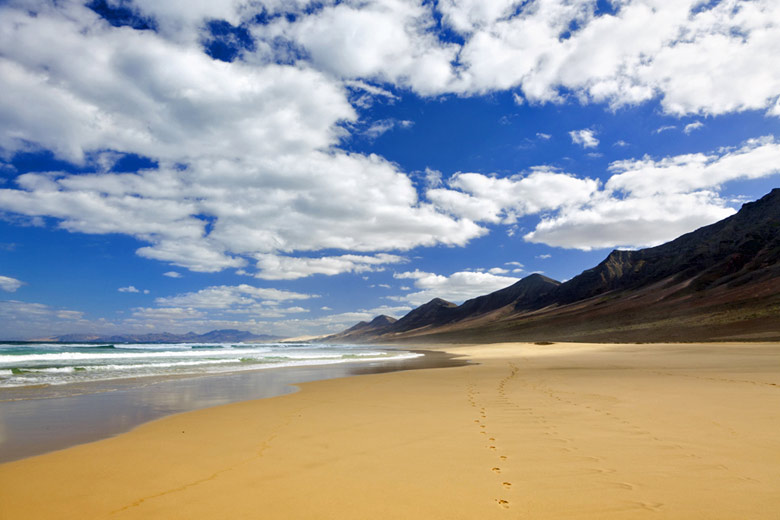 The archipelago of Cape Verde off the coast of west Africa is at number two because it has a little bit of everything: sunny days, warm sea water, and comfortably warm day and night temperatures - it's also great value with countless deals for all budgets out there.
For a postcard-perfect type of beach break, the Seychelles enjoys a brief respite between monsoon seasons in October: seas are warm and calm, there's loads of sunshine plus thoroughly pleasant daytime temperatures.
More about the weather in October >>

Top beach destinations in November
When it comes to November, think October with fewer destinations to choose from closer to home. It's traditionally a quieter time of year for holidaymakers, after the late summer bargains and before the winter sun breaks kick in.
If you're after somewhere hot, sunny, all about the beach, and within easy reach of the UK, you can't beat Dubai in the UAE. It wields shallow, warm water with loads of activities on hand, as well as near-all day sunshine.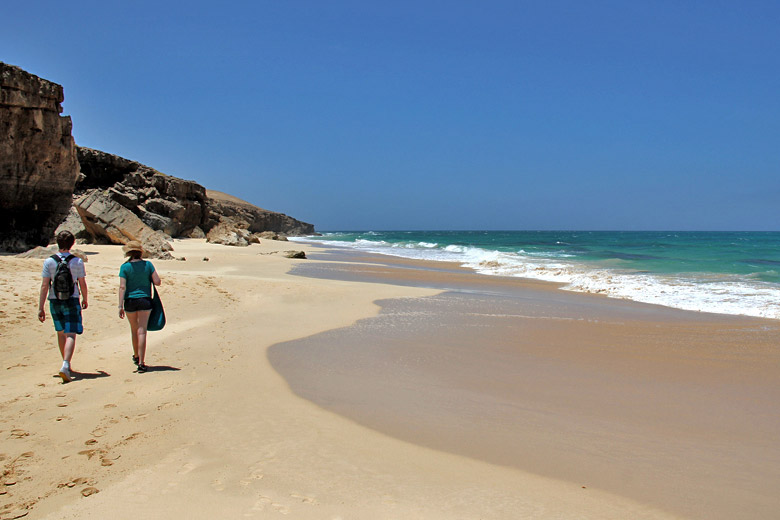 A hop over the Indian Ocean will take you to India's leading beach resort of Goa, where the heat and humidity is dropping and showers are receding, so things are quite lovely for a beach holiday along its lengthy shoreline.
Much like October, Cape Verde is a safe bet for sun, sea and sand, while Gambia, over on west Africa's mainland, is the arguably the nearest truly beachy spot in November, before the seasonal winds whip up from December.
If want to fly a little further, Phuket in Thailand has everything you could wish for, from beautiful beaches to all the facilities going. Not far enough? Head over to Cairns in northeast Australia, a wonderful jumping off point for all sorts of platinum beaches and, of course, the magnificent Great Barrier Reef.
More about the weather in November >>

*Please note: owing to the destruction caused by Cyclone Idai, we recommend that you check carefully to see if travel to Mozambique is advisable in November 2020.
Top beach destinations in December
Whether it's a pre-Christmas break or a bid to escape the madness of festivities altogether, December is surprisingly popular with those after some much needed seasonal sunshine.
Winter sun deals abound but do you know where to go for the very best beach conditions? As you can see, Goa has climbed up to first place by December thanks to its cloud-free skies, long, hot days, and selection of seaside amenities.
Looking south, Kerala has its very own appeal as it's well into its dry season by this time, with all the heat and sunshine you could wish for, without perhaps quite the same level of resort development found in Goa.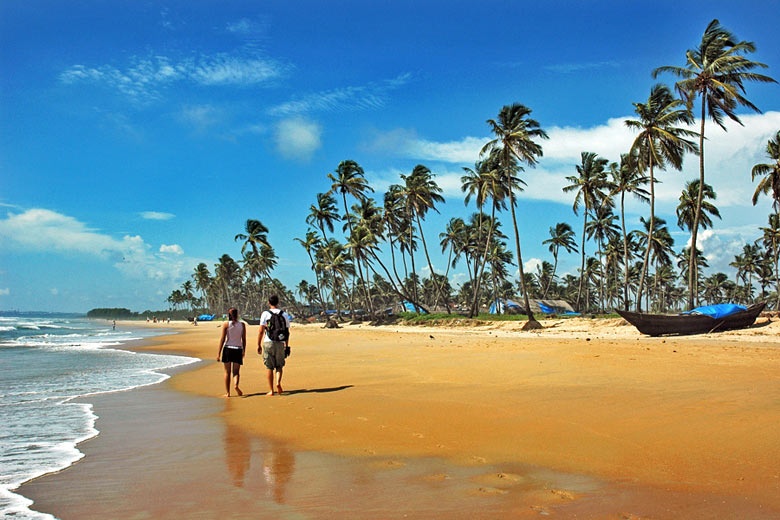 Mauritius may surprise you: although the wet season technically begins in December, we're talking short, sharp showers that swiftly move on leaving you with hour-upon-hour of glorious sunshine for enjoying the pristine beaches and invitingly arm waters.
The Caribbean has long been a winter sun favourite, so it's no great shock that we have some of the big names making an appearance: St Lucia, Barbados, and Jamaica all enjoy seriously warm sea temperatures, and sunny, hot days.
More about the weather in December >>

Finding your dream beach destination is such a personal affair. It depends on everything from your budget and how far you want to travel to the type of beach you're looking for (white sand versus black sand versus pebbly...) and, of course, the weather you're seeking.
Hopefully our beach holiday finder and selection of top 10 destinations for each month have given you the tools and inspiration you need to settle on that one place that ticks all the boxes for you. Don't forget, we have the very latest online travel deals on everything from flights and beach resorts to holiday packages, car hire for exploring and so much more.
More holiday inspiration
Be inspired
Get your weekly fix of holiday inspiration from some of the world's best travel writers plus save on your next trip with the latest exclusive offers
We promise not to share your details
Explore holidays in the sun for less