TUI holiday weather guide: Find your ideal destination
So you know all about TUI, where you can go, and how good the online deals are but do you know which TUI resort to visit for your ideal holiday weather?
Don't miss latest online deals and discount codes offered by TUI to help you get away for less in 2022/2023.
Canary Islands weather
Politically speaking, the Canary Islands* are part of Spain but given their unique location off the coast of Africa, it's only right to give the Canary Islands their own section as the weather here is quite distinctive, with a climate that is unlike many others.
Conditions are pretty consistent from January to December with only slight variations in temperature, sunshine hours and rainfall across the months and across the islands.
The one great asset that the all the Canary Islands have in terms of weather is the constant temperature of the surrounding ocean which prevents air temperatures from rising too high in summer or falling too low in winter.
There are subtle nuances that affect each island differently: for example, Tenerife* and Gran Canaria*, two of the most mountainous islands, see a greater variety of weather with more rain in the north of both islands, while La Palma has the highest rainfall overall thanks to its location furthest out in the Atlantic.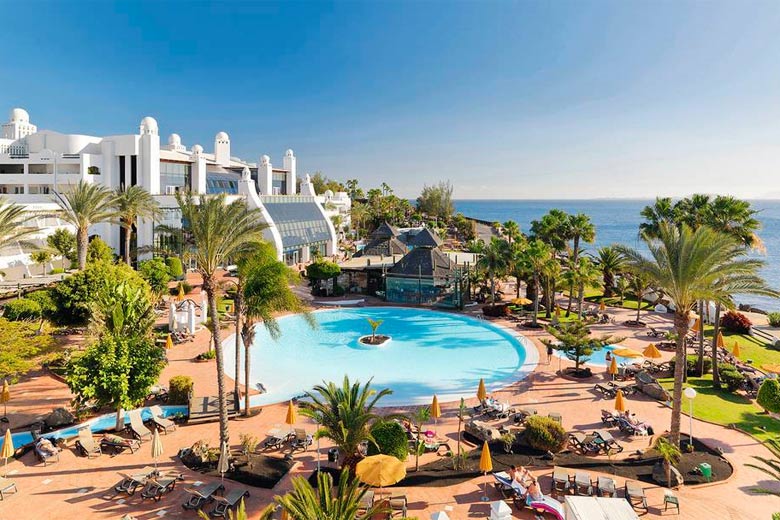 Lanzarote* and Fuerteventura* are typically drier owing to their lack of high altitudes, and Fuerteventura is much loved by wind and kite surfers keen to tackle its energetic blasts.
Those after calmer, more beach friendly conditions head to the southern sides of Gran Canaria, and Tenerife, which tend to be more sheltered. Generally speaking, the Canary Islands are blessed with warm and sunny summers, and comfortable winters with lots of sunshine.
Given the popularity of the Canary Islands as a holiday destination, it's unsurprising that TUI has holidays to the Canary islands all year round from airports across the UK.
Europe &amp the Mediterranean
It's not surprising that the weather across southern Europe and the Mediterranean is - given the area's size - quite diverse, although it does follow a familiar pattern: summers are typically warm, if not hot, and sunny while winters cool down but remain comfortable and enjoyable thanks to the amount of sunshine that can be found anywhere from the Algarve* to the coast of Turkey*.
The trick is finding the right destination for you depending on how warm or hot you like it, and whether you're looking for calm seas or waves for water sports, among other requirements.
TUI has been busy collating a wide range of holidays to resort all across the region. From the dramatic rock formation on Portugal's southern coast to the historic heritage of Malta*, the beautifully Tuscan vibes of Italy* or the immense selection of island in Greece*, TUI has somewhere and something for everyone looking to enjoy a holiday in Europe and/or the Mediterranean in 2022/2023.
Bulgaria
Bulgaria's Black Sea* coast has been attracting holidaymakers keen to see a different side to southern Europe. TUI offers holidays to five resorts on the western edge of the Black Sea, including Obzor, Sunny Beach, Nessebar, St Vlas, and Sinemorets.
This region has some truly delightful weather, with the summer months of June to September seeing the highest temperatures and by far the most amount of sunshine with as many as 10 hours per day in July.
The sea is also at its warmest in summer, rising to a peak of 25°C in August. It's also a relatively dry country with generally low rainfall - especially during the summer - and virtually no real heat and humidity to worry about.
Croatia weather
Croatia has seen a surge in visitor numbers over recent years thanks to the boom in holiday resorts and facilities as well as an increased awareness in what the country has to offer from its turquoise waters and pretty beaches to its stunning inland national parks and history.
TUI has a huge number of holidays to Croatia* in resorts all along the western coastline including the historic port of Dubrovnik, the Dalmatian Coast and surrounding islands, as well as the northern region of Istrian Riviera.
Resorts in the Istrian Riviera, such as Novigrad, Rovinj and Porec, are ideal for those who enjoy long and sunny summer days without things getting too hot.
Yes, the temperature reaches the high twenties but with virtually no heat and humidity, and given their proximity to the sea, things stay warm but fresh on this part of the coast.
The sea is at its warmest from June to September, while swimming from December to April is reserved for those with wet suits only! Meanwhile, in the south of the country down towards Dubrovnik and many of the beautiful islands such as Korcula, the weather is very similar is summer, and remains a few degrees warmer in winter.
Cyprus
Eternally popular, Cyprus* pulls families, couples and groups back to its golden shores year after year and TUI is well equipped to offer you holidays on the island. You'll find hotels and resorts all over the coast, with places to stay in both the Paphos and Larnaca regions.
From the bright lights and lively sounds of Ayia Napa and Nissi Beach to the hub of Limassol, rocky landscape of Coral Bay and more, TUI has a wide selection of holidays to Cyprus departing from across the UK.
Cyprus is one of the few European destinations that is truly enjoyable all year round in terms of its weather, although there are a few catches.
Naturally, the summer months are the most popular with a whopping 12 hours of sunshine in June and July, dropping only slightly in August and September. Temperatures are also high, the sea is warm, and there's virtually no rain at all, although some may find this time too hot.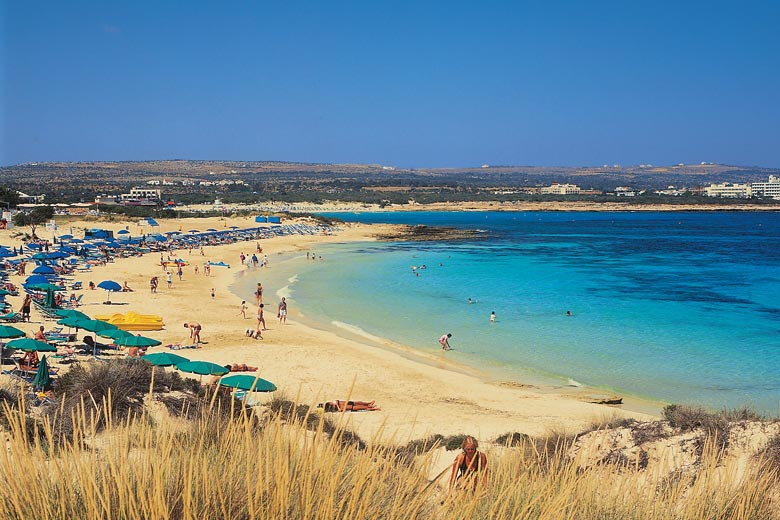 Spring and autumn are also popular times to visit as the weather is warm with plenty of sunshine about and less heat and humidity than in the summer months. However, Cyprus also works as a winter sun destination as long as - and here's the catch - you're not purely after a beach break.
If you want to go somewhere that has plenty to offer such as hiking in the hills, excellent fresh seafood, and curious historic sites with warming rays then Cyprus make a wonderful winter sun escape as well.
Greece
Greece enjoys a thoroughly Mediterranean climate, and a for country with so many islands of all shapes and sizes the weather is surprisingly consistent.
Generally speaking, you can rely on Greece and its many islands to be warm and very sunny. From the Ionian Islands in the west to the Aegean Islands in the east, the largest island of Crete* in the south and mainland resorts of Halkidiki* in the north, TUI has Greece well and truly covered.
There are a few subtle variations in conditions between the different regions of Greece: the Aegean Islands and Crete tend to see a touch more sunshine - perhaps an hour or so each day - not to mention a little less rain than some of the Ionian Islands in the west.
Meanwhile, islands such as Kos* and Rhodes* tend to be a little hotter and sunnier than anywhere else, benefiting from their location slightly further south and east.
In summer, all of the Aegean is susceptible to meltemi winds, which blow from the north of Greece during the summer months, often offering respite from the heat, and a fantastic opportunity for windsurfers and those who like to get out onto the water.
Corfu weather
Crete weather
Halkidiki weather
Italy
Italy* is home to a little bit of everything that makes a holiday perfect: from the delicious dishes and fine wine to historic monuments and ruins, incredible countryside, and dramatic coastlines, beautiful beaches and - of course - wonderful weather.
From Venice to southern Sicily*, you can book a holiday to Italy with TUI to a wealth of tempting regions including Sardinia*, Veneto*, Tuscany*, Calabria* and Campania*.
Sardinia weather
With so many destinations on offer, it's unsurprising that the weather varies greatly. While the likes of Venice in the north offers romance and intrigue by the bucket load, it is really suited to city breaks and beach breaks with heated pools on the side.
By the time you get to Tuscany*, things are staying warmer for a little longer, however, the further south you go, the warmer and more Mediterranean the climate gets.
By the time you reach Puglia* and sun-baked Sicily, you really are into much higher temperatures and more sunshine, especially in summer.
When it comes to finding your ideal TUI holiday in Italy, the question is, when are you going? Once you know this, you can then work out which resort best matches your needs in terms of the weather.
Sicily weather
Malta
Plonked, as it is, not far from the southern tip of Italy, Malta* has the pace of island life with a truly Mediterranean climate. TUI offers holidays to Malta all year round with resorts along the coast to the east and in the north.
Valletta is, of course, hugely popular with those keen to get a dose of history with their sunshine, while resorts can also be found in the big seaside favourites of Bugibba, Paradise Bay, Mellieha Bay, Sliema, Qawra, and St Julian's.
Without doubt, Malta's finest time of year for holidaymakers is in the summer months, as the period from June to September sees the highest temperatures, warmest waters, least rainfall, and most amount of sunshine.
Malta is however thoroughly enjoyable outwith the peak season. There's more chance of seeing some rainfall from October to April when depressions can pass through the Mediterranean towards the east but these normally involve no more than a few days of unsettled weather and are not that common.
Evenings too can get a little chilly, so remember to take an extra layer if you're visiting in these months. As a winter sun destination, Malta ticks a lot of boxes.
Find yourself a hotel with a heated pool if you really want to swim but go for the sunshine, walking opportunities, historical sights, and laidback atmosphere of this much loved Mediterranean island.
Montenegro
Montenegro is one pretty place with everything from beaches and turquoise waters to rich forests and mountains for hiking, colourful towns and cities, and Instagram-worthy scenery.
TUI offers holidays to Montenegro* with a select number of resorts in Becici, Budva, and Petrovac along its stretch of the Adriatic coast.
This Balkan nation is superb for those keen to visit somewhere less travelled, not to mention a great affordable option whether you're on a tight budget or after a little luxury for less.
Bordering Croatia, it's unsurprising that the weather in Montenegro is similar to that found in Dubrovnik and other towns in southern Croatia. The best time to visit for exceptional weather in Montenegro is indisputably in summer.
May to September sees the lion's share of the sunshine throughout the year, while July and August are the warmest months with daily highs reaching the high twenties. The sea peaks at around 25°C, also in July and August, which is about the same as Corfu in Greece during the same period.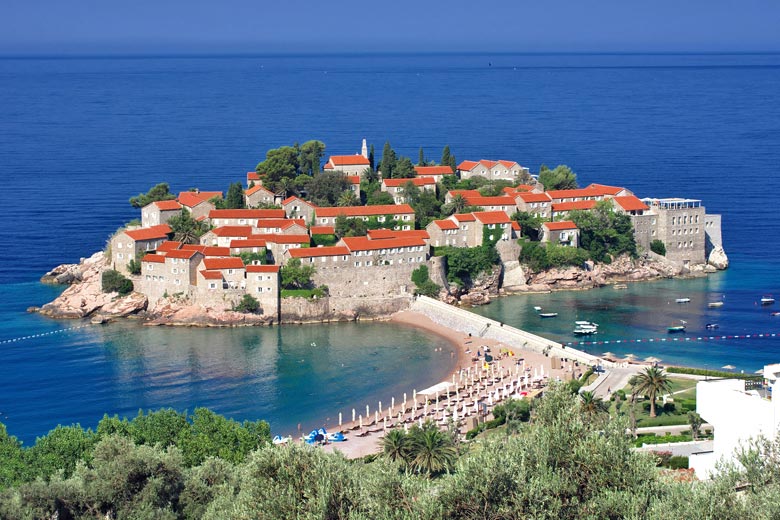 In a country as lush as Montenegro it's not unusual to see some rain, and from October to the end of April is when you will find the most rainfall, with November typically the wettest month of the year.
That said, there's still only a maximum of 14 days that are affected in any way, so if you're planning a holiday to Montenegro in winter, don't be put it off by the rainfall figures alone.
You wouldn't however go during this time for a beach break - the temperatures are simply too low, both in and out of the sea.
Portugal
The southern coast of Portugal, known as the Algarve* region, is by far the country's most popular area with holidaymakers flocking to its pristine shores and whitewashed fishing villages again and again.
You'll find an extensive selection of holidays from TUI to everywhere including Albufeira, Lagos, Praia da Luz, Vilamoura, and Tavira among many, many others. There's more to Portugal than just the Algarve, however.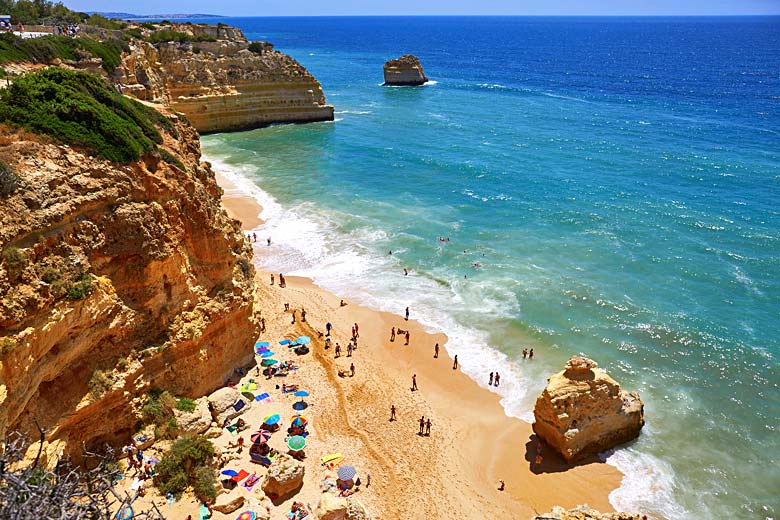 TUI also offers a range of holidays to the islands of Madeira* and Porto Santo*, which sit around 300 miles north of the Canary Islands in the Atlantic Ocean.
Portugal is one of those destinations which can, and often does, catch people out weather wise. While it's a European country on the edge of the Mediterranean, Portugal does not enjoy quite the same climate as some countries further east.
From time to time, it can take a bit of a battering from the elements that come sweeping off the Atlantic, affecting everything from wind levels to the sea temperature.
That's not to say Portugal's southern coast isn't a glorious holiday destination - the sheer number of tourists visiting is testament to that - it's just that there are ways to ensure you pick the right resort in the Algarve for your break.
Even in summer, it's worth having a heated pool, while surfers and watersport lovers will want to make for Lagos and Alvor to the west, those after calmer seas will enjoy the sheltered lagoons of Tavira and Cacela Velha to the east.
Algarve weather
As for Madeira*, the weather is different again. The temperature is typically cooler than the Algarve but the weather is more consistent throughout the year. There's a reason this speck in the ocean can comfortably grow exotic fruits like bananas and papayas, and that's thanks to its subtropical climate.
Days are warm and sunny, peaking in August and September, while the winter months will inevitably see some rain at times. Madeira is a year round destination that's great for those who want to do a bit of everything from swimming (in a heated pool) to hiking on the levada trails.
Madeira weather
Mainland Spain & the Balearics
Arguably the most famous, beloved holiday destination with Brits, Spain has long been attracting people to its warm and sunny shores, and TUI has long been taking people there.
The weather has played a vital role in building this fan base, helped by the fact that Spain's rugged, sandy, wave-lashed coast has something for everyone, every age, and every budget.
From the Costa Brava* in the north down to the bustling Costa del Sol*, not to mention the Balearic Islands* of Majorca, Menorca, and Ibiza, Spain is a veritable treat sized goodie bag of destinations to choose from, and TUI has them all covered.
Costa del Sol weather
Spain is renowned for its delightful weather, although it does have a very varied climate: the north coast faces the Atlantic Ocean, which can be stormy at times, while much of the centre is on a high plateau - Madrid, for example, is nearly 700 metres above sea level, which affects its climate. Then there's the east and south, which has a warm Mediterranean climate.
Every Spanish destination on the Mediterranean coast enjoys long hot summers with lots of sunshine and very little rain, and winters are cooler with some rain but still a lot of sunshine.
Of all the resorts along Spain's Mediterranean coast, the Costa del Sol* is the sunniest in summer, while the Costa Almeria is the sunniest in winter, and the Costa Blanca* is the warmest in winter.
Costa Blanca weather
Balearics
Step forward Majorca*, Menorca* and Ibiza* - three of the most exciting, diverse, and much loved islands in the Mediterranean. Whether you're planning to party, relax, hike, sail, or swim, there's so much to do for groups, families and couples on holiday in the Balearics.
As for the weather, summer is, once again, the prime time to go with June to September seeing the highs. Temperatures peak at around 28°C in July and August, with the latter month also seeing the warmest sea temperature at 26°C.
The islands may be at their busiest in summer however, you really can visit all year round as long as you're prepared to do activities other than swimming and sunbathing such as hiking, sampling the local food, or just enjoying the warming sunshine.
Turkey
Turkey's southwest coast is sprinkled with well stocked resorts, and TUI offers holiday to all the major destinations including Bodrum, Dalaman, Izmir and Antalya departing from across the UK.
What sets Turkey* apart from its European neighbours - even nearby Cyprus* - is the abundance of sunshine that can be found along its shore.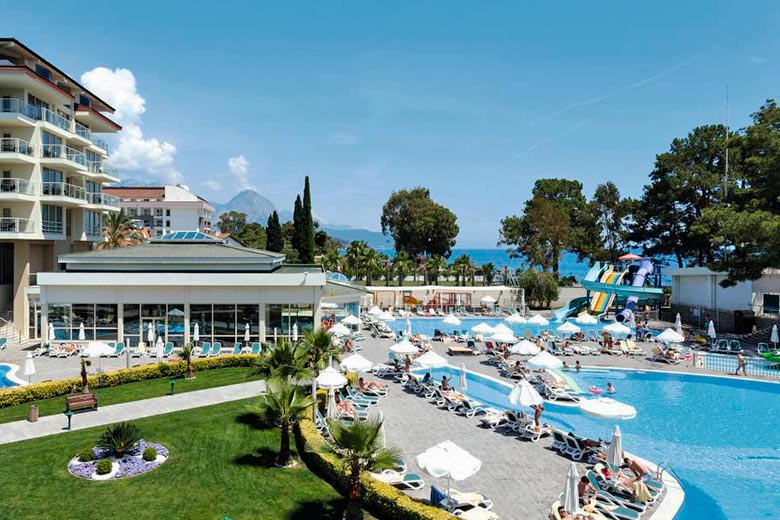 If you take Bodrum* for example, summer months are hot with July seeing the peak in temperatures at around 33°C not to mention a whopping 14 hours of sunshine per day - that's more than double the six hours you get in London at the same time.
From May to October, days are generally long and warm if not hot, although evenings can be a little chilly in the early and later part of that period, so remember to pack a layer.
The sea temperature is also nice and warm by August, having heated up nicely to 25°C, and there's virtually no rainfall. July and August see high level of heat and humidity, which can add to the oppressive feel, but if you're by the coast you'll likely benefit from some cooling sea breezes.
Bodrum weather
For those who don't enjoy it too hot and aren't set on a swimming or beach break, Turkey is also very pleasant in the winter months, with around five hours of sunshine per day (compared to one in the UK in January).
Temperatures are cooler however, more like spring in the UK, and you could see some rain as well. As with every destination, the decision about when to go really come down to what you want from your holiday to Turkey with TUI.
Antalya weather
Caribbean
Is there anywhere more dreamy than the Caribbean? Palm trees - check. Soft white sandy beaches - check. Warm inviting waters - check. The list goes on.
If this sounds like your kind of holiday destination then it's time you checked out the latest deals from TUI, which offers everything from self catering apartments to full on all inclusive luxury villas dotted around the region.
The Caribbean* is a sizeable area, with very similar conditions prevailing over most of the islands from the north of Cuba all the way down to Barbados*. Hot summers with high levels of rainfall from May to October are followed by warm winters with plenty of sunshine and very little rain.
Summers too have plenty of sunshine despite the rain, and as TUI's selection of resorts stretches from Cuba* to Aruba*, this is good news for anyone planning a Caribbean break. TUI also offers holidays to Antigua*, Dominican Republic*, Grenada* and St Lucia*.
Barbados weather
Jamaica weather
Read more: Your guide to sea temperatures
North & Central America
Much like many UK holidaymakers, TUI has a long love affair with destinations in North and Central America.
Whether it's the established resorts in Florida* and Mexico* or new and expanding resorts in the likes of up and coming Costa Rica*, there's a great variety of places, each with something very different on offer.
The weather offers a changing picture as you move across the region. Costa Rica itself is so diverse with warm and wet inland rainforests as well as hot and sunny beaches; then there's Mexico where you'll find resorts on both the Pacific and Atlantic coasts.
As for Orlando*, this hugely popular inland city playground is a hot and hazy hive offering high temperatures year round.
Costa Rica
Costa Rica* is enjoying a surge in popularity at present, and TUI is at the forefront, leading the way with new resorts peppered along its northwest Pacific coastline.
Choose to stay in Papagayo Bay, Playa Matapalo, Tamarindo Beach or Playa Conchal, where the weather is typically hot with lashings of sunshine, and incredibly warm waters.
Costa Rica does suffer from extreme UV almost all year round, so a good SPF is required, and there is also very high heat and humidity, which can make day times feel close and even hotter.
As for when to go, November to April is the driest time, and the chance of being affected by a hurricane or tropical storm remains very low at 1% in November.
Mexico - Caribbean Coast
Mexico's Caribbean Coast* is big favourite with sunseekers after some exotic vibes with a wide selection of accommodation and amenities to hand.
TUI has resorts along the Yucatan Peninsula in Cancun, Riviera Maya, Playacar, and Playa Mujeres. November to April is, once again, the busiest time of year as people flock to the platinum shores to enjoy long days with lots of sun and temperatures which bob around the 30°C mark.
It's also the driest time of year, with May to October seeing more rainfall, although this is also the hottest time of year.
You can visit Mexico all year round, just be prepared for rain at times during the summer, and be aware of the risk from a hurricane affecting you between June and November - September sees the highest risk at 4% only.
Mexico - Pacific Coast
If the Pacific Coast* is calling, TUI gives you plenty of choice, from the well known base of Puerto Vallarta, to Nuevo Vallarta and Punta de Mita, all three based in the scenic Bahia de Banderas.
Resorts on the west coast are at the same latitude as the Caribbean, and have very similar weather including a winter dry season.
Daytime temperatures match those on the Caribbean coast month for month. However, there is one notable difference - in every month (even in the summer) nights are quite a bit cooler.
This is because humidity levels fall at night allowing the heat of the day to radiate back into space. The Pacific Ocean is also a touch cooler at this latitude but sea temperatures, even in the coldest months, rarely fall below 24°C.
The west coast of Mexico can also be affected by tropical storms as they form in the summer just to the south of Mexico before heading west towards Hawaii. Since these storm are still developing and in their infancy they are not particularly destructive.
Orlando, Florida, USA
Unsurprisingly, Orlando* is a huge hit with families and couples looking to squeeze everything they can from the countless theme and water parks that attract millions of visitors year after year.
Day time temperatures creep up to around 33°C between July and September, although this is also the wettest time of year and when you're at the greatest risk (only 4% in August and September, however) of being affected by a passing tropical storm or hurricane.
Despite the rain, the summer months also have lots of sunshine. October to May is really the prime time to visit with warm days and sunshine - just bring a layer or two for evenings in the winter months as the temperature can drop significantly after sunset.
Africa
Africa encompasses not only countries within the continent itself but also many outlying islands in both the Atlantic and Indian oceans. TUI offers holidays to various types of resort in Egypt, Gambia and Tunisia, giving you some serious variety when it comes to choosing where in Africa you'd like to go.
From the wide and windy beaches of Cape Verde to the spicy scents of Morocco, and warm turquoise waters of Mauritius, each of these destinations, from east to west, experiences surprisingly different conditions when it comes to the weather.
Cape Verde
Cape Verde*, some 400 miles west of Senegal in the Atlantic Ocean, is an archipelago that you can visit with TUI offering year round sunshine and extremely dry conditions. Hardly any rain touches the islands of Cape Verde, and temperatures bob between 25°C in winter and 30°C in summer.
Given its location in the path prevailing northeast trade winds, and with the moderating effect of the cool Atlantic Ocean, weather conditions in Cape Verde never become too hot.
It is however, fabulously sunny, especially in spring and autumn, and with resorts in both Boa Vista and Sal, you have plenty of choice when it comes to deciding which TUI resort to visit in Cape Verde.
Egypt
Gambia
Mauritius
Ah, marvellous Mauritius* - a dream destination for honeymooners, families, and couples alike. This volcanic creation in the southwest of the Indian Ocean has long attracted holidaymakers after its pristine beaches, wonderful landscapes, and marine life.
TUI offers holidays to resorts all around the island including Anse la Raie and Grand Gaube in the far north, Belle Mare and Trou d'eau Douce to the east, Le Morne to the southwest, and Flic en Flac in the west.
Naturally, the delightful tropical weather is one of the island's main draws with many people choosing to visit in the European autumn and winter months when temperatures are at their highest with around eight hours of sunshine per day, and balmy seas.
Although January to March is the wettest time of year, this doesn't usually mean days and days of rain - just passing showers.
This is also the time when a tropical storm could affect the weather in some way but with the maximum risk being 6% in February, the chance of this happening is still very low. In truth, Mauritius is fabulous all year round, it just depends how hot you like it.
Read more: Tropical storm risk: hurricane seasons explained
Morocco
Morocco* is one captivating place thanks to its distinctive character and charm, and you can experience it for less when you book a holiday with TUI.
You have two very different options to choose from when it comes to deciding where to go: will it be coastal Agadir* with its seaside resorts and warming sunshine year round? Or the lively city of Marrakech* with its vibrant markets and colourful souks?
If you're after a swim on your TUI holiday to Morocco, you will be thankful for the heated pools at hotels in Agadir, as the sea can be a little chilly even in summer, while in Marrakech, around 100 miles inland for the coast, the summer months can be a little too hot for some peaking in the high thirties. Beach or city - the choice is yours!
Asia
Asia, in this sense, covers an enormous part of the globe and includes various weather systems and climates that vary hugely from one destination to another.
TUI offers a wide range of holidays to countries across Asia, from the UAE* in the west to Sri Lanka*, India*, and Thailand* in the east. Most of these places, like the islands of the Caribbean, experience a winter dry season which makes them very popular as winter sun destinations.
Luxury seekers will relish in the resorts of Dubai* while those on more of a budget after some sunshine with a hint of the east won't struggle to find superb places stay with wonderful weather in Sri Lanka, India, and Thailand.
Dubai, UAE
If it's seriously hot and sunny weather you're after, then you can't go wrong with a holiday to Dubai*.
This glam and glitzy city in the desert has sunshine by the bucketload although many might find daily highs over 40°C from May to September a little too hot for comfort.
October to April is especially popular with those looking for lots of sunshine within eight hours of the UK, and TUI has a variety of resorts not only in Dubai but also neighbouring Emirates Ras al Khaimah, Fujairah and Ajman. Expect blue skies, warm waters, and long ribbons of white sand on arrival.
Goa, India
Goa is India's leading beach destination for holidaymakers from the UK, and TUI has a select few resorts in both north and south Goa for you to choose from.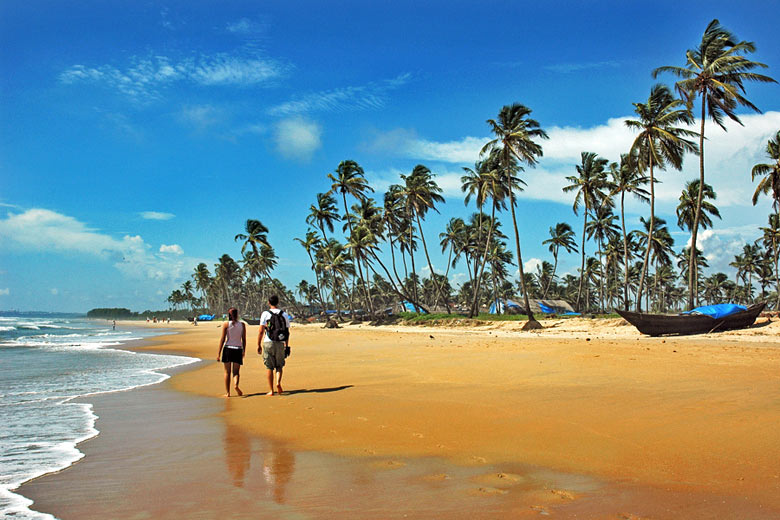 Once a Portuguese colony, Goa* is a mix of European and Indian flavours, architecture and more, while the stylish resorts offer creature comforts away from home. Weather wise.
Goa is especially popular between the end of October and March when temperatures are at their highest in the mid-thirties, there's up to 10 hours of sunshine per day, and very little rainfall, especially compared with the more rainy months from May to September.
Plus, tropical storm risk is exceedingly low here, with only 1% chance of your holiday being affected in some way, and again this is typically during the rainy season.
Sri Lanka
Sri Lanka* is increasingly popular with those looking for a great value holiday somewhere a little exotic, and TUI offers just this. This teardrop of an island, situated off the southeast of India, enjoys a truly tropical climate with high temperatures and heat and humidity to match.
The weather is pretty consistent all year round, although you'll find the most sunshine from November to April, which incidentally is the peak season for tourists.
Sri Lanka does see quite a bit of rain but not enough to put you off your holiday. Think short, sharp showers that quickly move through - and with a tropical storm risk of only 2% at it peak in December, your chance of being affected remains very low indeed.
Thailand
Whether you're after the temples, and tuk tuks of Bangkok, the beautiful beaches of Krabi*, amenities of Phuket* or lushness of the national park in Khao Lak*, TUI has Thailand covered when it comes to finding your perfect escape to Southeast Asia.
You can visit Thailand* at any time of year but if you're hoping to avoid the rains, and the extreme heat and humidity that precedes the rains, then November to April is the most popular time, as temperatures are high, days, relatively dry (forgive the odd passing shower), and there's loads of sunshine to be enjoyed.
This same period is when you're most likely to see your holiday affected by a tropical storm but with a maximum risk of only 2% chance in November, it remains highly unlikely.
Read more: Understanding UV: How to stay safe in the sun
Armed with all of the weather and destination information you could ever need to start planning your TUI holiday for 2022/2023, why not head over to our dedicated TUI page for even more online offers, sale deals and ways to save on your next sunshine getaway.
*affiliate links: find out how we are funded and why this helps us remain free to use.