Why Valencia should be your next Spanish city break
*affiliate links: find out how we are funded and why this helps us remain free to use.
Valencia is often erroneously overlooked in favour of Barcelona, Madrid or Seville. Yet, as Spain's third-largest city, it's a delectable mix of traditional and modern, urban and coastal, with just as much to offer.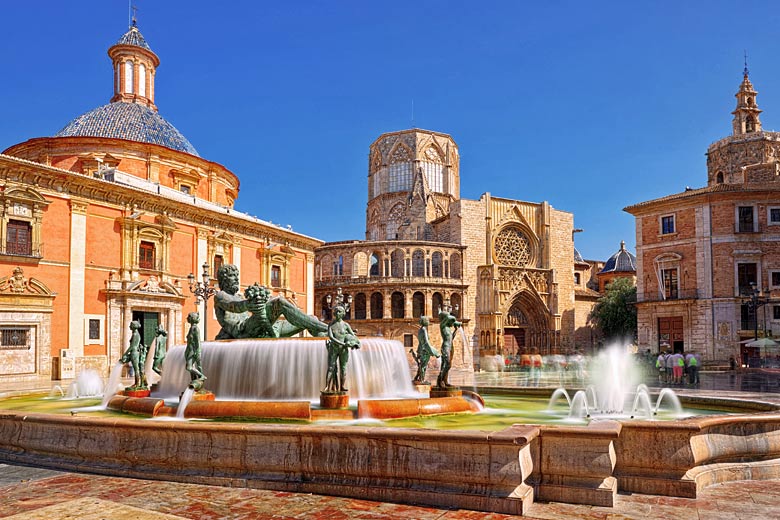 Ancient ruins, hearty local cuisine and winding old streets rub shoulders with contemporary architecture, chic restaurants, beach bars and sprawling parks. Here, we delve into why you should break with convention and explore this treat on Spain's east coast.
Getting to Valencia: one way to experience Valencia is by embarking on a Mediterranean cruise with Marella that includes a stop at this enchanting port city.
Browse itineraries* and check out the latest deals from Marella Cruises* on voyages around the Med that call at numerous exciting destinations including Spain.
Sounds of the city
One of Valencia's most iconic buildings is the opera house and arts centre of Palau de Les Arts Reina Sofia, or Queen Sofia Palace of the Arts, the brainchild of a local architect with an international reputation: Santiago Calatrava.
Upon arrival on my visit, I was convinced Calatarava had designed it to look like a fish until our guide revealed the inspiration was a Spartan helmet.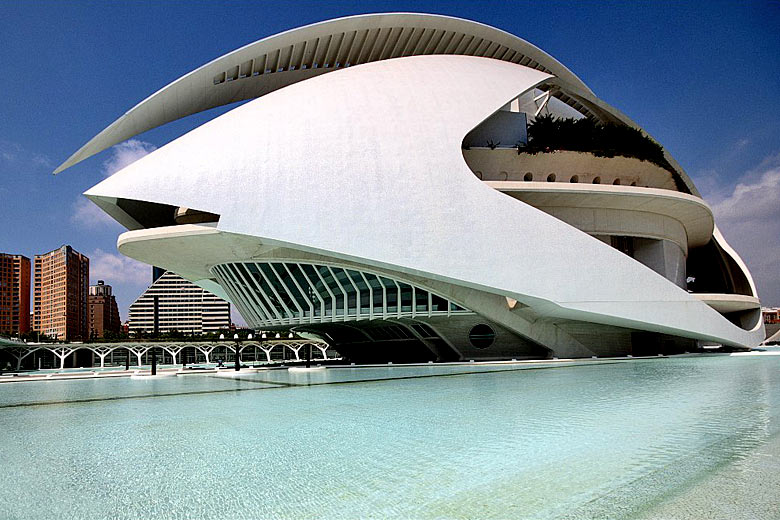 During our tour, we heard the evening's opera performers warming up backstage before the sopranos and tenors were drowned out by the whirring of an industrial cleaner (just as our guide explained the venue is a working one).
For an uninterrupted performance that's also free, head to the bandstand located in La Marina de Valencia where the pergola typically hosts weekly shows from emerging Valencia bands as well as the odd international group. Cervezas Alhambra provides beer on draught and there's also a pop-up vermouth bar as well.
Roman roots
Like so many other cities, Valencia was founded by the Romans. In this mid-east Spanish metropolis' case, as 'Valentia' (Land of the Brave) in 138 BCE. As much retirement home as a colony, land here was granted to retired Roman soldiers as a reward for 25 years of military service.
Dig (metaphorically speaking) Roman remains at L'Almoina Archaeological Museum in the aptly-named Plaza de Décimo Junio Bruto.
The Moors would later claim the city before it was recaptured by Jaume I, aka Jaume the Conqueror. On 9 October 1238, the Aragonese king's troops toppled the ruling Muslims, and the date is now a public holiday.
The sublime sunken park
The meandering curves of the Jardí del Túria, or Turia Gardens, the largest urban park in Spain, are hard to miss on a visit to Valencia.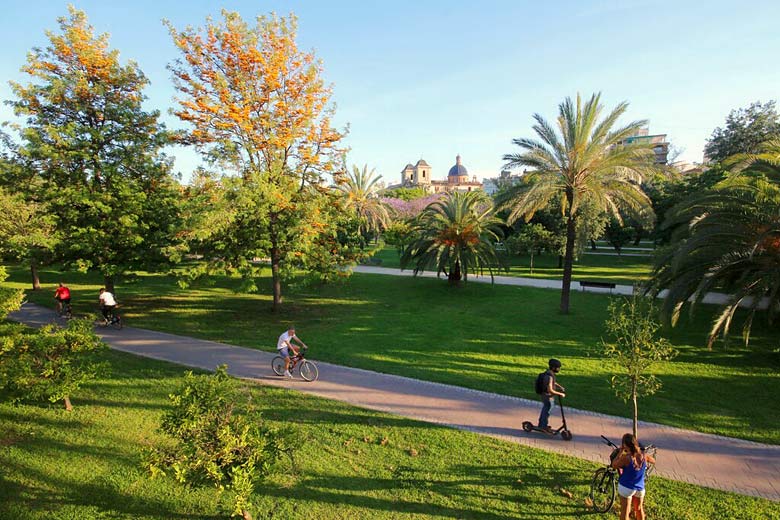 The sunken park has blossomed in what was formerly the route of the River Túria before it was diverted south of the city to combat flooding in 1969. The dried-up river bed proved to be the perfect base to create a thriving park that now snakes its way through the city centre.
Today, it's a major landmark with everything from play areas, sports pitches and athletics tracks to sculptures, ponds, fountains and cafés. Wander its length to experience the full variety of the landscape as you stroll past orange trees, palms and under fragrant pines.
Short for time? Hire an e-scooter or a bike to whizz down to the City of Arts and Sciences on special waymarked tracks.
The home of paella
Valencia birthed paella, Spain's most iconic dish. Note to Jamie Oliver: no self-respecting kitchen in the region adds chorizo to the mix. Staple ingredients of the original recipe include bomba rice, free-range chicken, wild rabbit, haricot beans, snails, paprika, saffron and salted water rather than stock.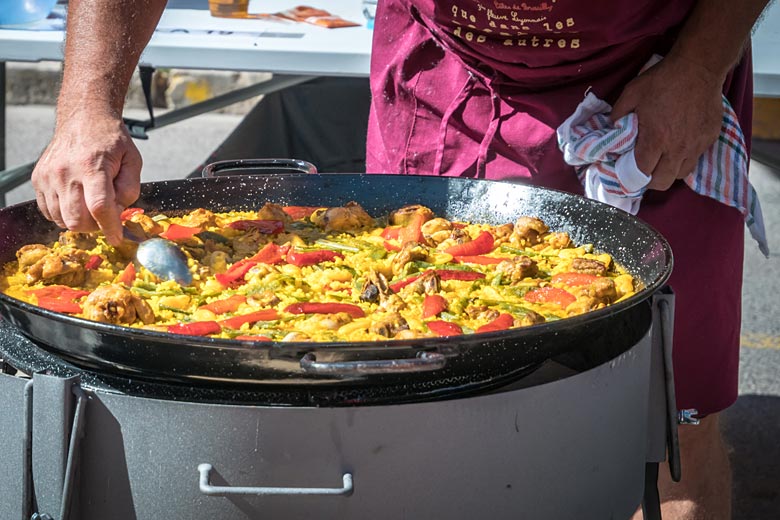 However, variations of the dish have emerged as the dish has evolved. A vegetable one began to be served following a royal visit, to cater for a vegetarian queen. The paella heartland of El Palmar is located 15 minutes south of Valencia, adjoining Albufera Lake.
As a vegan, I was enchanted by the plant-based paella served at Restaurante Mateu, where the chef's fondness for olive oil resulted in a rich dish.
They're no slouches on the paella front in more central eateries either. So the next day, I tucked into Restaurante La Marítima's version, which goes heavy on the rosemary. The socarrat, the charred crust at the bottom of the pan and the source of many a family squabble, reminded me of my childhood fondness for burnt toast.
Top tip: get to know the real history of paella at the Museo del Arroz de Valencia, or Rice Museum of Valencia.
I sampled other regional fare in the beatnik neighbourhood of Ruzafa's achingly hip and deliciously luscious on the lip(s) 2 Estacíones, including cocas, a Valencian pastry-based speciality which is found either pizza-like savoury or cake-esque sweet.
Then there's innovative international food at the likes of Stephen Anderson's Ma Khin Café, which draws on his Burmese heritage. The broken samosa salad followed by a duo of curries with rice will remain two of my favourite things I've ever eaten out.
Tasty local tipples
If Valencia is feted for its food, its vintages fly more under the radar. Yet, there are 93 wineries spread across 13,000 hectares of vines. The stand-out grape is Monastrell, which owes its religious-sounding name to the fact it was originally cultivated by monks.
Perhaps you'll acquire a taste for liquid Marmite, as in the opinion-dividing Horchata. This is an ice-cold drink which is made from tiger nuts grown in Alboraya. Locals dip spongy pastries known as fartons (fnar, fnar) into the glass for added sustenance.
The Agua de Valencia will be the most potent "water" you've ever drunk. Seeing as it's a mix of orange juice, cava, sugar, and a selection of punchy liqueurs. The concoction varies from establishment to establishment.
Life after dark
One of the best places to enjoy Agua de Valencia is the colourful Café de las Horas. Located close to the cathedral, it's the sort of place one imagines Henry Miller stumbling into and out of in his Paris years. It's open from morning until late every day of the week, barflies.
The night starts young in Valencia. It's become popular to go out for what's known as a tarde. This afternoon jolly sees DJs playing sunlight sets in the likes of the Marina.
Take a tour
I still don't (after all these years) drive. My preferred mode of transport remains my own two feet, which is why I loved Tripula's walking tour, which took in the sights of the gothic cathedral and two main markets.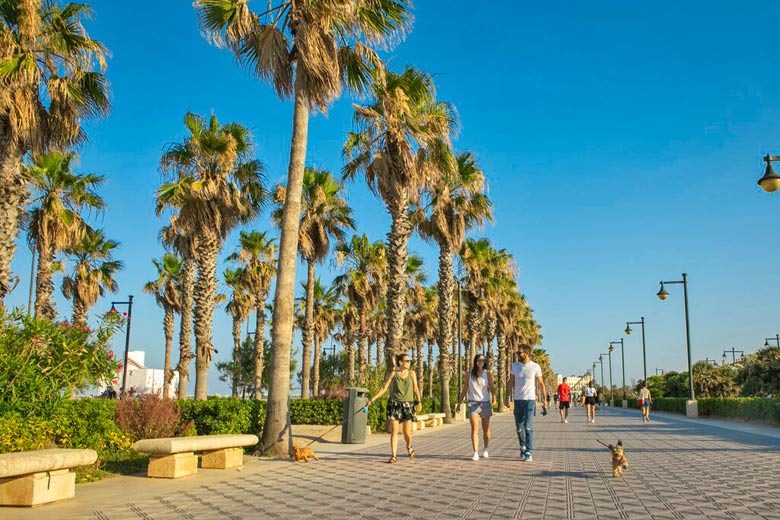 And not driving meant I could drink at two designated pit stops, stylish wine bar Mi Cub in Mercat Colón and gourmet tapas joint, Central Bar by Ricard Camerana, in Mercat Central.
Although you won't see so many bikes as in Amsterdam or Cambridge, say, Valencia's an increasingly cycling-friendly city.
I took a Paseando por los Poblados de la Mar tour on a Bikes & Roll bicycle and it was thrilling pedalling through gentrified Cabañal and along the palm-tree-lined Paseo Marítimo promenade adjoining beaches of Las Arenas and La Malvarrosa.
Another way to get out and about is by boat. I enjoyed the laid-back ambience offered by an Albufera voyage with the saltiest of sea dogs ferrying me around on his Paseo en Barca Jaume vessel.
Weather in Valencia
Ready to discover Valencia? Don't miss the latest deals on Mediterranean itineraries with Marella Cruises and grab your berth for less today.
More about Spain
Jan Feb Mar Apr May Jun Jul Aug Sep Oct Nov Dec
Explore holidays in the sun for less
Be inspired
Get your weekly fix of holiday inspiration from some of the world's best travel writers plus save on your next trip with the latest exclusive offers
We promise not to share your details
Related posts