What's it like holidaying in the Canaries at the moment?
*affiliate links: find out how we are funded and why this helps us remain free to use.
For many, booking a holiday remains a daunting prospect. Yet, with travel restrictions in England due to ease further from 11 February 2022, it is becoming more achievable.
In this exclusive piece, we've asked our regular writer and expert on the Canary Islands*, Robin McKelvie, to share his first-hand experience of travelling to Gran Canaria*, which he did in late January 2022.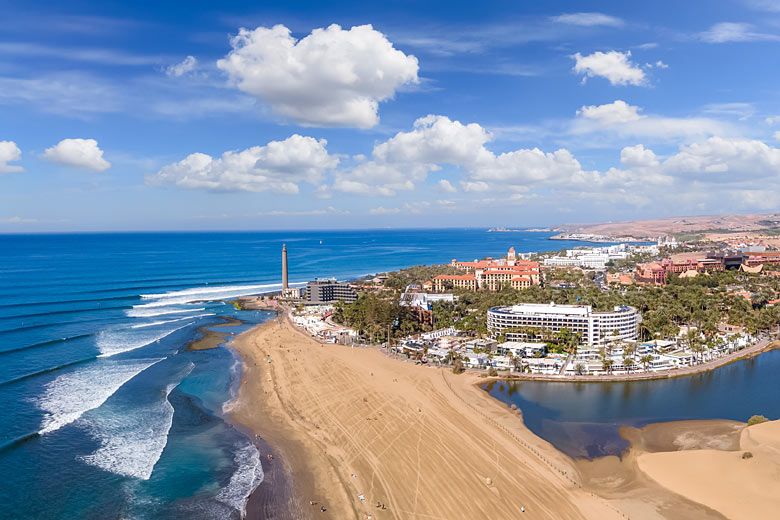 I'm writing this in Gran Canaria, sitting on my balcony at the Seaside Palm Beach* in Maspalomas after lunch by the pool. Might pop into that pool later and then take a sunset stroll along the famous dunes before a tapas dinner, all possible in January as it doesn't get dark here to almost 7 pm.
Sound good? After the last two years of Covid stress and strains, it feels more than marvellous. But confusion and worry still cloud the idea of a sunny break for many.
What tests do you need? What's it like getting into Spain? Can I explore as normal? Well, I'm here to talk you through travelling to the Canaries in the time of Covid, so you can decide if it's worth the hassle for a holiday.
Getting to Gran Canaria: you'll find a variety of offers on holidays with TUI*.
What do you have to do before you fly?
The big V is overarching here. You really need to be vaccinated to enter Spain - double vaccinated and able to prove it. Wherever you received your jabs in the UK (England, Scotland, Wales or Northern Ireland), you can download an NHS app to prove your vaccination status.
They are looking to scan the barcode to see that you've had valid doses of the vaccine. I travel with a printed paper copy as well, just in case. These days, it's best to be over-prepared.
The one big current bugbear is that children aged 12 and over need to show they have been double vaccinated, which is impossible in some cases as many have not yet been double jabbed in the UK.
My daughter couldn't travel to meet me in Lanzarote in December because of this, so do check before you book if you have a teen in tow.
The good news is that you now don't need to take a Covid-19 test before flying to Spain. There is, however, the paperwork to consider. The big hoop you have to jump through before departing the UK is the Spanish Health Form.
Top tip: watch out for websites that redirect you for a fee; it should be a free process.
It is quite a long and daunting form, at first sight, and it took me over an hour to fill it in for my family of four when I travelled to Tenerife last year. I've got used to it now on this, my third, trip now to the Canaries during Covid and it's much easier.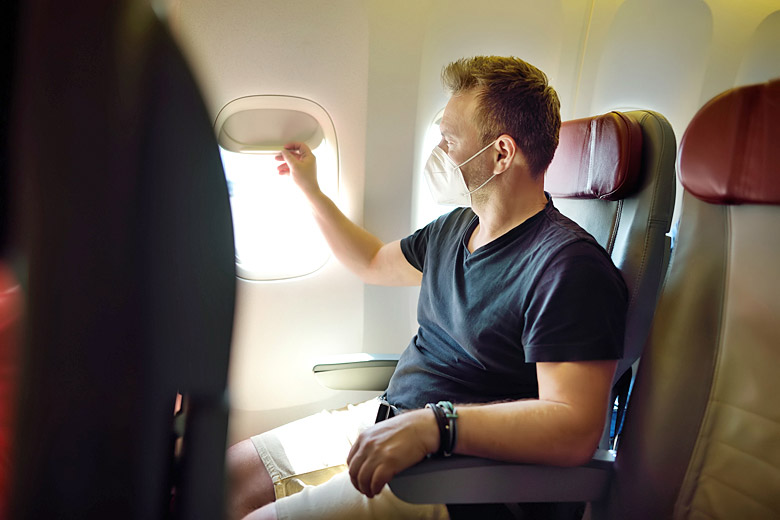 I'd advise filling it in with less than 48 hours to go before your flight as you can do it in one go, rather than having to come back to complete it and spend time on it twice. When you're finished, you'll receive a barcode by email that you need to travel. Again, I'd print this off too, as well as have it on your phone.
With other practicalities, I'd recommend taking a lateral flow test before you fly. Even though it's not compulsory, it reduces your chances of getting sick on holiday and also avoids you infecting your fellow passengers.
To this end, I also use FFP2 (or N95) facemasks* when flying as they fit snugly around your face without the gaps you get on the cheaper surgical masks. Also, pack some hand gel; small bottles in plastic bags for hand luggage with larger ones in the suitcase.
How was the flight?
When checking in at the airport, make sure you have your Spanish health form acceptance and proof of double vaccination, along with your boarding pass and passport.
Airports, in my experience, feel secure these days compared to places like the London Underground as people tend to wear masks more.
On the plane, the filtration systems on modern aircraft are actually beneficial in reducing viruses circulating, but you'll still need to wear your mask when not eating and drinking. As crews all wear masks too, it actually feels reassuringly safe.
What's it like arriving in Spain?
Passport control (with passports stamped due to Brexit these days) and baggage are fairly normal. They can check your temperature, but this has not happened to me in three flights to Spain over the last six months. They do always scan your Spanish health form, so you'll need that handy.
Are the regulations different in Spain?
Actually being in the Canaries feels much safer than England and even safer than comparatively more cautious Scotland, where I live. Almost everyone uses FFP2 masks and not only indoors; you have to wear them in public places unless you're on the beach in your own small social group.
I found I quickly got used to wearing my mask outside too. When entering restaurants, cafés and bars you'll need to show proof of vaccination via your NHS app. I'd carry your passport or driving licence too as some places asked to cross-reference ID.
Seaside Palm Beach, Maspalomas: gel available throughout. Tables at breakfast are more spread out, which was a positive. Needed to show proof of my vaccine. Felt safe and secure and restrictions didn't stop us from doing anything we wanted to do.
Maspalomas: it was great to be back on the beach and it works because you don't need masks here. Felt very relaxed.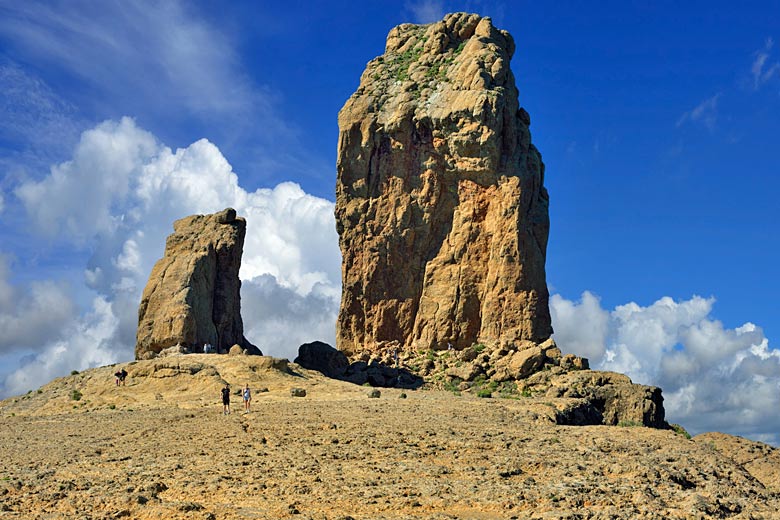 Inland: spent one day inland in the mountains. This was the most life-affirming part of the trip taking on the high ridges on hills taller than Ben Nevis, hiking through oxygen-pumping forests and appreciating the big skies and epic views.
If it's your first time I recommend tackling the spectacular Roque Nublo outcrop. It's a challenging, thrilling hike up to admire this striking sight.
Las Palmas: the only real city in the Canaries and one of Spain's top 10 largest cities.
On busy streets with lots of traffic wearing a mask was not ideal on longer walks, but that is where the beachside suburb of Las Canteras came in. You can take your mask off and slip in for a swim, soon forgetting all about Covid.
Poema del Mar: Gran Canaria's one unmissable sight is arguably Europe's finest aquarium. As well as some of the largest viewing panels you're ever likely to see, the team works to breed species here and reintroduce them into the wild.
It felt really safe with everyone wearing masks, gel at the entrance as well as signs on distancing as you go around.
Eating out: once you're seated you can take your mask off, though staff will politely remind you if you forget to wear your mask to go to the toilet.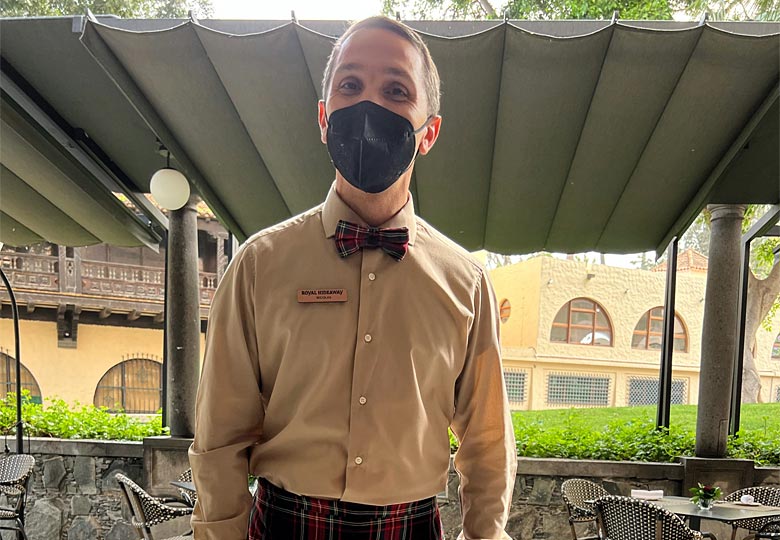 Highlights of dining on this trip started with the modern tapas of 1890 La Bodeguita at the grand Santa Catalina Hotel*, lunch with an epic view of the mountains on the terrace at the Parador in Parador de Cruz de Tejeda, and delicious at Piscos & Buches at the Mercado del Puerto (Port Market).
One Covid bonus at the Seaside Palm Beach was our half-board dinner, which was an excellent multi-course à la carte affair instead of the usual buffet.
Was it worth it?
Categorically yes. The pre-departure paperwork took a little time - even Grant Shapps recently stated that the UK form is "ridiculously complicated"!
But if you do it within 48 hours before your departure window you just need to access the online form once. The airport and flight were no drama and neither was getting into Spain.
Tourism is still not back up to full steam in most of Europe, so things felt a little, in all honesty, pleasantly quieter. In short, this trip to Gran Canaria demonstrated to me that it's a great time to head to the Canaries for a relaxing holiday.
Top tip: be sure to visit both Gran Canaria Tourism and The Canary Islands Tourism websites for further information.
Rules for arrivals into England
All travellers due to arrive in the UK must complete the Passenger Locator Form within 48 hours of departure. Although it's tedious, it is set to be simplified in the coming months and from the end of February when it can be submitted up to 72 hours before travelling.
As for testing, currently, fully vaccinated travellers (and those under 18, regardless of their vaccination status) arriving into England only need to take a day 2 lateral flow test and do not need to quarantine while awaiting results.
Testing tips: TUI has partnered with a number of testing providers* and we also have our own collection of deals on both lateral flow and PCR tests for travel.
Travellers who have not been fully vaccinated must take a lateral flow test or PCR test in the 48 hours before they leave for the UK and need to quarantine for 10 days, with tests on day 2 and day 8, plus the option to pay extra to Test to Release on day 5.
However, from 4 am on 11 February 2022, fully vaccinated travellers (and those under 18) will no longer need to take a day 2 Covid-19 test after arriving in the UK.
Unvaccinated travellers will still need to provide proof of a negative Covid-19 test (lateral flow or PCR) taken within two days prior to travelling to the UK and take a day 2 Covid-19 PCR within 48 hours of arrival.
However, unvaccinated arrivals will no longer need to quarantine for the full 10 days assuming the day 2 test is negative.
Please note, the regulations vary slightly between the home nations, so be sure to check the rules for entering Scotland, Wales and Northern Ireland as well.
Find out more: don't miss our dedicated and detailed Covid-19 travel hub.
Weather in Gran Canaria
| | Jan | Feb | Mar | Apr | May | Jun | Jul | Aug | Sep | Oct | Nov | Dec |
| --- | --- | --- | --- | --- | --- | --- | --- | --- | --- | --- | --- | --- |
| Maximum daytime temperature °C | | | | | | 24 | 26 | 27 | 26 | 25 | | |
| Hours of sunshine (daily) | | | | 8 | | | | | 8 | | | 6 |
| Days with some rainfall | | | | | 1 | | | | 1 | | | 4 |
| Sea temperature °C | | | | | | | | | | | | |
Ready to book that holiday? Check out the latest collection of deals and discounts on breaks with TUI.
More about the Canary Islands
Jan Feb Mar Apr May Jun Jul Aug Sep Oct Nov Dec
Explore holidays in the sun for less
Be inspired
Get your weekly fix of holiday inspiration from some of the world's best travel writers plus save on your next trip with the latest exclusive offers
We promise not to share your details
Related posts