Coronavirus travel advice
Coronavirus is continuing to spread across numerous countries around the world and here at Weather2Travel.com we want to help you find the right advice whether you've booked to travel or have plans to travel in the coming months.
Travel advice by country
Coronavirus advice & resources
You'll find information including a brief rundown of the virus, Covid testing for travel, vaccine roll out around the world, and the best online resources as well as suggestions and pointers to help you with any travel-related queries.
Please note: this page is designed to give advice to UK travellers during the coronavirus outbreak. For any medical queries, please refer to NHS 111 and GOV.UK.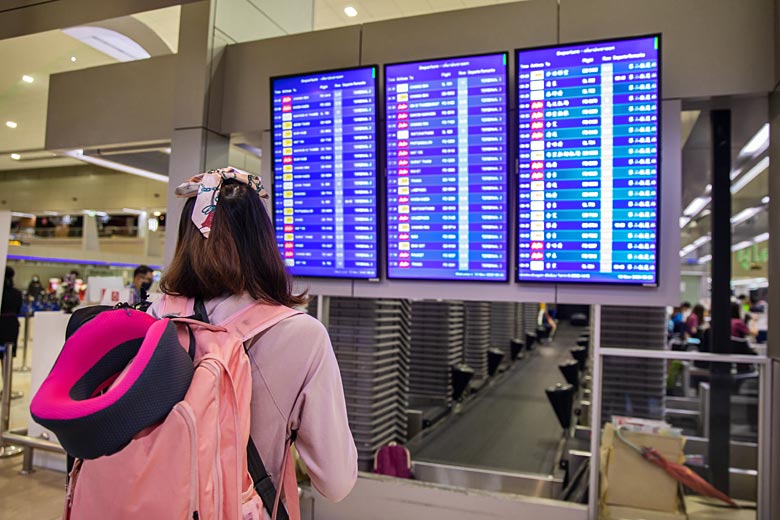 What is coronavirus?
The 2019 novel coronavirus, or Sars-CoV-2 as it's officially known, is a relatively new virus from the much wider family of coronaviruses. Various strains of coronavirus are well known, such as SARS-CoV-1 that caused the 2003 SARS outbreak, and MERS-Cov which causes Middle East respiratory syndrome first identified in Saudi Arabia in 2013.
The Sars-CoV-2 virus causes the disease Covid-19. The majority of people who have been infected have suffered mild symptoms but, as we know, it can be fatal especially in older people and there can also be serious long-term effects known as 'long covid'.
The Sars-CoV-2 coronavirus is spread mainly in confined spaces by droplets exhaled by one person and inhaled by another. This is why social distancing and mask-wearing have become such important tools in the battle against the spread of the disease. While these continue to play their part, vaccinations are now being rolled out which hopefully will bring the pandemic to an end.
As coronavirus is a respiratory infection, some of the most common symptoms include difficulty breathing, a new cough and a fever which comes and goes.
If you believe you have contracted coronavirus or simply feel unwell, it is best to stay home, self isolate and visit the NHS's dedicated 111 coronavirus website to avoid putting more strain on the 111 call network unless it is an emergency.
There are simple steps that can help you stay protected against coronavirus:
do not touch your face - eyes, nose or mouth - if you have not washed your hands
wash your hands with soap and water often for at least 20 seconds
remember to wash your hands as soon as you arrive at your destination
use hand sanitiser if soap and water are not available
be sure to cover your mouth and nose with a tissue or your sleeve (not your hands) when you cough or sneeze
dispose of used tissues immediately and wash your hands after
avoid close contact with anyone who is ill or showing symptoms
For a full summary of Covid-19 statistics and regulations by country, and to compare destinations around the world, visit our interactive Covid-19 travel planner.
FCDO travel advice
Coronavirus & travel - FAQs
I've booked a cruise - should I still go?
The answer to this depends on your cruise line and the destinations you are due to visit.
While most cruises are currently on hold, some have started to operate including a few that do not venture beyond UK waters. These have been declared safe by the UK Department of Transport, however, the FCDO advises UK travellers not to take any international cruises at this time. Where cruises have been cancelled cruise companies are offering alternative sailings later in the year, in 2022 or a refund.
Will I be insured if I travel?
This depends on the details of your specific travel insurance policy, so you will need to contact your provider directly to find this out.

Most insurance providers are now providing some level of cover for disruption caused by the coronavirus but levels of cover vary enormously. So far no cover is available for additional costs incurred when advice from the Foreign Commonwealth & Development Office (FCDO) changes; for example, when the country you are travelling to suddenly moves on to the red list. Which? Travel has an authoritative guide* worth reading.
Can I change or cancel my flight?
While airline cancellation policies do differ, almost all airlines are now offering more flexible options for anyone looking to change or cancel an existing booking as a result of the coronavirus outbreak.

You will need to find out more from your specific airline, however, as Ts&Cs will vary.
My flight's been cancelled - what are my rights?
If your flight originates in the EU (including the UK) and is operated by any airline, or is due to arrive in the EU (including the UK) and is operated by an EU airline, the airline is obliged to offer you either a refund or the opportunity to book an alternative flight at no extra cost.
It is your right to receive a refund if you do not want a voucher or to re-book at a later date. For more information, contact your airline, visit the Civil Aviation Authority (CAA) and read what Which? Travel* has to say about your consumer rights over cancelled flights.
Advice from travel companies
For up-to-date information on existing holiday bookings and future travel plans, visit travel company websites including travel agents, hotel chains and airlines for the latest updates on any specific travel issues including the coronavirus.
Travel company updates
Be inspired
Get your weekly fix of holiday inspiration from some of the world's best travel writers plus save on your next trip with the latest exclusive offers
We promise not to share your details
Explore holidays in the sun for less