Best beaches in Larnaca & beyond
*affiliate links: find out how we are funded and why this helps us remain free to use.
Eternally underrated, Larnaca* is a place most people miss: those who do fly to this port city in eastern Cyprus* tend to immediately drive out, usually bound for Ayia Napa or Protaras.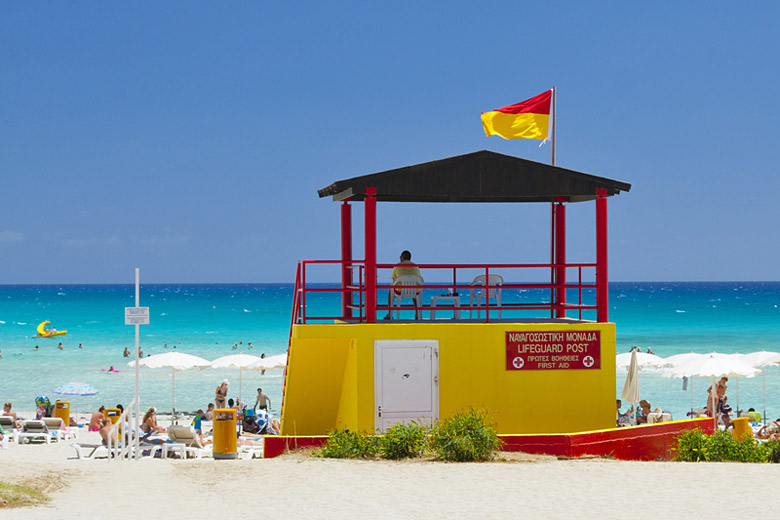 Yet while those two resorts undoubtedly boast the better beaches, more on which shortly, Larnaca can deliver a much more rounded holiday courtesy of its crumbling fort, salt lakes, wreck dives and archaeological sites, and offers quality shores itself. Let's run through the best of them now.
Getting to Larnaca: check out the current online savings on holidays to Larnaca with First Choice*, which departs from airports across England and Wales.
City beaches
Finikoudes
Larnaca's focal point is christened after the elegant date palm trees which populate its wide, half-mile length.
Photogenically concluding in the Ottoman-era Larnaca Castle, the eponymous Finikoudes promenade behind is a vibrant place where everyone from joggers and flirting teenagers to tourists seems to congregate. Restaurants, bars and cafés also proliferate.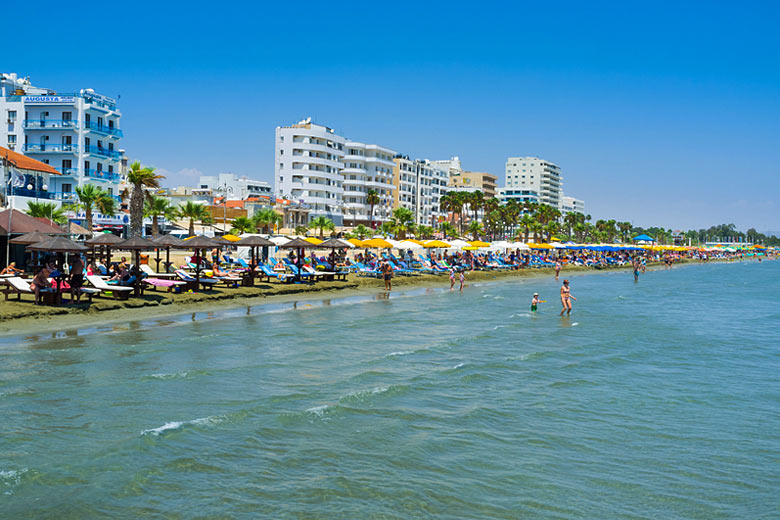 Like most Larnakian seafronts, the beach itself has dark sand, you say "grey", we say "dark gold", and is peppered with sunbeds and watersports kiosks; scrutinised by lifeguards from June to October, its water is warm, clean and shallow.
Castella Beach
Equipped akin to Finikoudes with lifeguards, changing cabins, toilets, sunbeds and fringed by the same colour of powder, Castella has also long enjoyed Blue Flag status. There's a family-friendly shallow shelf again, and greenery once more provides a backdrop.
So what actually differentiates this shore to Finikoudes? Well, it's slightly shorter, more chilled out and next to the petite Psarolimano marina, whose fishing boats serve traditional tavernas (such as the simply-named Psarolimano) where you can eat very, very well.
Mackenzie Beach
Though essentially a southerly continuation of Castella and once more stocked with every necessary facility, bigger Mackenzie (aka Makenzy) is quite distinct. First, there's the airport proximity, which sees aircraft pass excitingly close to snoozing sunbathers every so often.
You've also got a busier, more holiday-resort vibe: relaxingly classy by day, as visitors sip coffees or cocktails, and then a bit clubby at night when some of the bars behind turn up their speakers. Just inland is the shimmering Larnaca salt lake and its elegant Hala Sultan Tekke Mosque.
Perivolia
Faros Beach
Relatively few tourists head south of Larnaca, meaning that the village of Perivolia has a rustic flavour. Beaches flank either side of small Cape Kiti and its little lighthouse; the sandier one is 500-metre-long Faros.
A growing smattering of cafés, sunbed renters and tune-playing shack bars can be found here, as can a sea barrier. That's necessary as this seaboard is windy, with surfing and kitesurfing consequently popular (chiefly further east at Careta). Handily, the frequent, coast-trawling 424 bus comes here.
Mazotos Beach
Among the numerous pebbly coves abounding as you continue east, one name that might ring a bell is Mazotos. It'll be familiar because of its cheerful camel park.
Fifteen minutes away on foot, the beach here has a dark, volcanic hue and smooths as one enters the warm sea. What it lacks in infrastructure, although beds can usually be hired, is compensated for in terms of quietude.
Be warned that much seaweed can wash ashore in June. If you get the hump, those camels should at least be empathetic.
Larnaca Bay
A lazy, 15-mile curve, the bay north of Larnaca includes a series of beaches. The best are all reachable aboard that regular 424 bus.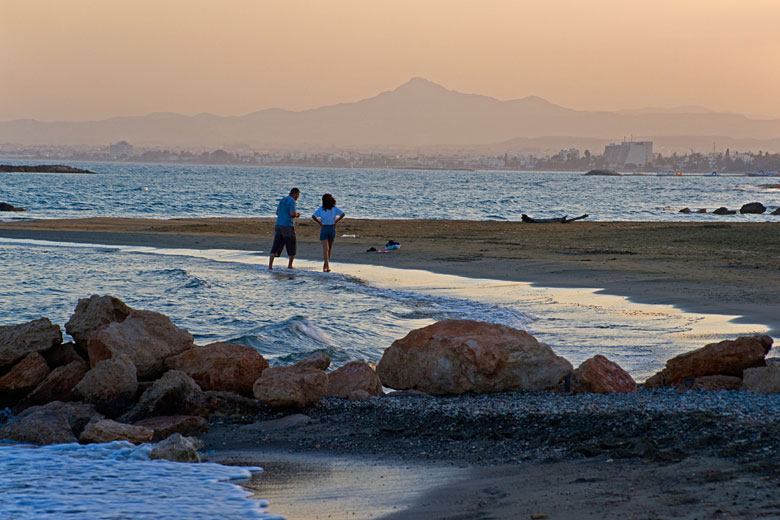 Yanathes Beach
Also known as Yiannides, this eco-minded crowd-pleaser has the usual Larnakian cocktail of clear waters and dark sand, plus an even shallower than normal entry.
Due to reefs just offshore, snorkellers and divers come to observe a good array of aquatic life. Jet-skiing and parasailing are possible too. Yet despite facilities galore awaiting, along with lifeguards, the lack of showers is a drawback.
CTO Beach
CTO stands, unpromisingly, for Cyprus Tourism Organisation; in other words, this is a government-backed public beach where, as a result, you can expect hireable beds, summer lifeguards, watersports operators, volleyball courts, cafés, showers and so forth.
Further from central Larnaca, it's contiguous with Pylo Beach; both shelve gently and both have a wide lozenge of swarthy sand. Plenty of attendant restaurants offer shade from the hot midday sun as a playground further pleases youngsters. An obvious downside is that the busy Dhekelia Road passes behind.
Cessac Beach
And that road is bound for the Sovereign Base Areas of Akrotiri and Dhekelia, an official British Overseas Territory. Although most of that hosts a military base, lining horseshoe-shaped Dhekelia Bay is a spacious beach that's the longest in Larnaca: the publically-accessible Cessac.
Its shingly shore gives onto pitches hosting beach tennis, volleyball, soccer and other sports. Banana boats stand ready for hire and there are some lively restaurants behind; appropriately, given that British ownership, Lambros serves a fine fish and chips.
Ayia Napa & Protaras
Ayia Napa* has been a package-holiday stronghold since the 1970s thanks to its superb beaches, many all-inclusive resorts and notoriously rowdy nightlife.
While the latter has been actively discouraged since 2013, those dreamy shores, whiter sand than any other beach in Larnaca, remain, and easily merit a 40-minute drive east.
The same goes for those options in Protaras*, an easy-going resort on the opposite side of wild Cape Greco.
Nissi Beach
The headline act among Ayia Napa's 27 beaches, Nissi Beach* has previously featured in the high echelons of Instagram polls.
That gives an idea of its good looks: two large coves of pearly sand whose central sandbar cuts, at low tide, through thrillingly turquoise waters to access an iconic, leafy islet.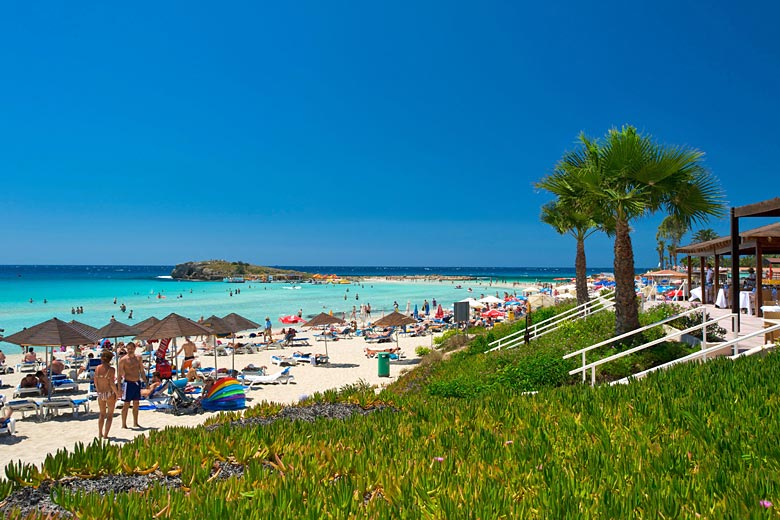 Arrive early to secure a sunbed, and be prepared for some debauchery: although far from the hedonism of peak Ayia Napa, the Nissi Bay Beach Bar is still fond of a summer foam party after dark.
Konnos Beach
Extending south from chapel-guarded Kalamies, Protaras's bevy of beaches include, Pernera, where there's an underwater sculpture museum for divers, Sunrise, beautiful but busy Fig Tree and Byzakia.
All are sandy, clean and well-supported, but none surpass the more southerly Konnos.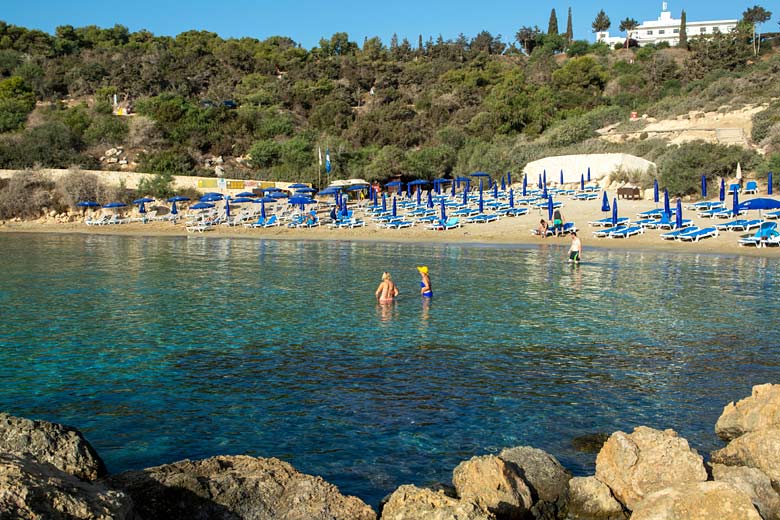 On top of the fine, pale powder and calm, pellucid waters, this cute cove neighbours Cape Greco's protected, lush forest park, which allows for a trump card of walks through dense greenery to gorgeous clifftops either side of your beachcombing.
Weather in Larnaca
The above shows the weather in Larnaca. You can find out more about conditions across the island in our complete guide to the weather in Cyprus.
Ready to try Larnaca's beaches? Check out the latest great value offers on holidays to Cyprus with First Choice.
More about Larnaca
Larnaca by month
Jan Feb Mar Apr May Jun Jul Aug Sep Oct Nov Dec
Explore holidays in the sun for less
Be inspired
Get your weekly fix of holiday inspiration from some of the world's best travel writers plus save on your next trip with the latest exclusive offers
We promise not to share your details
Related posts