7 reasons wildlife lovers should visit Sri Lanka
*affiliate links: find out how we are funded and why this helps us remain free to use.
Sri Lanka may be cherished for its golden beaches, outstanding surf and cultural heritage sites but its national parks and surrounding warm water also provide habitats for an abundance of marine and wildlife.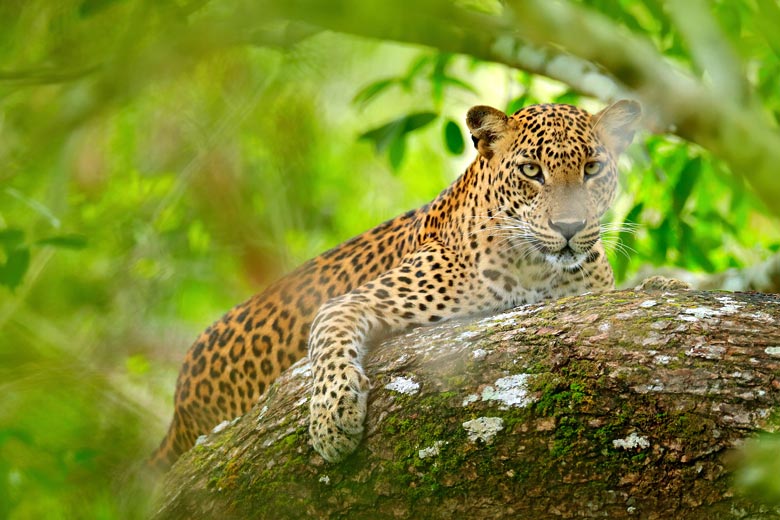 Read on to discover more about Sri Lanka's national parks and the variety of ways in which you can set your eyes on the country's incredible creatures on land, in the air and at sea.
Getting to Sri Lanka: check out the latest deals on expert-led tour from Explore!
1. See wild leopards
Wilpattu National Park in northwest Sri Lanka was closed to visitors during much of the civil war, which ended in 2009. A four-hour drive north of Colombo, the park takes its name from sandy basins that fill with water during the rainy season, known locally as 'willus'.
Wilpattu attracts far fewer visitors than Yala National Park, another popular location for viewing leopards, so it's a great place to escape the crowds.
Take an early morning game drive along the trails of Sri Lanka's largest national park and you may see monitor lizards basking in the sunlight, plus junglefowl and mongooses scurrying along the gravel tracks. Sloth bears and leopards are just two of more than 30 mammalian species inhabiting Wilpattu.
2. Support elephants responsibly
The Elephant Transit Home in Udawalawe National Park takes care of orphaned elephants. The facility was established in 1995, feeding and rehabilitating calves who have lost their mothers. The elephants are eventually released into the wild.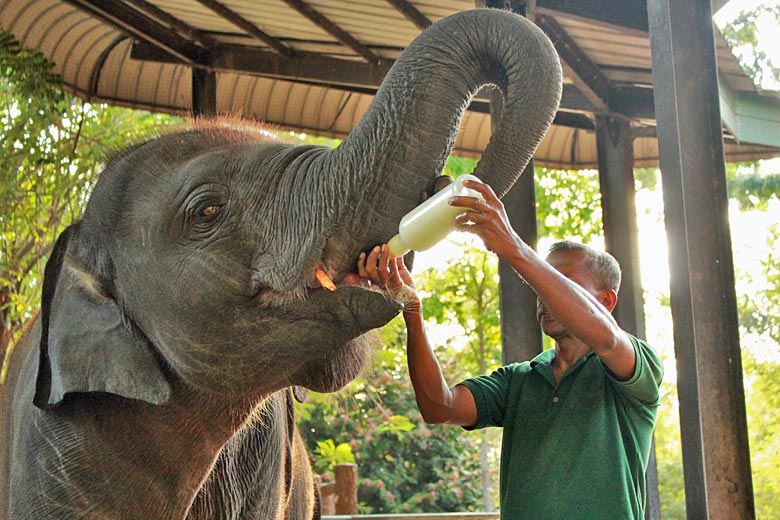 Unlike the Pinnawala Elephant Orphanage, you're not permitted to touch or interact with the animals. Human visitors are welcomed into the Elephant Transit Home every three hours to take a seat in the concrete grandstand.
You're only allowed to watch as a line of elephants, ranging from hip-high babies to sturdy looking five-year-olds, parade into the nearby compound to be fed.
Signs remind visitors to remain silent during the family-friendly event. Inevitably, the excitement and volume crescendos as the elephants trot towards the feeding team seeking milk.
3. Get up close to wild elephants
Minneriya National Park is a four and a half-hour drive northeast of Colombo and renowned for its vast elephant herds. From July until October, the pachyderms gather by the reservoir, one of the few remaining water sources during the dry season.
Local companies provide Jeeps with drivers who know Minneriya's trails. Game drives give you a chance to view elephants as they socialise by the shoreline, playing and feeding.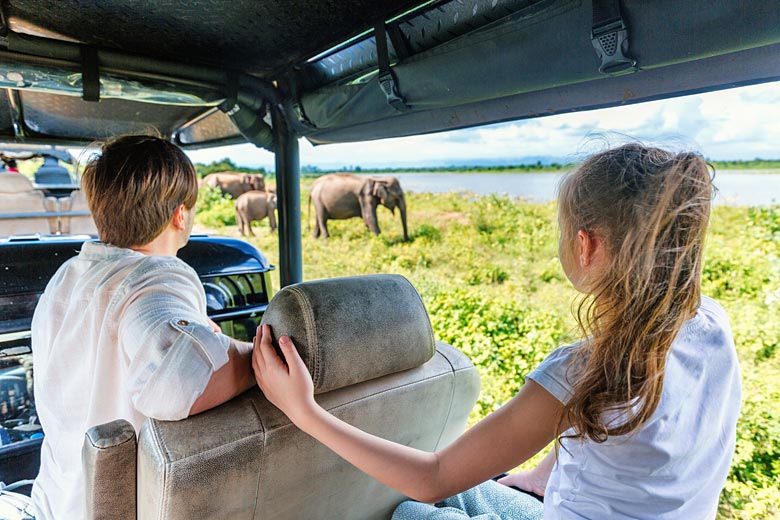 The elephants tend to ignore Jeeps idling by the lakeside, giving you close-up views of them going about their activities. Some of the animals stand eating just out of touching distance. This means outstanding photo opportunities, but you don't need a powerful zoom to take punchy pictures.
Of course, it's not just elephants that you're likely to see. Water buffalo also wallow in the reservoir, which attracts an array of birdlife, including pelicans and painted storks.
4. Go whale watching
Sri Lanka bills itself as a place where you can see both elephants and whales. Trincomalee, in the country's east, Mirissa, on the south coast and Kalpitiya, on the island's west are regarded three of the best ports to board a boat for whale watching.
Blue whales, humpbacks and Bryde's whales number among the cetaceans that can be spotted in Sri Lankan waters. Dolphins and porpoises are also frequently seen swimming alongside boats.
No matter how warm you feel on land, pack a jacket if you plan on going whale watching as the temperature dips while cruising on the open sea. Do your research when it comes to choosing a whale-watching tour; you want to know you are getting close responsibly without endangering the whales in any way.
5. Learn from knowledgable local guides
Many of the guides working in Sri Lanka's national parks are naturalists enthusiastic to share their knowledge. Having a good guide helps maximise your enjoyment of a game drive.
Listening to them explaining the relationships between creatures and the environment helps put sightings and animal behaviour into context. A good guide has the ability to interpret seemingly insignificant signs that most visitors would fail to spot and make informed suggestions as to where to go to view the animals that most interest you.
6. Make room for culture too
Sri Lanka's Buddhist temples and cultural heritage sites are fascinating to visit. That said, pack your programme with too many historic places of worship and all but the most ardent aficionado of historic architecture runs the risk of temple fatigue.
Interspersing your itinerary with excursions into nature allows you to stay fresh, maximising your enjoyment of both heritage and nature. Visits to the rock fortress at Sigiriya and cave temple at Dambulla can be combined with a trip into Minneriya National Park.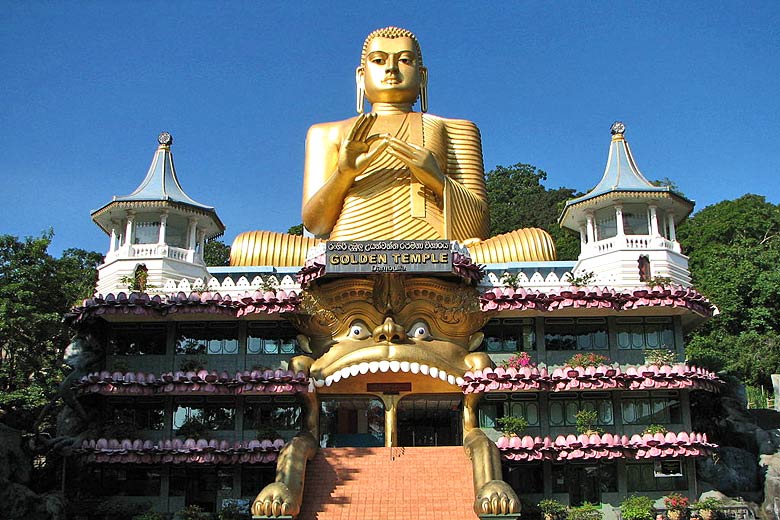 Kandy*, one of Sri Lanka's cultural hubs, lies within easy driving distance of Horton Plains National Park and the menacingly named Knuckles Conservation Forest.
Both fall within the UNESCO-designated Central Highlands of Sri Lanka World Heritage Site. The region is home to 17 endemic bird species, including the Ceylon woodpigeon.
7. Pack your binoculars for the birds
Head to Sri Lanka and you can spot more than 450 species of birds, of which 34 are endemic. The great thing about birding is you can be as active as you wish - using your binoculars while sitting on a veranda, sipping a cold drink is a great way to do it. One commonly seen critter is the pale-billed flowerpecker, Sri Lanka's smallest bird.
Prefer spotting rare birds? Fewer than a dozen black-necked storks reside on the island. Maybe you can identify the 'devil bird' whose shrieking call is reputed to be like a human in distress and regarded as an omen? Some people suspect the cry is made by an eagle-owl but confirmation of the mysterious bird's identity is still awaited.
Weather in Sri Lanka
| | Jan | Feb | Mar | Apr | May | Jun | Jul | Aug | Sep | Oct | Nov | Dec |
| --- | --- | --- | --- | --- | --- | --- | --- | --- | --- | --- | --- | --- |
| Maximum daytime temperature °C | | | 32 | 32 | | | | | | | | |
| Hours of sunshine (daily) | 8 | | | 8 | | | | | | | 7 | 7 |
| Days with some rainfall | 5 | 5 | | | | 15 | 11 | 11 | | 16 | 15 | 10 |
| Sea temperature °C | | | 29 | | 29 | | 27 | 27 | | | | |
Find out more about the weather in Sri Lanka and see when we think is the very best time to go to begin your intrepid exploration of the island's wildlife.
Ready to discover the wildlife of Sri Lanka? Check out the latest deals on escorted tours from Explore! to see if you could save big on a trip of a lifetime.
More about Sri Lanka
Sri Lanka by month
Jan Feb Mar Apr May Jun Jul Aug Sep Oct Nov Dec
Explore holidays in the sun for less
Be inspired
Get your weekly fix of holiday inspiration from some of the world's best travel writers plus save on your next trip with the latest exclusive offers
We promise not to share your details
Related posts