How to best experience Costa Rica's Monteverde cloud forest
*affiliate links: find out how we are funded and why this helps us remain free to use.
Costa Rica's cloud forests are world-famous. While there are three official cloud forest reserves in this bio-diverse Central American nation, Monteverde Cloud Forest Biological Reserve is chief among them.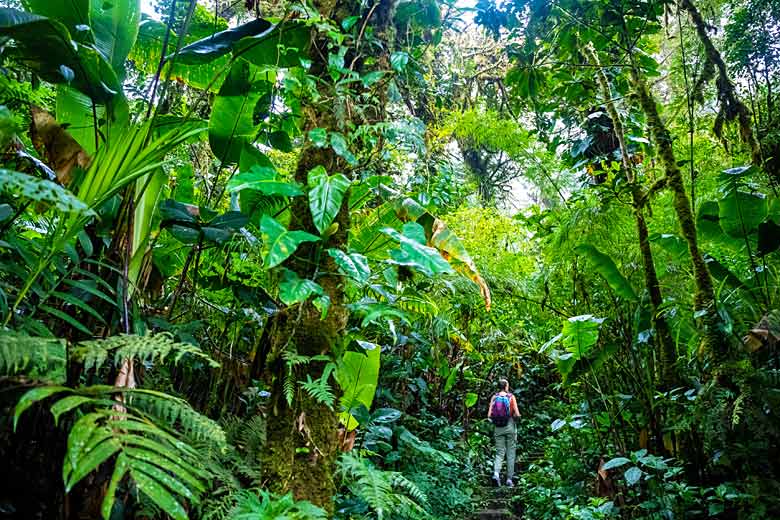 Around a three-hour drive from the capital, San José, this sprawling mass of evergreen trees and exceedingly diverse plant, animal and birdlife sits just where the Caribbean and Pacific weather systems meet within the Tilarán Mountain range, some 1,500 metres (5,000 ft) above sea level.
Here, low-level clouds heavy with moisture literally touch the mountains enveloping luscious tree-tops and creating an invaluable environment in which thousands of species, many endemic, flourish in these extraordinary conditions.
Introducing Sky Adventures
From hiking and walking tours to birdwatching and ziplining, there are numerous ways to get to know what life is like in the cloud forest. This is what the pros at Sky Adventures Monteverde Park* offer across four specially-created activities designed to get you up, up and into the clouds for an unforgettable experience, or two.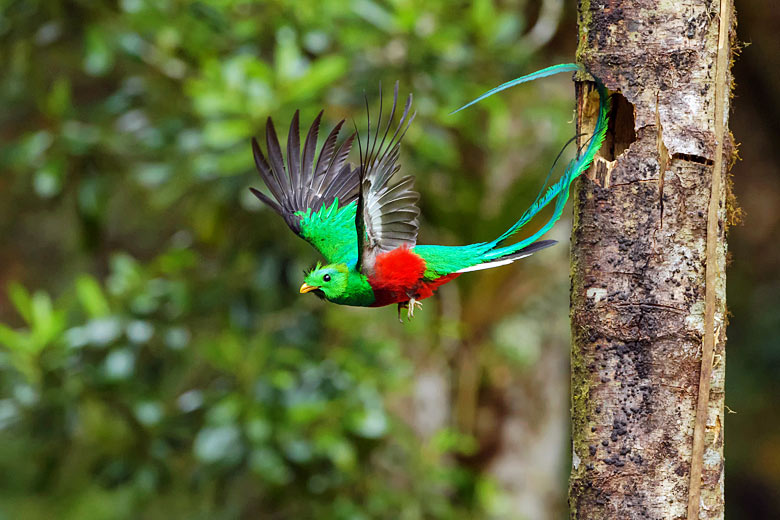 Sky Adventures is one of the most well-established eco-adventure parks in Costa Rica. It has a wide variety of activities for all ages and interests, whether you're a nature lover hoping to spy the wildlife of the cloud forest or an adrenaline-junky eager to fly above the trees. It also has a second park in the Arenal Volcano area near La Fortuna*.
Getting there: a trip to the Sky Adventures Monteverde Park can be booked as part of a day trip from San Jose* along with many other tours and activities across Costa Rica with Viator*.
What activities can you try?
There are four activities on offer at Sky Adventures Monteverde: Sky Trek, Sky Walk, Sky Tram and Arboreal. Note that the Sky Tram is included as part of the Sky Trek activity, but can be booked separately if you're not ziplining.
Good to know: you'll find a restaurant, gift shop and photo desk on site as well as free wifi and lockers to store your belongings while you're out adventuring.
Sky Trek: ziplining course
It isn't easy to describe the feeling of ziplining across the Costa Rican cloud forest. It's the closest thing to flying as you zoom back and forth through the clouds and above the trees.
Once kitted out with your equipment, including a helmet and harness, you're gathered together to wait until there's critical mass for the ziplining instructors to take you out, one group at a time. Everyone is super friendly with a real mix of ages, abilities and countries represented.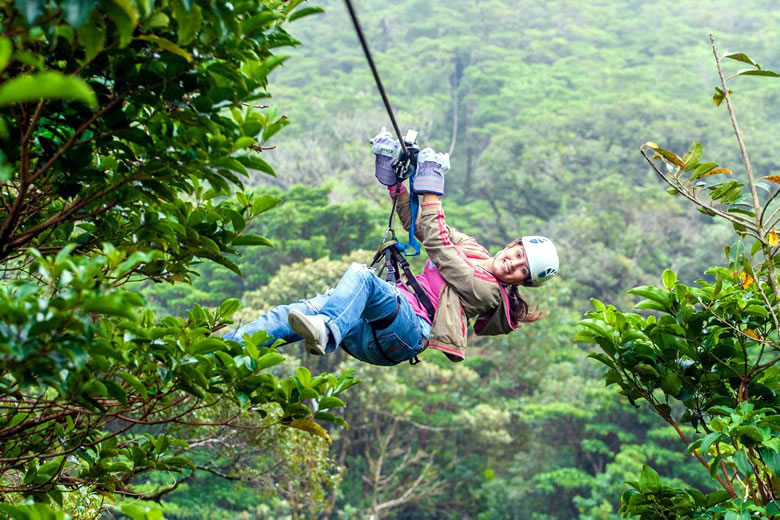 Note: there are age, weight and height restrictions; it's not suitable for anyone with major health problems.
After a detailed safety briefing, the first zipline is a short 40-metre test run before you join the Sky Tram to head up to the next cable. This gives you time to take in the views at a slower pace and prepare yourself for the exhilarating ride coming your way.
The Sky Trek is run by a group of experienced instructors who will be at both ends of each zipline. They connect and disconnect you, so you can just concentrate on the experience itself.
There's also an official photographer who'll travel with the group taking action shots as you navigate the ziplines that are available for you to purchase in digital form at the end if you so desire.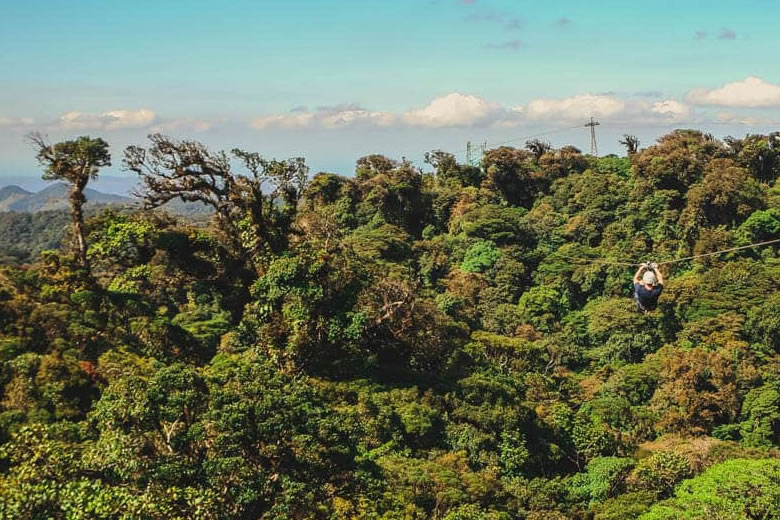 The ziplines range from 320 metres to 750 metres in length with the two longest cables requiring everyone to go in tandem. You can reach speeds of up to 70 kph (43 mph), but you'll have time to admire the spectacular views all around.
After the final zipline you can choose to descend back to planet Earth with a gentle abseil or seated bungee (or take the steps if you prefer). It's the perfect end to a magical experience that you'll want to do again and again.
Sky Walk: hanging bridges nature walk
Sky Walk couldn't be further from the ziplining as you take a trail through the cloud forest in search of the array of wildlife on offer including monkeys, reptiles, insects and birds.
If you're a nature lover, you'll be in your element as the local naturalist guide takes you on a walking tour that takes in six hanging bridges magically suspended between the trees.
The trail runs for approximately 2.5 km (1.5 miles), however, the tour guides will be in contact with each other, so if a group of birds is spotted it's possible to relocate with the increased chance of seeing the beautiful quetzal with it's long flowing tail or the iconic toucan.
The expert guides will point out details and share knowledge of the unique biodiversity on show with flora and fauna on a large scale. From tarantulas hiding in their holes to howler monkeys and spider monkeys traversing the forest canopy, there's so much to see.
The guides will help you spot the wildlife with their telescopes. If you have them, bring your own binoculars and camera equipment.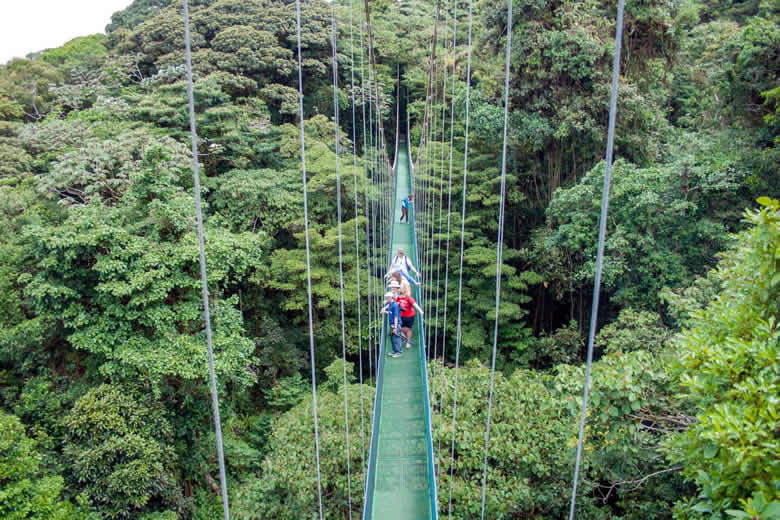 The hanging bridges make wonderful viewing platforms for spectacular panoramas and get you up close to wildlife. The bridges range from 48 metres (157 feet) long up to 236 metres (774 feet) with a vertical drop of up to 70 metres (230 feet).
Be warned! The bridges do move and sway as you walk across them. It takes a little time to get used to the motion, especially if you're unsure about heights. It is worth it!
Once the guided tour is complete, you'll be free to roam the trail independently and revisit the hanging bridges in search of more local inhabitants.
Sky Tram: tramway with panoramic views
The Sky Tram is something in-between a cable car and gondola-style tramway with 360° views of the cloud forest and surrounding area.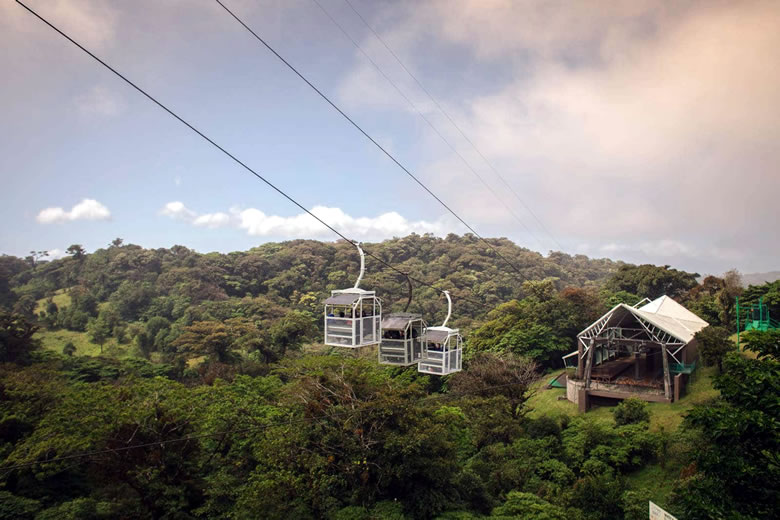 The ride is gentle and smooth with plenty of time to enjoy the scenery. The route is straight up to the highest point at Sky Adventures and runs for 800 metres (2,625 feet).
Once at the top, you'll revel in the vistas from the viewing platform. You can also grab a drink and snack from the mountain-top café. When ready, head back down on the tram and plan your next activity.
Arboreal: tree climbing park
The Arboreal tree climbing experience says exactly what it is on the tin as you scale the magnificent giant trees of the Monteverde cloud forest.
Climb up to four trees with different levels of difficulty and height, ranging from 10 metres (33 feet) to 20 metres (66 feet) high.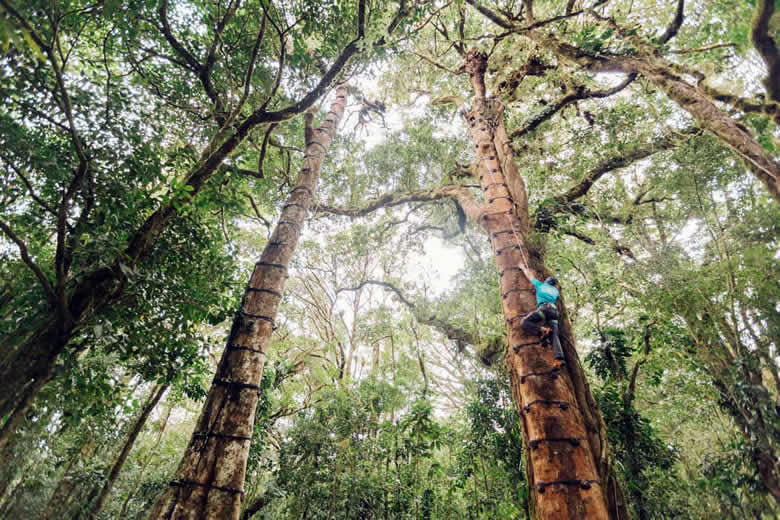 Each tree has hand grips and straps to minimise damage and provide a high level of safety. There is also an automatic belay system to ensure you'll always be securely attached, so you can focus on the climbing and being at one with nature.
What to wear for the weather
The weather can change very quickly in the cloud forest. As the name suggests, clouds often lodge over Monteverde so bring a jacket or raincoat. However, you should also have SPF with you in case the sun comes out, plus some insect repellent. Comfortable light clothes are recommended with suitable shoes depending on your activities.
A lot of rain falls in the wet season (typically May to November) but because of the tropical climate this soon passes and there is usually a lot of sunshine during this period too.
Weather in Monteverde
| | Jan | Feb | Mar | Apr | May | Jun | Jul | Aug | Sep | Oct | Nov | Dec |
| --- | --- | --- | --- | --- | --- | --- | --- | --- | --- | --- | --- | --- |
| Maximum daytime temperature °C | | 27 | 28 | 29 | 27 | | | | | | | |
| Hours of sunshine (daily) | | | 8 | | | | | | | | | |
| Days with some rainfall | 11 | 8 | | 10 | 19 | 24 | | | 24 | | 16 | 14 |
The above guide shows the weather in Monteverde. Find out more about conditions across the country in our complete guide to the weather in Costa Rica.
Ready to fly above the cloud forest? Check out the latest offers on day trips and excursions from Viator, which has numerous options for exploring Costa Rica far and wide.
More about Monteverde
Monteverde by month
Jan Feb Mar Apr May Jun Jul Aug Sep Oct Nov Dec
Explore holidays in the sun for less
Be inspired
Get your weekly fix of holiday inspiration from some of the world's best travel writers plus save on your next trip with the latest exclusive offers
We promise not to share your details
Related posts