Everything you need to know about Lobos Island, Fuerteventura
*affiliate links: find out how we are funded and why this helps us remain free to use.
With a lunar-like landscape, tranquil lagoons and not a single neon-lit restaurant in sight, Lobos Island (or Isla de Lobos), off the north coast of Fuerteventura, has an intriguing nature to it, and makes for an interesting day trip from the busy resort town of Corralejo.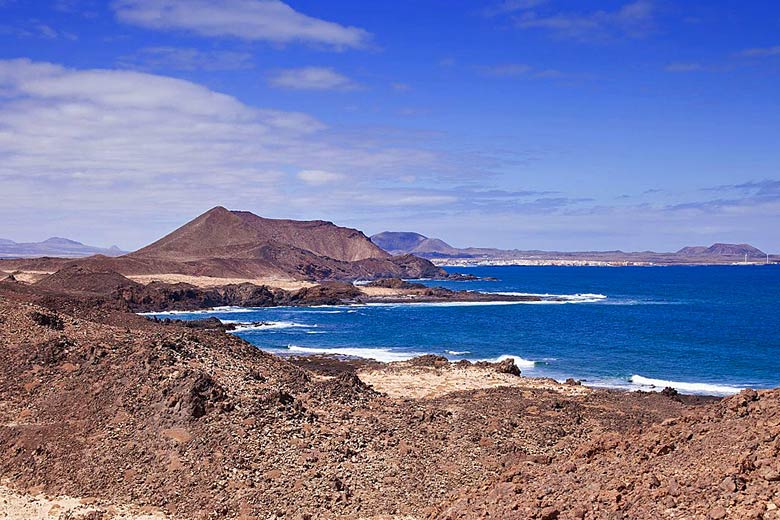 Fuerteventura's enduring appeal lies not only in its wonderful weather and array of things to do but also its variety of places to stay. Take Spanish hotel giant Iberostar*, which has many online deals on stays at its three full service, four star-plus, resorts on the island.
If you're holidaying in Fuerteventura and fancy doing something different, make a day of it by hopping on a ferry and escaping the crowds for a day. Here's everything you need to know before you go.
It's known as the 'Secret Isle'
Lobos Island is only around three miles off the coast of Fuerteventura (it's so close that you can see its volcanic peak from Corralejo), yet many people either don't know you can go or simply choose not to. Although it gets relatively busy with those on day trips, it's still known as the 'Secret Isle', and rightly so.
It's easy to get to
There's a handful of vendors around Corralejo selling boat trips in and around Lobos Island, and you'll find various private boat hire and water taxi options available. The easiest way to get to there though is via ferry.
Buy your ticket (€15) from the stand outside the tourist information office and hop on one of three boats departing from the harbour. It takes just 15 minutes to get to 'El Muelle' (the pier) on Lobos Island, and it's a first-come-first-served system for catching your return ferry home. So, queue early to get a seat!
The island is named after its former inhabitants
Lobos Island got its name from the monk seals or 'Lobos marinos' (which translates literally as sea wolves), that called this place home when Spanish conquerors arrived here in the 1400s.
Sadly, you won't find any 'sea wolves' on Isla de Lobos today as they were all killed by the settlers. Opinion is split over whether seals should be reintroduced to the island but keep your eyes peeled for the concrete sculptures that have been put here in their memory.
It's made for the escapist traveller
Lobos Island is one of Fuerteventura's three protected natural parks, and has been uninhabited since Antonio Hernández, the last lighthouse keeper, left the island in the sixties. These days you'll find few locals here save for the odd fisherman who pulls in the daily catch.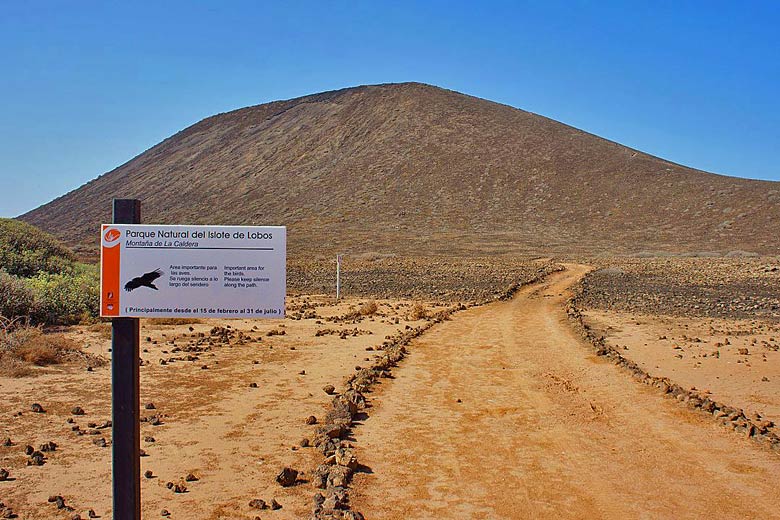 As many visitors head to the beach, you can easily find yourself a spot for some quiet contemplation along the various paths that snake their way around this four-and-half-kilometre-squared stretch of land.
The famous poet Josefina Pla was born here
Ever heard of Josefina Pla? She was a writer and professor who was born right here, on Isla de Lobos, in 1909.
She didn't stick around (she moved to Paraguay in 1927 where she married the artist Andres Campos) but she became renowned for her poetry, literary and human rights work, going on to earn various awards.
When you visit Lobos Island, check out the sculpture that's been placed at the jetty in her honour.
It's great for walkers
If you're not the type to laze around on the beach, you'll definitely enjoy Isla de Lobos as it's perfect for exploring on foot. A number of paths have been etched into the lava landscape and they're sign-posted at regular intervals - which is handy because there are few landmarks to help you out on this stark and lunar land.
Take the circular route to the once inhabited Faro de Martiño lighthouse and gaze out to the horizon. Feeling energetic? Take the steep climb up the Montaña de La Caldera for spectacular views over Fuerteventura.
It's an important habitat for birdlife
It may not feel like there's much wildlife when you first arrive. But look close enough and you may notice some of the migratory and marine birds that call this place home. Lobos Island has been named a protected 'ecologically sensitive' area and people are asked to avoid straying from the paths when they visit.
If you hike the Montaña de La Caldera, you'll notice signs telling you to keep the noise down too, as the shrub-covered slopes are key nesting areas for birds. Some of the known species include ospreys, herring gulls, petrels and the migratory blue heron.
There's only one restaurant
Restaurante Antoñito El Farero - named after the eponymous lighthouse keeper - is the only restaurant on Isla de Lobos. And if you haven't brought a packed lunch, this no-frills seafood joint at El Puertito (the little port) needs to be your first point of call to secure a reservation.
You'll find a small visitors' centre and a hole-in-the-wall where staff will offer you one of two lunch-time slots. The menu is simple - seafood paella (€7) or grilled fish (€9) served with the obligatory Canarian papas arrugadas (wrinkly potatoes and mojo sauce). My advice: go for the paella and ask for a window seat for views of the crystalline lagoon.
It's a popular diving site
There are many dive centres on the island of Fuerteventura, and Lobos Island is one of the 50-plus diving sites they have on their radar.
Diving enthusiasts like it for the submarine lava rivers that attract a variety of marine life, from parrotfish and barracudas to octopus and - reportedly - the occasional shark.
If diving's not your thing, some of the ferries are glass-bottomed boats, so you may spot some of the marine life on your journey to/from the island.
It's home to a rugged sandy beach
It may not match the swathes of sand that line the famed Corralejo Dunes but the beaches on Lobos Island have a wilder, more secluded feel.
La Concha is the favourite sandy cove where most day-trippers go to pitch their parasols. It has a rocky, lagoon-like nature and you'll find a handful of other lagoons around the rest of the island that are perfect for taking a refreshing dip and soaking up the warming Canarian sun.
Does a trip to Isla de Lobos sounds like your kind of day trip? Book your stay at an Iberostar resort in Fuerteventura using one of our exclusive discount codes, and you could be setting sail to experience the Secret Isle's many charms for yourself. Remember to check out the weather in Fuerteventura and see when we think is the best time to go.
More about Fuerteventura
Fuerteventura by month
Jan Feb Mar Apr May Jun Jul Aug Sep Oct Nov Dec
Explore holidays in the sun for less
Be inspired
Get your weekly fix of holiday inspiration from some of the world's best travel writers plus save on your next trip with the latest exclusive offers
We promise not to share your details
Related posts