Walking in Menorca: top walks for every experience level
*affiliate links: find out how we are funded and why this helps us remain free to use.
While the high season for holidays to Menorca is undoubtedly summer, if you're interested in walking in Menorca spring is the ideal time to go.
This is when most of the 900 species of native plant life burst into bloom as well as being the height of the season for the migratory birds, which flock to the island.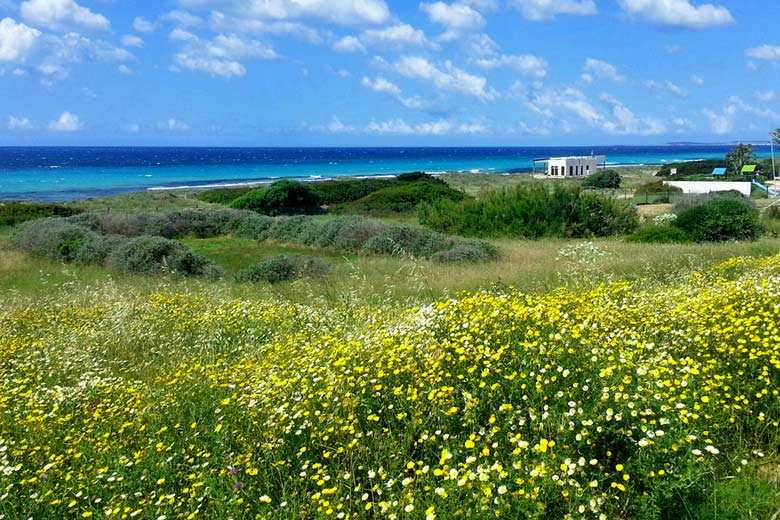 When it comes to picking the perfect hiking route in Menorca, there are a variety of factors to consider, from your own fitness level and that of the rest of your group to the type of terrain you want to cover, the sights you'd like to see along the way and, of course, where on the island you plan to stay.
As with all walking holidays it's important not to overestimate what you can take on - this is a holiday after all - and to make sure you have the right walking boots and other equipment with you.
Bringing a hat and a light rain jacket - and perhaps a swimming costume and towel - as well as supplies of sunscreen, food and water will ensure that you enjoy your walks in complete safety and comfort.
Browse our handpicked selection of five fantastic walks ranging from easy to advanced, enabling you to simply dip your toe into walking in Menorca with an hour-long route or commit yourself to a three-week long hiking holiday on the island.
Beginners: Sant Climent to Son Vitamina
Area: southeast, near the international airport
Duration: 1 hour
Length: 5 km
Level: easy
This pleasant and straightforward westward walk between the town of Sant Climent and the village of Son Vitamina takes in snapshots of the traditional Menorcan landscape, and the entire route is on quiet country lanes.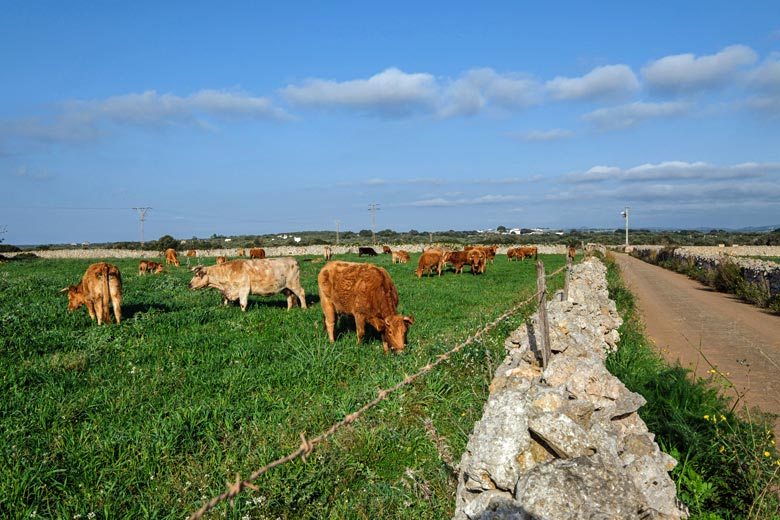 Along the way you will see some traditional old agricultural buildings, as well as rustic Menorcan houses. The terrain underfoot varies from a paved lane to a slightly rockier cobbled road but remains easy to traverse.
Beginners: Ets Alocs to the foot of Mount Mala
Area: northwest, between Cala Pilar and Cala en Calderer
Duration: 3 hours
Length: 6 km
Level: easy
At around 6 km, and taking in beaches and gentle coastline paths, this is a delightful walk from the natural cove at Ets Alocs (aloc meaning 'willow tree' in native Menorcan) across to the foot of the 200-metre high Muntanya Mala that lies at the other side of the bay.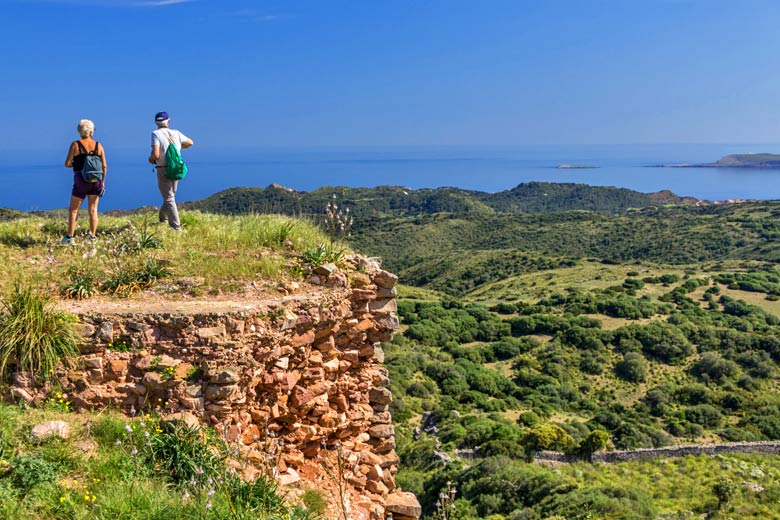 Ets Aloc is popular with hikers as the beach isn't suitable for swimming and sunbathing, and has no leisure facilities - though one of the highlights of your walk will be stopping for a bite to eat at the wide and sandy beach at Cala Pilar.
To extend your route, you can also take a side trip to Mount Santa Agueda, where you can find the ruins of an old fort that was once part of the island's coastal defences.
Intermediates: Punta Nati to Cala Morell
Area: northwest, between Cala Pilar and Cala en Calderer
Duration: 3 to 4 hours
Length: 7 km
Level: intermediate
This route can be done either as a half day hike or a full day out if you're parked at Punta Nati and need double back to return to your vehicle.
If so, time your arrival at Punta Nati with the sunset; this is the site of one of Menorca's most famous lighthouses which, at 42 metres above sea level, makes a perfect spot for seeing the sunset over the northern coast.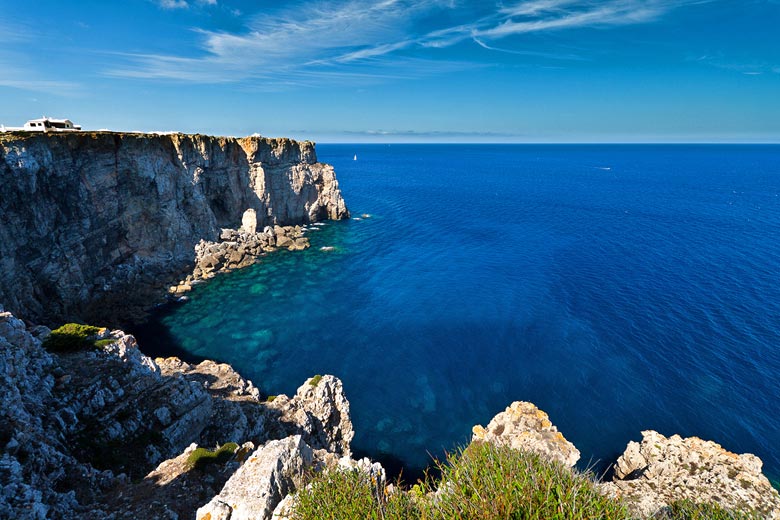 While the terrain is rocky and includes some cliff top sections, the path itself affords stunning views from this arid area of the island across the Mediterranean Sea.
The beautiful cove of Cala Pous and the tiny rocky beach at Cala Morts - named to commemorate the poignant history of shipwrecks prior to the lighthouse's construction - are among the highlights along the way.
Pros: Binimel to El Pilar
Area: central northern coast
Duration: 6 hours
Length: 9 km
Level: difficult
This is one of the most challenging sections of the Cami de Cavalls (the route that takes you on foot around the island of Menorca) and can be walked as a single-day trail. When it comes to the natural scenic surroundings, it is one of the best possible walking routes Menorca has to offer.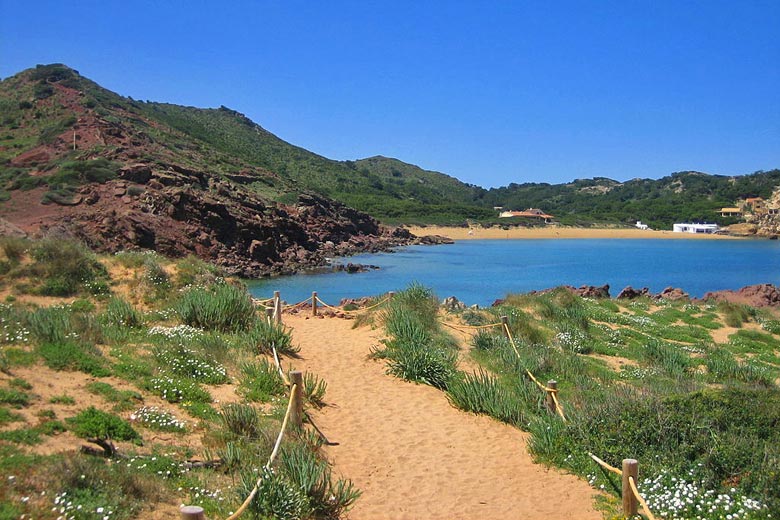 You'll face quite a bit of up and down terrain as you clamber to the top of the coastal cliffs, and you may meet some mountain goats, but it's well worth the effort for the superb views once you get there.
It is also worth giving yourself an extra hour to spend at the pretty beach of Cala Pregonda, which is one of the finest on the island.
For all: Cami de Cavalls
Area: entire island
Duration: up to 20 days
Length: 179 km
Level: easy / intermediate / difficult
This is the ultimate experience for those interested in walking in Menorca: a coastal path that takes the visitor around the entire island, revealing some secluded beaches and charming little villages along the way.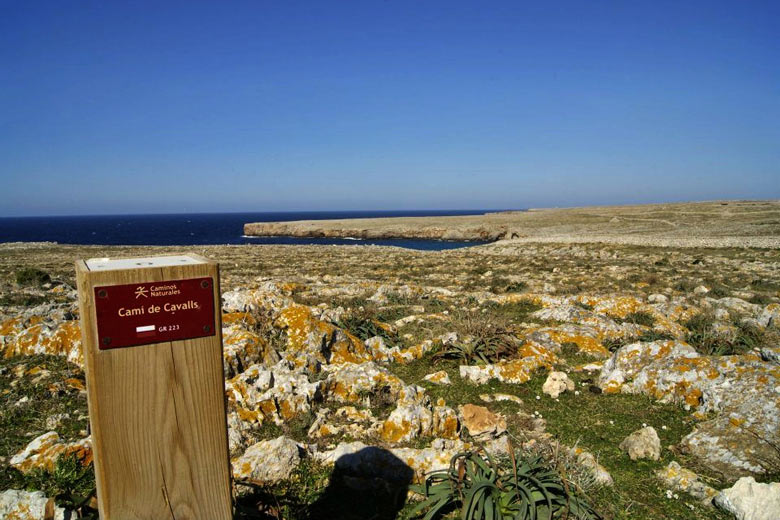 The Cami de Cavalls is based on a route that has existed for nearly eight centuries, historically used to keep the military updated on any potential threat around the coast, this wonderful circuit can broadly be divided into 20 stages.
While the initial idea of a 20-day walk may seem overwhelming and intimidating, once you discover that most sections are rated as either easy or intermediate (with only two difficult days amongst them) the idea of tackling the ultimate hiking trail is within reach for most keen walkers.
Walking in Menorca can be a wonderful holiday in its own right or simply a great way to mix up your activities and get off the sun lounger during your trip to the island. Whether you take on an easy and relaxing hour-long stroll between villages, circumnavigate the entire island on foot or even find your way to Menorca's highest point, El Toro, bring your camera as well as your walking shoes to capture those memories of your time walking in Menorca.
Tempted to go walking in Menorca? Book with Jet2holidays for departure points across the England, Scotland and Northern Ireland and On the Beach for great value offers.
More about Menorca
Menorca by month
Jan Feb Mar Apr May Jun Jul Aug Sep Oct Nov Dec
Explore holidays in the sun for less
Be inspired
Get your weekly fix of holiday inspiration from some of the world's best travel writers plus save on your next trip with the latest exclusive offers
We promise not to share your details
Related posts