7 unmissable city breaks in Poland
*affiliate links: find out how we are funded and why this helps us remain free to use.
Extending between the mammoth Tatra Mountains and the Baltic Sea, Poland is impressively diverse. But thanks to an abundance of budget flights, you only need a long weekend to squeeze in a Polish city break.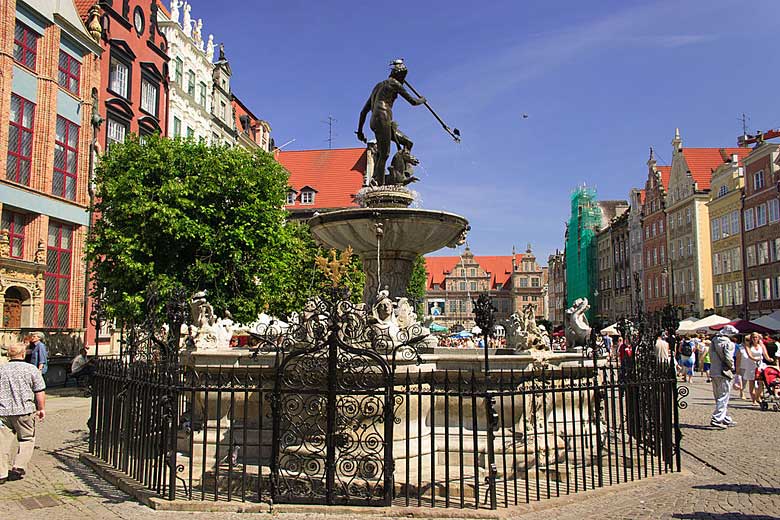 Whether you're looking for medieval history, cutting-edge culture or a calming sea breeze, there's no shortage of choice - and wherever you go, a quaint Old Town is almost guaranteed. For a short break to suit every taste, here's our top urban picks in Poland.
Getting to Poland: luckily, Poland is hugely accessible from the UK with plenty of deals from online travel expert, lastminute.com*. Whether planning a festive getaway to the Christmas markets or thinking ahead to 2022, we'll have a saving to get you there for less.
Kraków
Why go: fine dining and shopping in a fairy-tale setting - and recently voted Europe's top city break destination via Which? Travel
There's beauty at every angle in Kraków's medieval market square. Pastel-coloured townhouses and rustic restaurants line the square, which is merry with café tables and market stalls selling souvenirs and dainty logs of oscypek (smoked sheep's cheese).
Horses toss their manes as they drag carriages around the square. Overlooking it all are the two Gothic spires of St Mary's Cathedral, from which an hourly bugle call rings out.
After drinking in this elegant scene, duck beneath the grand archways of the Sukiennice Cloth Hall. Inside the Renaissance-style hall are craft shops, many of them selling jewellery made with Baltic amber, while the upper floor is home to the Sukiennice Museum.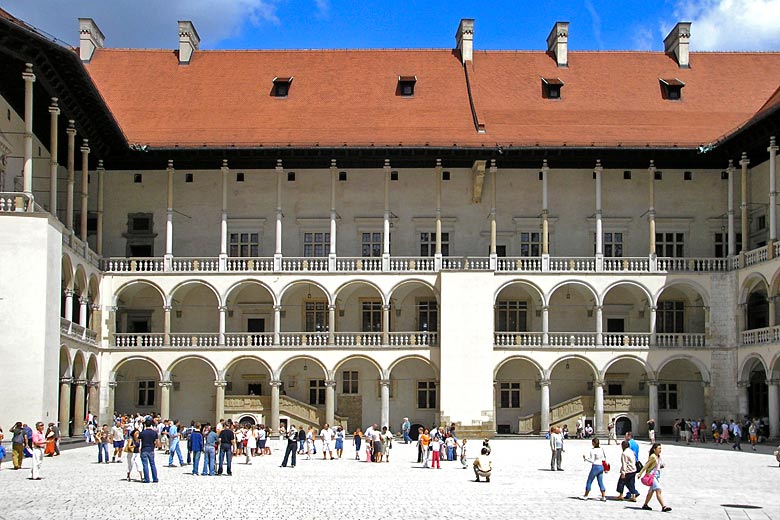 From here, stroll south to Wawel Royal Castle, a treasury of Renaissance and Gothic architecture, including a grand history museum and a cathedral that has seen coronations and burials of countless past monarchs.
Beneath the hill is a warren of caves, capped with a fire-breathing statue of Kraków's emblematic dragon, defeated by Krakus II and Lech II, the sons of Kraków's founder (or, so the legends say).
After donning some of the amber accessories you picked up in the Cloth Hall, hit the town. Pod Baranem dishes up pierogi (dumplings), venison with forest berries, and vegetarian stews in a lavish dining room, while Pod Aniołami roasts whole boar's leg, lamb or pork within a 13th-century cellar. Finish by raising a glass in the lively Jewish Quarter, perhaps in the retro setting of Soviet-themed Pub Propaganda.
Warsaw
Why go: a capital reborn, from royal palaces to posh vodka spots
Poland's capital city has cultural treasures, radically reinvented neighbourhoods and reviled buildings. Intrigued? Get on your bike: sights are speckled across this city of 1.77 million people, and there are more than 500 km of cycle paths to help you get around - sign up for the Veturilo bike scheme.
Regal architecture and expansive parks form the city's loveliest landmarks. With spire-studded, stuccoed design and manicured royal gardens, Wilanów Palace deserves its nickname of 'Poland's Versailles'.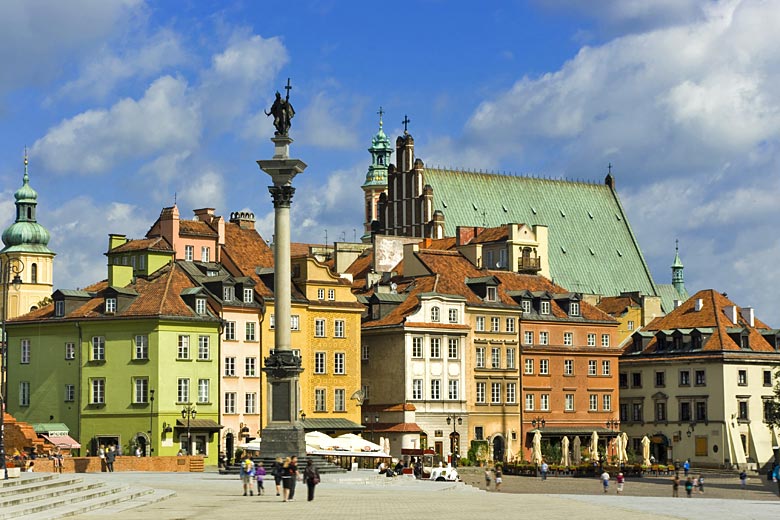 Another former princely residence is around 7 km north, the neoclassical Łazienki Palace; tour its 76-hectare grounds, looking for peacocks between the lush European gardens and crimson Chinese-style pagoda.
Across the city, the faithful reconstruction of Warsaw's pre-war buildings, particularly the Royal Castle, is impressive. When you consider that more than 85% of Warsaw was destroyed during WWII, the city's rebirth is downright astonishing.
The Warsaw Rising Museum remembers the 63-day military operation undertaken by the Polish resistance, which tragically ended with large swathes of the city being flattened. The multimedia museum offers an engrossing insight into the bravery and betrayal that sealed the city's fate.
Warsaw's most controversial icon came more than a decade after WWII, the 237 m Palace of Culture and Science. As a gift of the Soviet Union - originally dedicated to, and named after, Stalin - some locals still consider it an eyesore, almost a colossal, Art-Deco middle finger.
Despite its unsavoury history, the 30th-floor viewing deck and night illuminations mean it's the source of many of Warsaw's best photo-ops. There are tours of its interior design, or you can rock up to a show at its theatres or cinema.
Come evening, Warsaw's global smorgasbord offers Polish comfort food, Japanese ramen, as well as a burgeoning vegan food scene; head to Vegemiasto for soups, salads and a rainbow of plant-based desserts like tofu cheesecake, carrot cake, and chocolate cookie gateau.
But nothing could be more Warsaw than Elixir, where refined Central European dishes are paired with various vodkas: duck dumplings with honey vodka, or sour soup with horseradish liqueur. Na zdrowie (cheers)!
Łódż
Why go: Poland's reinvented engine of industry
While Warsaw and Kraków have basked in tourist attention for years, Poland's third-largest city - pronounce it 'woodge' - has been gradually enjoying a post-industrial makeover. Łódż dusted off its empty factory buildings and transformed them into art galleries, restaurants and trendy bars where vodka cocktails flow freely.
Begin in Łódż's red-brick heart, Manufaktura, the poster child of the city's 1990s reinvention. The erstwhile industrial complex is now an arty mall where you can dive into worker history at the Museum of the Factory (we hope you like looms) before rewarding the kids with a movie or some bowling.
Only a block east is the Pałac Izraela Poznańskiego, an eye-catching 19th-century building named after Łódż's 'cotton king', a magnate who made a fortune from the town's textile mills.
Gaze up at the 2 m-tall statues on the palace roof, emblems of industriousness who hold hammers and farming tools. It's worth stepping inside to crane your neck at the lavish ballroom and baroque dining room, now harbouring displays on local history.
Amble south along Piotrkowska, the longest commercial street in Poland. More than 4 km in length, it's lined by cafés and boutiques in Art Nouveau and contemporary buildings.
Duck east off the main drag to OFF Piotrkowska Center, where russet brick arches and utilitarian factory buildings now frame a district of playful cafés, trendy boutiques and cocktail places; try sleek Drukarnia Skład Wina & Chleba for global bistro specials and freshly baked goodies.
After the merry hum of central Łódż, seek stillness by jumping on a tram east to the Jewish Cemetery. The cemetery's sheer scale protected it from destruction during WWII. Allow time to visit poignant memorials to thousands of victims of Łódż's wartime ghetto. The tree-lined walkways and ornate mausoleums are a suitably atmospheric setting to contemplate Łódż's centuries of history.
Wrocłąw
Why go: culture for all ages and tastes
For too long, western Poland's largest city was eclipsed by more popular destinations. But a stint as European Capital of Culture in 2016 cemented what Wrocłąw's residents already knew: this is a forward-thinking powerhouse of a city, especially when it comes to art and music. More visitors are arriving to sample the cultural scene and legendary nightlife - and test their Polish pronunciation on the city's name: say 'vrots-waff'.
Start at the city's oldest neighbourhood, the enigmatic Cathedral Island, or Ostrów Tumski. Crowned with the twin-spired Gothic Cathedral of St John, the area is even more stately after dark when the lamp-lighter arrives; it's the only part of the city still illuminated by gas lamps.
Meanwhile the Jewish Quarter is a great way to see how the city has brought medieval history bang up to date. There has been a Jewish community here since the 12th century, and the 2010 reopening of a 19th-century synagogue has allowed Jewish restaurants and cafés to thrive. Try Ciż Café for kosher snacks, or the antique-laden Mleczarnia.
If you have kids in tow, get a map of Wrocław's Dwarf Trail. It began as a protest prank by the anti-communist Orange Alternative movement, but these days 165 diminutive statues are hidden around the town: grasping suitcases or sacks of money, hiding behind lamp posts or posing with guitars.
After elf-spotting around the Old Town, head east for something sleek and unique: Hydropolis, a magnificently designed water museum. Step beneath the watery entryway to exploring dazzling displays on water's ancient spiritual associations right up to its modern-day industrial uses.
Finish the day in an equally flashy venue: Neon Side Gallery is ablaze with more than 30 luminous signs that have been retired from local businesses. Here, beneath the glare of retro neon lettering, you can sip a beer or, better yet, a szarlotka, that's bison grass vodka, apple juice and a dusting of cinnamon.
Poznań
Why go: sweet treats in a rainbow-hued Old Town
Capital of the Wielkopolska region, Poznań is a jewellery box of architectural styles. The Old Town is resplendent in hues of powder-blue, peach and teal, and landmarks like the double-spire Gothic cathedral give the city a distinctive silhouette.
The Archcathedral of Saints Peter and Paul is a good place to start exploring. It rises high on Ostrów Tumski, the land squeezed between the Cybina and Warta rivers.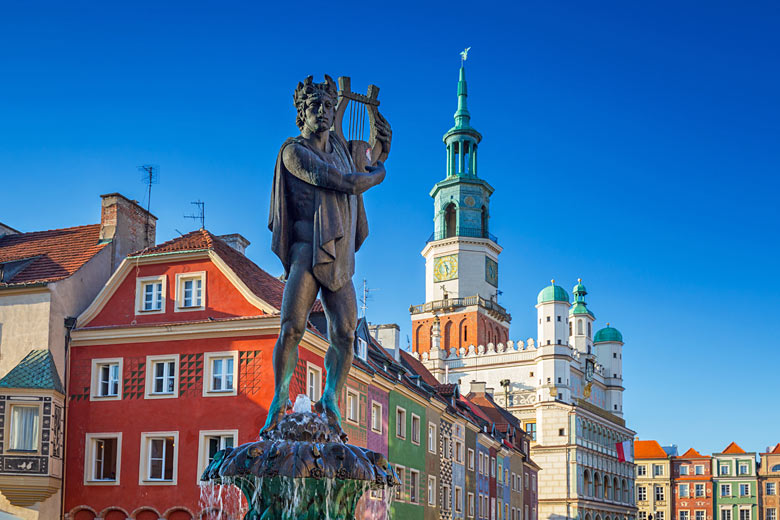 Enter the cathedral to admire tall, graceful brick arches, burnished side chapels and the spectacular Gothic-meets-Baroque main altar. Creep down to the crypt to see traces of the original church, these old stones date to the late 10th-century, and weathered tombs of early kings.
By the 13th century, Poznań had burst the bounds of its cathedral island; walk west along Wielka to Stara Rynek, the old square, for a flavour of its time-trapped splendour.
Its centrepiece is the Renaissance town hall, an Italianate building crowned with a 61 m tower. Time a visit for noon, when the tower's clockwork goats clash horns, then settle in at one of several al fresco cafés with views of the square's brightly coloured mansions; we like Pod Niebieniem for its garlicky cheese and IPAs.
Still peckish? The Croissant Museum is dedicated to the city's signature food, a crescent-shaped, poppy-seed pastry drizzled with icing; the English-language demonstration is at 1.45pm; reserve ahead.
Burn off the sugar rush by stepping west to Zemsta Bookstore, an enthusiastically anarchist co-operative that sells counter-culture tomes and hosts evening events.
Conveniently close by is the city's best ice cream place, Lodziarnia Kolorowa. It's worth the queue to order a cone of cherry sorbet or rich mascarpone ice cream, to slurp with relish as you continue strolling through candy-coloured Poznań.
Katowice
Why go: from brutalist throwback to cultural behemoth
Some tourists fly in to Katowice and jump straight on a connecting bus to Kraków. Even Poles overlook the southerly city, cruising in for a gig at large-scale venues like Spodek and then leaving.
But fly-by visitors are missing out on a unique hot-bed of contemporary culture. For fans of socialist-era architecture and uncommon museums, Katowice is an interesting alternative to well-worn destinations like Warsaw and Kraków.
Start at Christ the King, the largest cathedral in Poland. Modern and monumental, the cathedral's construction was stalled by WWII and it was eventually consecrated in 1955.
Walk north to busy Rynek, central market square, which is dominated by steely, post-war modernist architecture, laced by tram lines and presided over by tower blocks, plus the occasional earlier construction like the Silesian Theatre, or Teatr Śląski.
From here it's a 15-minute walk northeast to the Silesian Museum, part of the city's Culture Zone, which is also home to symphony orchestra NOSPR. Intriguingly set at a former coal mining site, the museum harbours, 14 m below ground, troves of Polish art from the 19th century, plus historical exhibitions from industrialisation to the present day.
Retrace your steps to Staromiejska Street by sundown for your pick of Katowice's traditional and reinvented Polish cuisine; Stare i Nowe (literally 'old and new') offers a choice of Central European staples - goulash, pork knuckle - or Italian flavours like seafood tagliatelle and black-rice risotto.
Katowice is also a jumping-off point to fascinating day trips. Less than an hour's drive north is Jasna Góra Monastery in Częstochowa, a pilgrimage site because of its beloved Black Madonna icon.
Gdańsk
Why go: history and revelry beside the seaside
The rollicking port city of Gdańsk is equal parts gritty and pretty. In Poland, Gdańsk is most famous for its history as a hotbed of political change. This northerly city lit the torch paper for Poland's Solidarity movement, proudly commemorated in stark monuments at Solidarity Square. But south of its shipyards, Gdańsk has medieval streets as charming as any in central Europe.
Begin at the Monument to the Fallen Shipyard Workers, a striking triple crucifix - almost 140 tonnes of steel - that marks the events for which Gdańsk is most famous in Poland.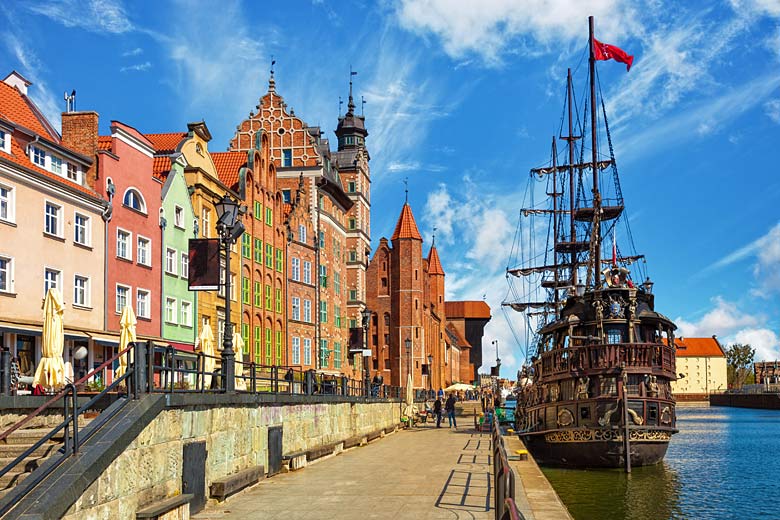 At least 42 people were killed during the 1970 protests by shipyard workers against Communist oppression, sparked by hikes in food prices. Networks of these protesters finally claimed victory, including the right to unionise, in 1980, establishing the Solidarity (Solidarność) labour union - this monument was one of its demands.
Wander south into the old town to uncover Gdańsk's earlier history. Long Market, or Długi Targ will Baroque your socks off with the impressive Neptune's Fountain, sculpted in the early 17th century, and ornate house fronts; most of them post-war rebuilds in a medieval style.
At its western end you'll find the Golden Gate, or Złota Brama, the 1957 recreation of a Gothic-style gate that dates to an early period of German rule. Mull over Gdańsk's centuries of Polish, Prussian and wartime history over microbrews in award-winning Brovarnia.
Barely 10 km out of town, beaches might tempt you to prolong your stay. Heading north out of Gdańsk, first you'll reach Sopot, a favourite for city dwellers seeking to break away to sandy shores - or steamy night clubs.
A little further north is lively port town Gdynia, but for peace and quiet, press on to Hel, more heavenly than its name suggests. Pine forests frame the road as you travel along this slender peninsula, which is flanked by sand dunes and powdery-soft beaches.
This windswept tendril of land couldn't be more different from ever-busy Gdańsk, which faces it across the water. Cultural buzz and tranquil shores, tall monuments and towering forests - in Poland, it seems, you only need a long weekend to have it all.
Weather in Poland
| | Jan | Feb | Mar | Apr | May | Jun | Jul | Aug | Sep | Oct | Nov | Dec |
| --- | --- | --- | --- | --- | --- | --- | --- | --- | --- | --- | --- | --- |
| Maximum daytime temperature °C | -1 | | 6 | | 19 | 22 | 24 | 23 | 18 | | 6 | |
| Hours of sunshine (daily) | | 2 | 4 | 5 | 7 | 8 | 8 | 7 | 5 | 3 | 2 | |
| Days with some rainfall | 16 | | | | | | | 11 | | | 15 | 17 |
The weather in Poland is, in many ways, as diverse as the landscape of the country itself. The above shows the weather in capital Warsaw, but you can find out more about the weather in individual destinations as well.
Planning a city break to Poland? Whichever historic city has captured your attention, you'll find a variety of breaks for all budgets with the likes of lastminute.com. You can also check out our complete collection of travel deals on holidays, flights, car hire and more to help you build and tailor your perfect escape.
More about Poland
Poland by month
Jan Feb Mar Apr May Jun Jul Aug Sep Oct Nov Dec
Explore holidays in the sun for less
Be inspired
Get your weekly fix of holiday inspiration from some of the world's best travel writers plus save on your next trip with the latest exclusive offers
We promise not to share your details
Related posts