7 reasons to holiday in the Izmir area, Turkey
Check the latest travel advice and current Covid-19 rules and restrictions by country.
How about a holiday to a buzzing, history and shopping rich city? Or what about a break to an idyllic beach where you can choose to bash around doing water sports or just chill on the sands? Maybe even a trip that allows an adventure to one of the ancient world wonders?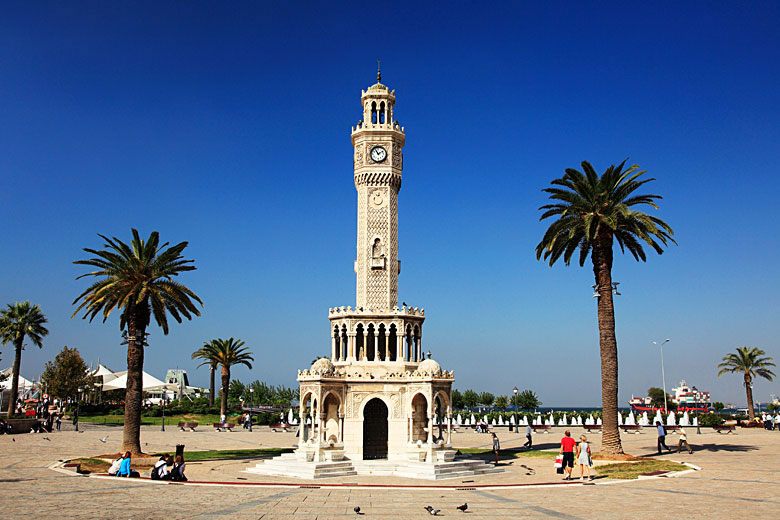 Ok then, how about an oasis that combines all of the above in one alluring sun-drenched cocktail? That's exactly what you'll find in Turkey's western city of Izmir and the surrounding area. Izmir itself is a seriously underrated coastal city that enjoys a spectacular location on a 50 km wide bay set on the Aegean Sea, backed by a ripple of rugged mountains.
Turkey's third-largest city, which is reputed to be the birthplace of Homer, is alive with Greek, Roman and Ottoman ghosts. This rich historical legacy teases out from beneath a lively, modern face that is most impressively on show along the languorous Kordon waterfront promenade.
Breeze out of Izmir and there are brilliant beaches to enjoy, as well as engaging tourist resorts like Kusadasi. Head inland and there are glorious historical sites to explore such as world-class Ephesus. If that's not enough the whole area is great for shopping and renowned for its superb food and drink.
Getting to Izmir: check out the latest deals on breaks to Izmir with TUI*, which departs from airports across the UK.
1. Delve into historic Izmir
One of the city of Izmir's most glorious attractions is its epic history. The effort of digging down below glitzy modern Izmir is rewarded by a world of ancient ghosts who have tantalisingly left their indelible imprints.
The city's Agora pre-dates the Ottoman cemetery, which can still be seen on its fringes, offering an intriguing window into the Roman city of Smyrna. You can check out the baths, shop-lined streets and mosaic-floored parliament, which once buzzed with life.
Pop up to Kadifekale Castle for views to accompany the history and learn more about the city at the Archaeological Museum and the Ethnographic Museum.
2. Retail therapy
If you love shopping you're booking a trip to the right destination! The city's stylish, bargain hunting citizens love a bit of retail therapy and there's impressive diversity on offer.
There are the big name shops and air conditioned malls, but accompanying them in what is one of Turkey's most cosmopolitan and liberal cities is the likes of the Kemeralti Bazaar,.
Here you can lose yourself amidst all the exotic sights, sounds and smells that demonstrate so intoxicatingly that you are now on the continent of Asia rather than Europe. You'll enjoy a similar vibe at the markets in Kusadasi and Selcuk, where everything and anything is on sale.
3. Brilliant beaches
Love nothing more than chilling on the beach in the sun? Well again you have come to the right place as this corner of Turkey boasts some of the country's finest beaches. Indeed there are stretches of sand easily accessible from the city centre of Izmir itself.
Head out to the resorts like Kusadasi (home to no fewer than eight beaches), and there are even better beaches to savour whether you are looking or a quiet escape, a family friendly oasis with shallow waters or something livelier for some adrenaline pumping watersports.
4. Kusadasi
This Aegean Sea resort town of Kusadasi* is a charmer, with the evocative fortress on Pigeon Island the star of its dramatic waterfront. Stroll along the littoral, relax on a beach or go shopping in the atmospheric bazaar. Fans of water parks will be in their element as the stellar Aqua Fantasy water park is one of Europe's largest.
Handily it's actually part of the lovely luxury hotel complex, Aqua Fantasy Aquapark Hotel & Spa*. You're spoilt for choice as the acclaimed Adaland water park tempts outside the town too.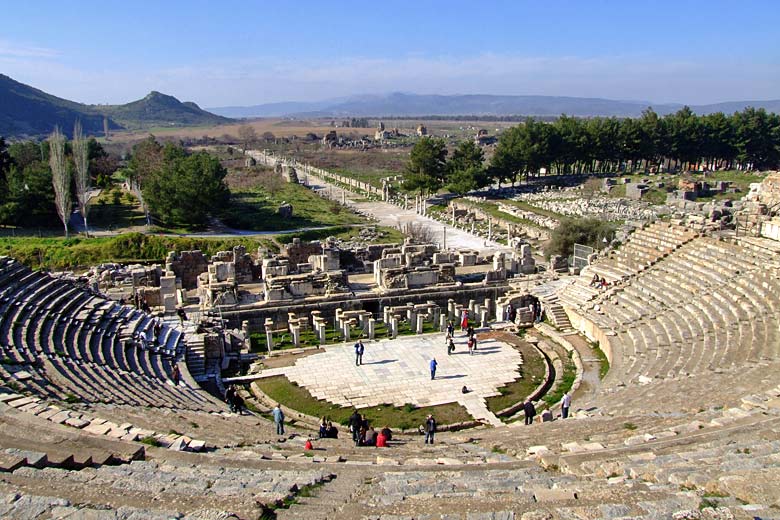 5. Ephesus
This remarkable legacy is quite simply one of the most dramatic historic sites anywhere in the world. That is in part because it's not actually just a 'site' as such, more a brilliantly preserved Greco-Roman city. Painstakingly excavated over the years, you can now enjoy a beguiling window into the lives of our ancestors centuries ago.
I love that you can just wander through old theatres and bathhouses, taking in temples and fountains as you go. You can even check out the ancient loos! Well worth a whole day - you'll want to come back to a place that will live on in you long after you fly home.
6. Food & drink
Turkey is renowned for its superb food and drink, and the Izmir area is no exception. Forget just kebabs (though the range of kebab style options here is amazing) as there's far more on offer. This bountiful coastline dishes up a fresh catch of seafood, best enjoyed in the waterfront restaurants, and the vegetarian fare is delicious too.
To drink try a heart starting Turkish coffee (best enjoyed surrounded by the old world charms of a bazaar), an ice old local Efes beer or the delicious Ayran. The latter is an acquired taste, a concoction made with yoghurt, water and salt. It's nothing if not refreshing!
7. Boat trips
Around four million people call Izmir home and the locals say that you have not really visited the city unless you have hopped on a ferry across to Karsiyaka on the other side of the gulf from Konak Pier.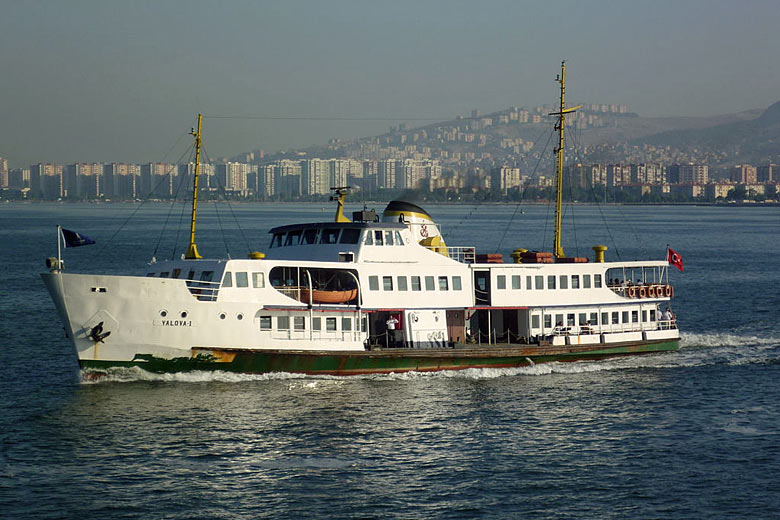 This boat ride lets you appreciate sweeping views of the city as it bursts up from the sea towards a rugged fold of mountains, as well as to discover a less touristy part of Izmir.
There are boat trips too from the beach resorts, many include lunch and opportunities to swim in the crystal clear waters that the Izmir area is so famous for.
Weather in Izmir
Tempted to sample the delights of Izmir? Check out the latest deals on breaks to Turkey with TUI.
More about the Izmir
Jan Feb Mar Apr May Jun Jul Aug Sep Oct Nov Dec
Be inspired
Get your weekly fix of holiday inspiration from some of the world's best travel writers plus save on your next trip with the latest exclusive offers
We promise not to share your details
Related posts
*affiliate links: find out how we are funded and why this helps us remain free to use.