9 thrilling activities to try in the UK's national parks
*affiliate links: find out how we are funded and why this helps us remain free to use.
Itching to get outside and make the most of our magnificent natural attractions? If you're after fresh air with a side of adventure, look no further than the UK's fabulous national parks.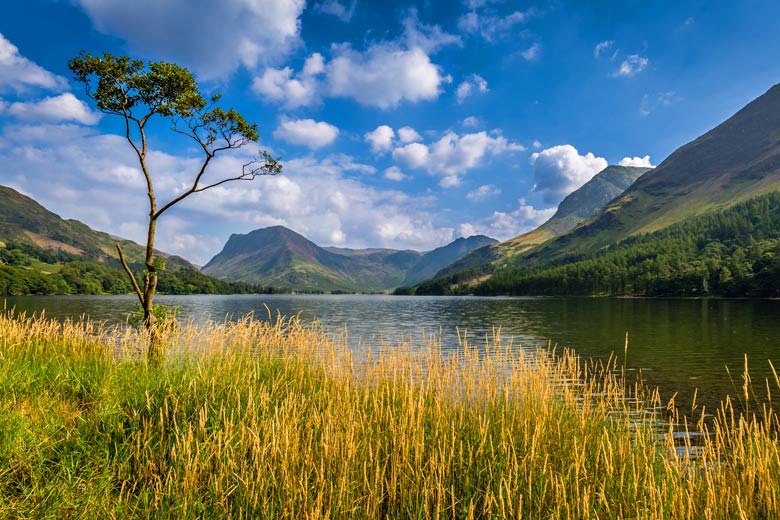 For a small nation, we are truly spoiled by the diversity of landscapes and attractions that can be found everywhere from Pembrokeshire to the Broads, the Cairngorms to the New Forest.
Here, we pick a few of our favourite thrilling activities that can be enjoyed across some of our fine national parks this summer.
Find out more: don't miss our guide to the national parks including climate information and some fascinating facts!
1. Scale granite tors in Dartmoor
Dartmoor in southern Devon is known for its hardy ponies and wild, open landscapes. It's a wilderness of moorland and exposed uplands punctuated with rocky granite peaks that belie the park's extensive granite foundations - in fact, 65% of Dartmoor is made of granite.
These granite formations, known as tors, not only offer habitats for resident wildlife but, with more than 160 dotted across the park, promise wonderful climbing opportunities, too.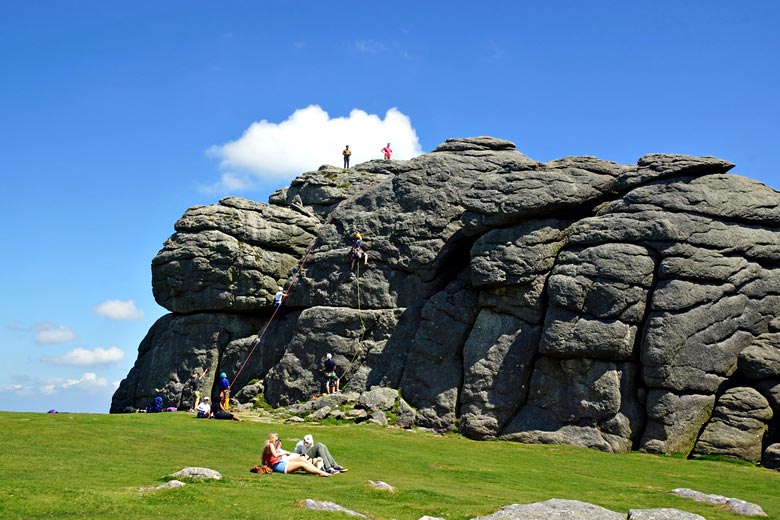 Whether you're competent with carabiners and chalk bags, like to free solo or have never tackled a crag in your life, there's climbing to be had in Dartmoor.
While the initiated might look to scale the highest formation of High Willhays Tor, some 2,037 ft / 621 metres above sea level, or Yes Tor, the second-highest, beginners could start under guided supervision at the likes of popular Haytor Rocks.
Then there's bouldering, a type of lower altitude rock climbing that doesn't tend to require safety ropes.
2. Escape to a new galaxy in Northumberland
Northumberland is England's most northerly national park and, arguably, its most diverse.
From the border with Scotland, where the Cheviot Hills roll into moorland, well-managed forests - such as Kielder Water and Forest Park - and on to the open fields lined by the formidable ruins of Hadrian's Wall, this park has a tantalising mix of geological and archaeological sites.
What's more, owing to its admirable lack of light pollution, not only is it an accredited Dark Sky Park, it's the largest protected Dark Sky Park in Europe, which makes it the place to get to grips with a telescope for a spot of stargazing.
There are numerous recommended places to plant your tripod but for a more comprehensive experience, book one of the specialist events held at Kielder Observatory.
This magnificent public centre is open largely in the evenings and weekends for a huge range of events from stargazing for kids to an introduction to astronomy and tips for viewing planets, star clusters and even galaxies.
3. Find your flow in the Lake District
As the Lake District is most readily associated with the many pleasures that can be had on, in and around its 16 bodies of water, you could be forgiven for overlooking its merits as a mountain biking destination.
You may not negotiate the UK's highest or steepest routes but you will be able to steer, hop and speed your way around some of the best purpose-built mountain biking trails in England.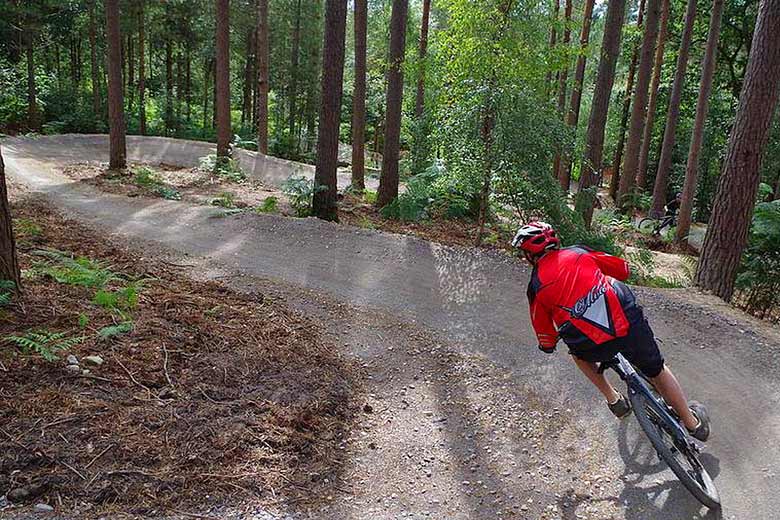 Within the boundary of the Lake District, there are two particular woodlands that mountain bikers should make a bunny-hop (sorry) for: Grizedale Forest and Whinlatter Forest.
Both have red-marked 'difficult' and black-marked 'severe' trails, while Whinlatter Forest also hosts a blue-marked 'moderate' route for those with basic off-road skills.
At Grizedale, you'll whizz past sculptures scattered among the trees, while Whinlatter is home to the Altura Trail; at 12 miles, it's the longest purpose-built mountain bike trail in the Lake District and comes with splendid views over the likes of Derwentwater and Keswick.
Prefer more easy-going cycle routes? Fear not, there are plenty of waymarked trails for all abilities throughout the Lake District.
4. Conquer coasteering in Exmoor
Think Exmoor National Park, which spans parts of Somerset and Devon, and you're likely to picture its remote windswept uplands. However, Exmoor is far more than exposed moorland and its weather-proof ponies.
In reality, it's a medley of landscapes bristling with protected flora and veined with rivers, such as its namesake River Exe. By the time you reach the 34-mile-stretch of dramatic coastline, the land gives way to waterfalls, ravines and headlands, including the highest sea cliffs on mainland Britain.
What better place, therefore, to give coasteering a go? If you've not heard of the term before, swap 'mountain' for 'coast' in mountaineering, and you start to get the idea.
Don a hat, life vest and wetsuit to navigate your way along rocky cliffs before jumping into the sea below. The joy of coasteering, which combines climbing with swimming and scrambling, is being able to explore isolated caves and bays and see marine life up close.
It might sound like one for pros only but book with an expert outdoor adventure company and you can choose from introductory and family-friendly sessions to more experienced and group classes.
5. Learn to navigate the Broads
If there's one place to give sailing a go, it has to be the Broads. This national park, which covers sections of Norfolk and Suffolk, is where you'll find a neatly woven network of rivers and lakes, known as broads. In total, there are over 125 miles of navigable waterways.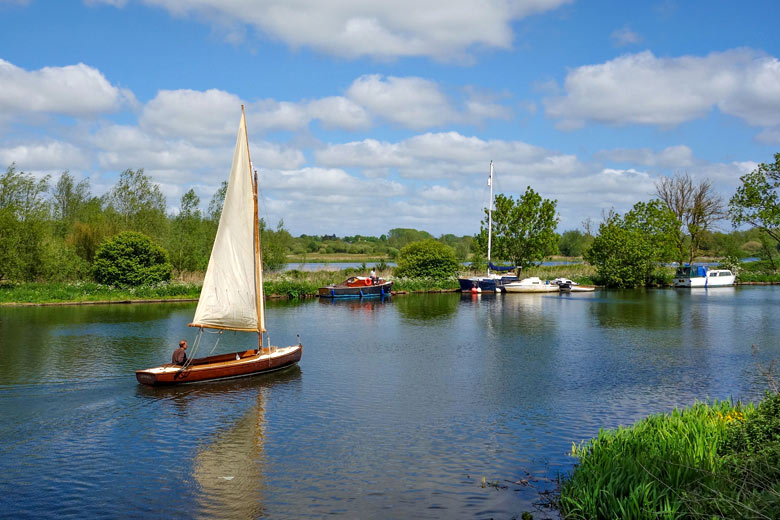 There are lots of ways to get out onto the Broads from a leisurely pleasure cruise to renting a motorboat for the day or getting active canoeing your way around grassy bends and past scenic windmills.
But, for many, sailing is where it's at when it comes to the Broads. Whether you're a novice deckhand or a seasoned captain who knows when to duck the boom, you can hire anything from cabin yachts to half-decker style boats or even charter a traditional wherry.
Wherries are distinctive wooden sailing ships with a tall sail dating from the early 17th century, previously used for transporting passengers and cargo. Book a sailing lesson, make a day of it with a picnic or plan a longer stay cruising from one pretty village to the next.
6. Pay your respects in the Peak District
Combine walking with a bit of history on a guided tour of two remote military plane crash sites, now memorials, in the Peak District.
The first of the UK's national parks, it's a series of uplands and gritstone escarpments, known as 'edges', in Dark Peak that give way to the limestone valleys and gorges of White Peak.
Long loved by walkers of all abilities - no coincidence given its location at the southern end of the Pennine Way, the UK's oldest long-distance walking route - this is a chance to get out into some of the more isolated and lesser-visited parts of the park under the watchful instruction of an expert guide.
Traverse the park's second-highest moorland, Bleaklow, and learn about local wildlife and ecology en route to two crash sites. This includes the spot where a Canadian Lancaster Bomber tragically crashed 10 days after VE Day in May 1945.
7. Go beneath the Yorkshire Dales
Hankering for a real below-ground thrill? Look no further than the rolling, dry-stone-wall striped hills of the Yorkshire Dales National Park.
The topography here happens to be the best and most extensive example of karst in Britain. Karst is what results when the limestone landscape erodes leaving behind networks of underground caves, ridges, sinkholes and rock formations.
With more than 2,500 known caves, it's a real playground for cavers. Caving incorporates everything from crawling through tiny gaps to walking in huge chambers, where shafts of light fill vast spaces that accommodate streams, hanging stalactites and piercing stalagmites.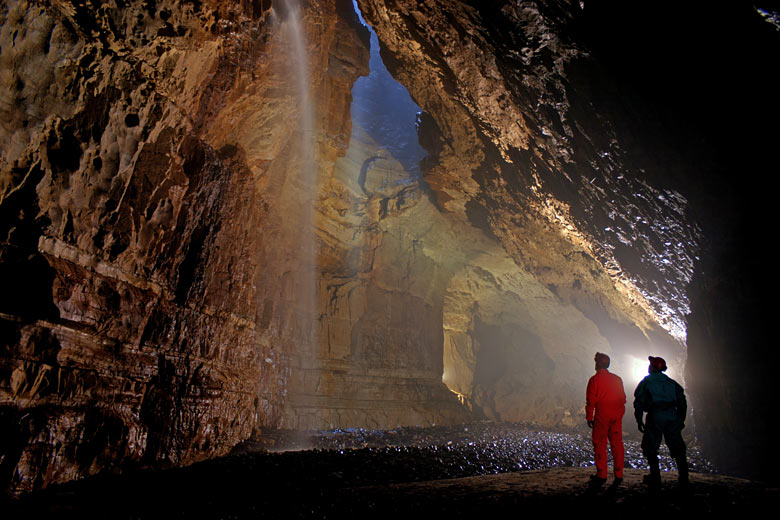 While the experienced will make for the likes of Gaping Gill, an enormous chamber big enough to house St Paul's Cathedral, beginners should look to Long Churns, which has a well-known 'squeeze' (not for the claustrophobic).
Other options for easy caving include White Scar Cave, Britain's longest cave tour complete with underground waterfall, and Ingleborough Cave where you will learn about the geology and venture inside without the need for superior caving skills.
8. Paddle along the Pembrokeshire coast
The Pembrokeshire Coast National Park in west Wales holds the title of being the only UK park to be wholly made up of wild and maritime landscape. It's also a place of great historical and natural importance with no fewer than 75 Sites of Special Scientific Interest (SSSI), seven special conservation areas and a marine nature reserve, among others.
If you do just one thing here, pick a fine, sunny day and make for the water on a trip sea kayaking along the jagged shores of the Pembrokeshire coast.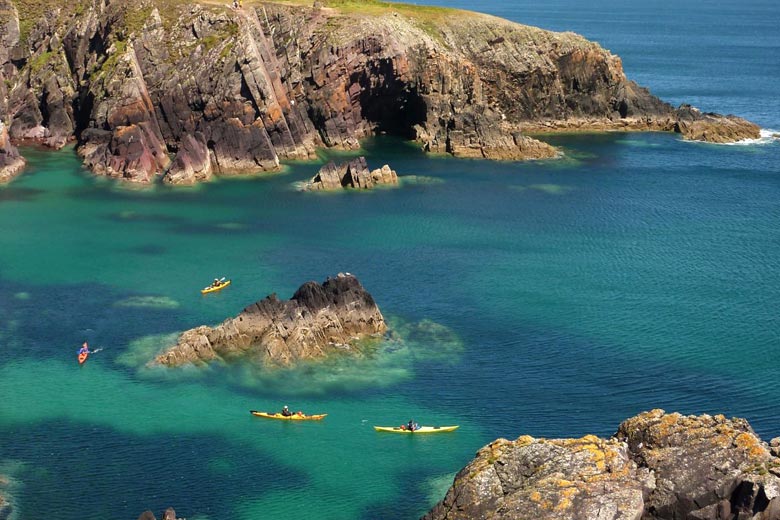 Renowned for its estuaries, turquoise waters, sandy beaches and craggy coastline, Pembrokeshire has long attracted water babes keen to discover the many hidden caves, coves and bays that remain tantalisingly inaccessible by land.
Slide into your kayak (SUP is also very popular here) and paddle your way, either guided or on your own, along the shore where you may also be treated to a spectacle of seabirds and marine life such as seals, if very lucky.
It's a wonderful way to take in the grandeur of the coastline while getting to see the raw edge of the park from a perspective reserved for the seafaring only.
9. Hike Britain's second-highest mountain in the Cairngorms
The Cairngorms is the UK's largest national park. It's a place of striking natural landscapes where spectacular wildlife such as golden eagles, ospreys and red squirrels can be seen alongside dispersed distilleries where the angels' share wafts from tell-tale cupolas.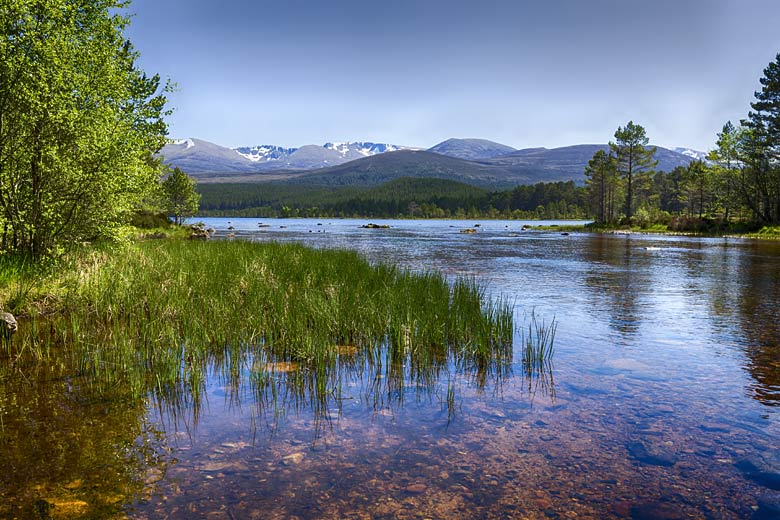 From its eponymous mountain range, heather-covered foothills and scented pine forests to its open valleys, rocky ravines and three major rivers, the Cairngorms is one giant adventure play area.
You can choose from almost any type of outdoor activity here but is there anything more thrilling than lacing up your hiking boots, packing your climbing essentials and making for the footpaths that wind up Britain's second-highest mountain, Ben Macdui?
Top tip: do your research before climbing any mountain; check the weather, your supplies and gear, and ensure you have a good physical map.
There's no denying that it is not one for hill-walking novices: it's a truly wild plateau that requires some experience. It can be ascended via a couple of routes from different sides, so it's best to check what suits you.
If this is too challenging, fear not, there are plenty of other hiking routes. A good trek that's not quite as physical is up Cairngorm Mountain, where you'll enjoy unrivalled views over Aviemore and the Spey valley below.
Alternatively, walk the circular routes around Loch Morlich or Loch an Eilean for a less-elevated leg stretch.
Make the most of the national parks: if you're planning to get out and about in the UK's parks, do visit the National Parks' website.
Top tips: we can help you plan your UK holiday with offers on accommodation and transport.
We can also help you find walking routes, historic sites, houses and gardens across the UK with the likes of the National Trust, National Trust for Scotland and English Heritage.
More about the UK
UK by month
Jan Feb Mar Apr May Jun Jul Aug Sep Oct Nov Dec
Explore holidays in the sun for less
Be inspired
Get your weekly fix of holiday inspiration from some of the world's best travel writers plus save on your next trip with the latest exclusive offers
We promise not to share your details
Related posts