Things to do when you visit Montego Bay, Jamaica
*affiliate links: find out how we are funded and why this helps us remain free to use.
Jamaica, 'The Rock', 'Jamrock', whatever you like to call it - this is the big, bold Caribbean island that exudes character and lures you in for a holiday that's packed with waterfalls, beaches, and Caribbean rum.
When you fly with Virgin Atlantic direct from London Gatwick*, you arrive into Montego Bay in the north of the island. A tourist-friendly coastal town, Montego Bay, or MoBay as the locals call it, is within reach of some of Jamaica's best beaches, places of natural beauty, and a lively nightlife. Here are some top things to do while you're in MoBay that will leave you feeling irie.
Hit the beach
The Caribbean is known for its paradise beaches, and you'll find a clutch of beautiful bays within easy reach of Montego Bay. Many of the best beaches are within the private grounds of hotel resorts but for public beaches, head to Doctor's Cave, one of the prettiest beaches that's open to all. You'll find it in between Marine Park and the 'Hip Strip' - the main drag in Montego Bay - and the beach club has been here since 1906. Cornwall Beach is another great spot with plenty of sun loungers for basking in those Caribbean rays.
Eat the best jerk chicken
If there's one thing you can't leave Jamaica without doing, it's tucking into a plate of jerk chicken. The island is famous for this pimento-based meat marinade, and its fiery flavours have now reached street food joints worldwide.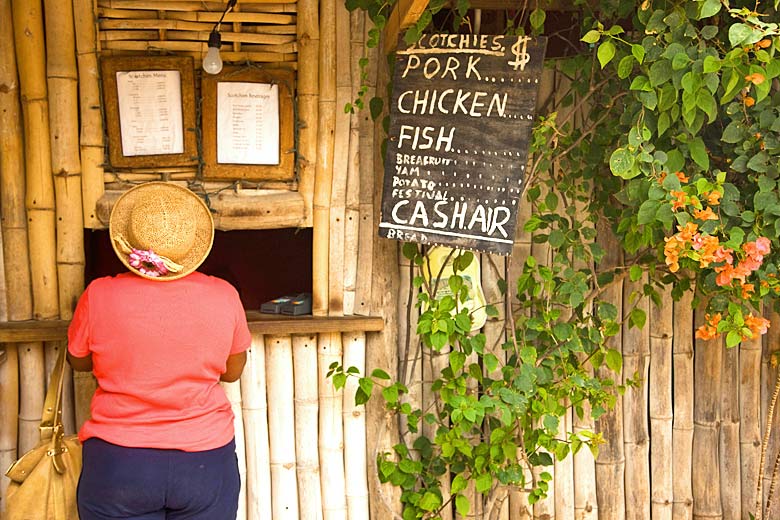 To taste the real deal, try Scotchies, a no-frills roadside eatery that's something of an institution in Montego Bay. It's also worth stopping by The Pork Pit, another one of MoBay's best jerk joints. Eat it with Caribbean staples such as rice and peas, festival (a type of fritter) and - if you're feeling brave - a dollop of hot chili sauce. Wash it down with an extra cold can of Red Stripe.
Dine on authentic Caribbean food
Jerk isn't the only thing Jamaica is known for. This island is scattered with restaurants serving all sorts of other West Indian dishes. For the most authentic dining in Montego Bay, just ask a local where they eat and follow. But don't miss The Pelican Grill for classics such as curried goat and Jamaica's national dish, ackee and saltfish.
Try the Jamaican take on a British pasty at Tastee Patties or Juici Patties. For something a little more refined, book a table at Marguerites on the Hip Strip. You'll find first-class seafood and high-end twists on island classics such as jerk chicken spring rolls and a sherry-rich seafood chowder.
Take a haunted tour of Rose Hall
Rose Hall is a mansion and former plantation founded in Jamaica in the 1800s, and offers an intriguing look at the island's colonial past. Legend has it that Annie Palmer - a cruel plantation owner known as the 'White Witch of Rose Hall' - haunts the house at night. Visitors can join a spooky tour right here and it's claimed you may see the White Witch pacing the grounds in a velvet habit. If you're not feeling so brave, a daytime stroll around the grounds is worth it for the grand Georgian architecture and ocean views.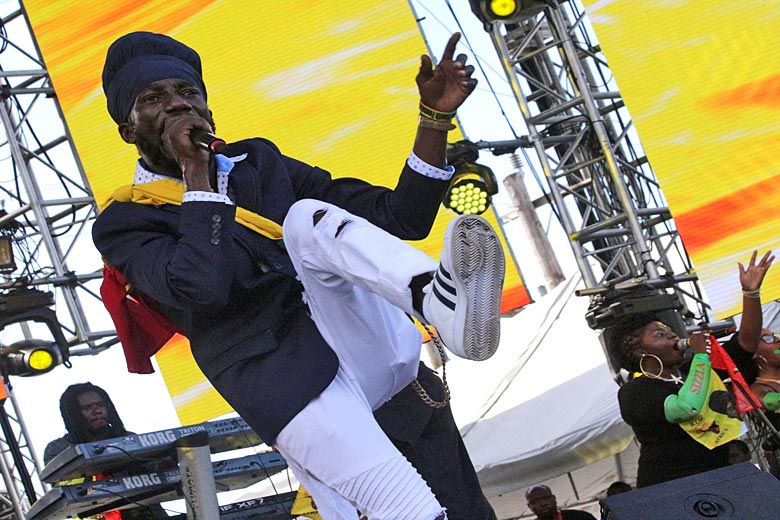 Experience Montego Bay's best music festival
Jamaica was of course, the birthplace of the reggae superstar Bob Marley, and thanks to this iconic singer, music is deep-rooted in the island's culture. Montego Bay has a growing festival scene and Reggae Sumfest, held in July, is one of the best. It features both emerging homegrown talent and established international artists such as Beenie Man and Sean Paul. In March, Rose Hall in Montego Bay hosts the One Love Music Festival, and from 1 to 6 February - the island's official Reggae Month - the island celebrates Bob Marley's Birthday Bash in memory of the reggae legend.
Visit the Appleton Rum Distillery
It's no secret that rum is the Caribbean tipple of choice, and you can see where Jamaica's prized liquor is produced at the Appleton Estate. The rum distillery is around two hours from Montego Bay in the Nassau Valley so take a day trip and learn about the distillery's 265-year history. There are plenty of opportunities to taste their various blends; chances are you'll also get to try the island's classic rum punch.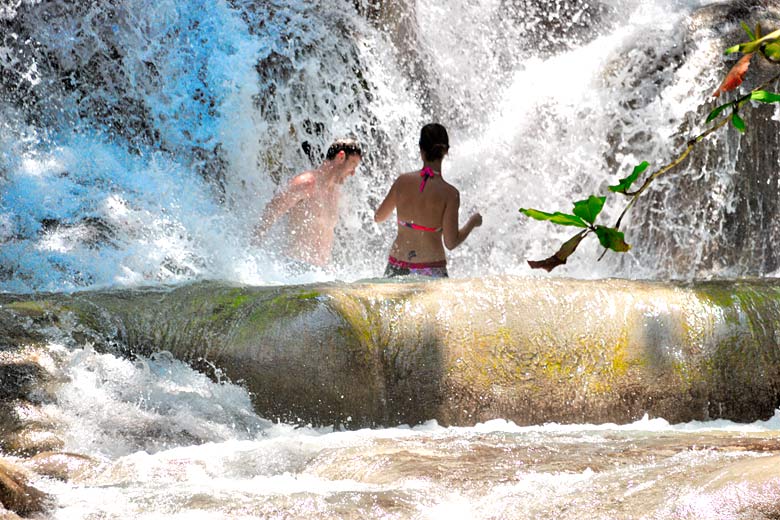 Take a day trip to Dunn's River Falls
Two hours east of Montego Bay will take you to Ocho Rios, known for its impressive Dunn's River Falls. Pack rock shoes, pay your entrance fee, and follow the path to the beach where you can climb these mighty falls underneath the forest canopy. Arrive just as the gates open for the best chance of having this natural wonder all to yourself. Alternatively, join the tour groups and climb Dunn's River waterfall hand-in-hand, with lots of high-fiving and 'whooping' as you brave the gushing waters.
Take a boat trip to Glistening Waters
If you've seen pictures of people in Jamaica swimming in strangely luminous waters, chances are they're bathing in the Glistening Waters of Falmouth. This beguiling lagoon, a short boat ride from Montego Bay, is home to millions of bioluminescent organisms that create a natural light show when you disturb them in the water. Take a swim and watch as the water sparkles around you in an almost mythical fashion.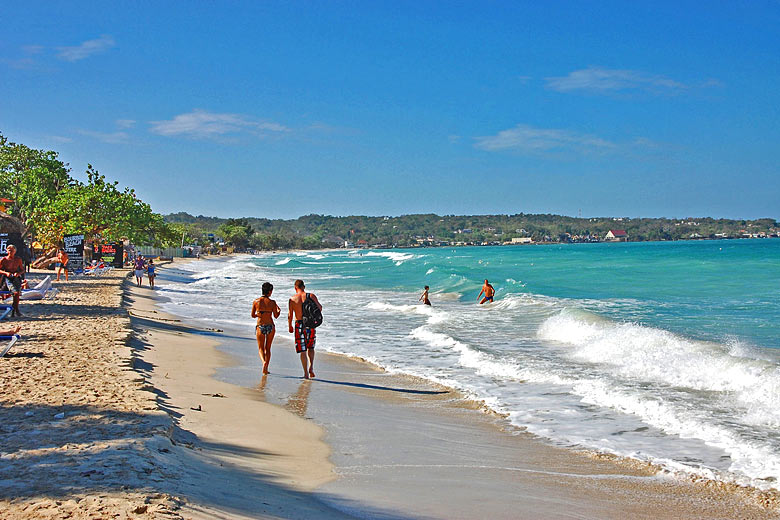 Tour the west coast
When you've seen the best of Montego Bay consider taking a day trip to Negril and the island's west coast. Home of Seven Mile Beach, Negril is where the hippie flower children and draft dodgers from the States escaped to for a freer life in the sixties and seventies. You will still find elements of this boho vibe today. Go to the famous Rick's Café to watch the cliff divers over a rum punch, and find some great attractions in the area such as the Kool Runnings Adventure Park and Negril Royal Palm Reserve.
Does Montego Bay sounds like your kind of island escape? If so, book your flights in the Virgin Atlantic sale, and you will be there in around nine and a half hours direct from London Gatwick. Don't forget to check out the weather in Montego Bay, and see when we think is the best time to go to sample all of these exciting activities and attractions in Jamaica.
More about Montego Bay
Jan Feb Mar Apr May Jun Jul Aug Sep Oct Nov Dec
Explore holidays in the sun for less
Be inspired
Get your weekly fix of holiday inspiration from some of the world's best travel writers plus save on your next trip with the latest exclusive offers
We promise not to share your details
Related posts