Why Ras Al Khaimah is the ultimate escape in the UAE
*affiliate links: find out how we are funded and why this helps us remain free to use.
The United Arab Emirates is famous for its grandiosity with Dubai and Abu Dhabi* at the forefront of its tourism industry. But travel just an hour north of these hubs and there's a little-known Emirate with a lot to offer and far fewer tourists.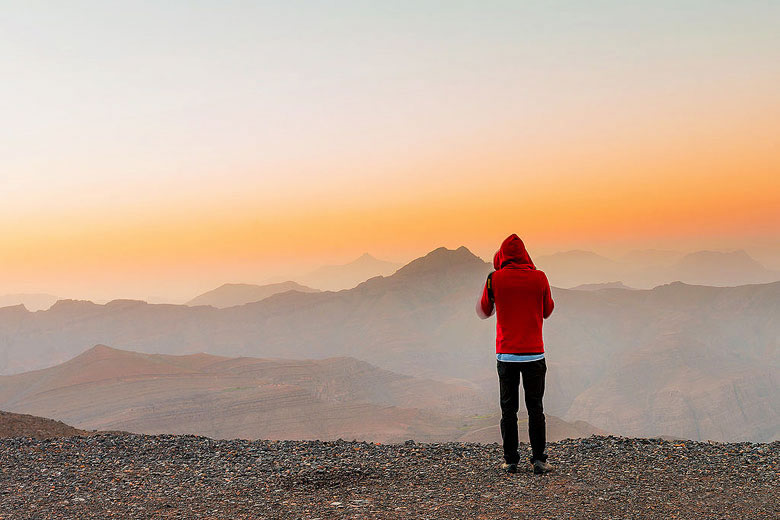 Once a pearl fishing centre and now the world's largest cement producer, Ras Al Khaimah is the fourth largest and youngest Emirate, having joined the UAE in 1972. While there's no oil money to give the region the lavishness of its neighbours, there is a low key kind of luxury that can be enjoyed on much smaller budget.
Hilton has a select number of resorts* that make the most of Ras Al Khaimah's laidback location, so if you're looking for a way to escape the UAE's big cities, or fancy an off-the-radar adventure, Ras Al Khaimah is the place to go. Here are a few of our favourite things to do in this little-visited Emirate.
Enjoy luxury for less
Thanks to its under-the-radar status, staying in Ras Al Khaimah is often cheaper than the other Emirates; there's a brilliant selection of stunning luxury properties with far more attractive prices.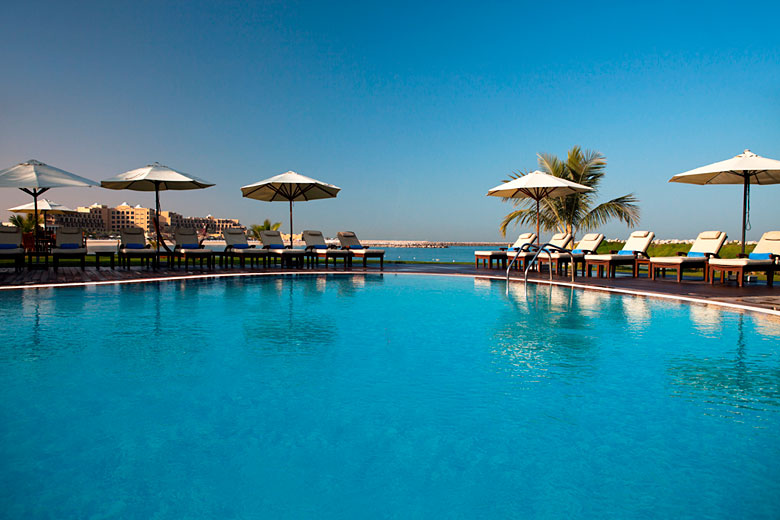 The Hilton Ras Al Khaimah Resort & Spa* is conveniently located near just north of the city centre and has almost everything you could want: seven swimming pools, a spa, a watersports centre and 10 different restaurants to choose from.
The Waldorf Astoria*, south of the city in Al Hamra, is a hotel of palatial proportions. Originally built as an apartment block for sailors in a round-the-world yacht race that never set sail, it now houses enormous suites and guest rooms that look out onto either a golf course or across the azure oceans.
Nearby, Hilton's Al Hamra Beach & Golf Resort* is another elegant option, with its traditional architecture and beautiful Arabic interior design.
Hit the beautiful beaches
With around 50 km of coastline, Ras Al Khamiah has some of the country's best beaches. There are a number of public stretches where you can even camp out for the night if you wish (with a beer or two, thanks to the relaxed alcohol laws) but most of the best sands are around the big hotels.
The Waldorf Astoria*, Hilton Al Hamra*, and Hilton Ras Al Khaimah Resort & Spa* all have their own private beaches with loungers and parasols to shield you from that scorching Middle Eastern sun.
The sand can get extremely hot and is littered with shell shards, so don't forget your flip flops. Out in the ocean, the water is pleasantly warm and shallow for quite a way out, making it safe for all swimming abilities.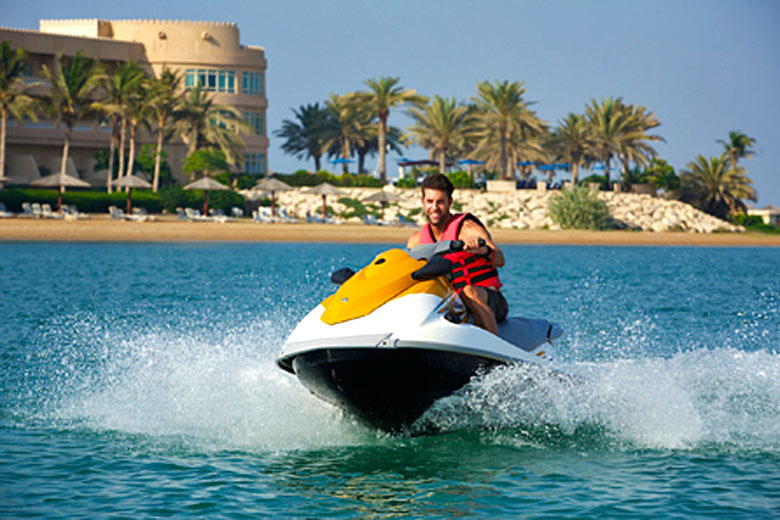 Get wet with water sports
Along with all those beaches comes an ocean full of fun. The welcoming, calm seas mean watersports in Ras Al Khaimah are aplenty.
You can try anything from banana boats and flyboarding, where you're propelled out of the water and into the air by two jets of water, to parasailing and jet skiing. Water sports centres can be found at most of the big hotels, and some will even offer deep sea fishing excursions.
Scale the UAE's tallest mountain
Jebel Jais is Ras Al Khamiah's greatest natural asset: the mountain towers over the city at 1,934m, and makes for a great day out.
You can trek across its craggy peaks or climb up steep cliffs using the brand new Via Ferrata, or 'Iron Path'. If you feel like splashing out you can even rent a supercar to drive up the twisting mountain road to the viewpoint.
Come sunset, the best views are from the top where locals and visitors alike come to see blue skies fade and bright lights of the city twinkle in the distance.
Enjoy a slice of Iceland - sort of
On those hot, dry Middle Eastern afternoons there's nothing better than cooling off in a pool, and Ras Al Khaimah residents do it at Ice Land. One of the region's most popular attractions, this waterpark is a thoroughly entertaining day out.
There's an olympic sized swimming pool, some serious slides (with names like Avalanche Panic and Arctic Hurricane), and plenty of shade to retreat from the heat, all set among fake snow-laden mountains, glaciers and icebergs. Friday afternoons are busiest and the park is closed on Sunday and Monday.
Explore a ruined fishing village
The unexpected highlight of Ras Al Khaimah is the abandoned village of Jazirat Al Hamra. Once a bustling pearl fishing village with a busy souk and a couple of mosques, the town has been left to ruin after residents went in search of better-paid work during the mid-twentieth century.
While it might look like a crumbling tribute to the lives once lived here, peer closer at the rubble and you'll find something far more intriguing. The one-storey homes, with their barren courtyards and decaying wooden windows, were actually built of coral.
Exposed to the elements, broken shells and whole pieces of coral make these remains far prettier than you might expect, giving a rare insight into life in the UAE before big business arrived.
The village is particularly atmospheric at sunrise before the noise from the main road creeps in, and only the brave will explore it at night: the locals speak of djinn (spirits) that haunt the area in darkness.
Walk the corniche
Come evening time, Ras Al Khaimah residents make for the Al Qawasim corniche, a pedestrianised promenade lined with shops and restaurants overlooking a pretty mangrove swamp.
During daylight hours, you can kayak the swamp, then reward yourself with a cold drink and some enormous, juicy Gulf prawns at Yansoon.
Weather in Ras al Khaimah
| | Jan | Feb | Mar | Apr | May | Jun | Jul | Aug | Sep | Oct | Nov | Dec |
| --- | --- | --- | --- | --- | --- | --- | --- | --- | --- | --- | --- | --- |
| Maximum daytime temperature °C | 24 | | 29 | 34 | 38 | | | | 39 | 36 | | 26 |
| Hours of sunshine (daily) | | | | 9 | 11 | 11 | | | | | 9 | |
| Days with some rainfall | 2 | 3 | 4 | 1 | | | | | | | 1 | 2 |
| Sea temperature °C | 23 | 22 | 23 | | 28 | | 32 | 33 | 32 | | 28 | |
Tempted by Ras Al Khaimah? For somewhere to stay with serious style, check out the latest online deals and sale offers from Hilton.
More about the Ras Al Khaymah
Jan Feb Mar Apr May Jun Jul Aug Sep Oct Nov Dec
Explore holidays in the sun for less
Be inspired
Get your weekly fix of holiday inspiration from some of the world's best travel writers plus save on your next trip with the latest exclusive offers
We promise not to share your details
Related posts