Naples for newcomers: a brief guide to the city
*affiliate links: find out how we are funded and why this helps us remain free to use.
No other city in Italy evokes as many preconceptions as Naples. The capital of Italy's south, or mezzogiorno, Naples is at once beguiling and menacing, filthy and atmospheric. It's unlike anywhere else in the country, and you'll either love it or hate it.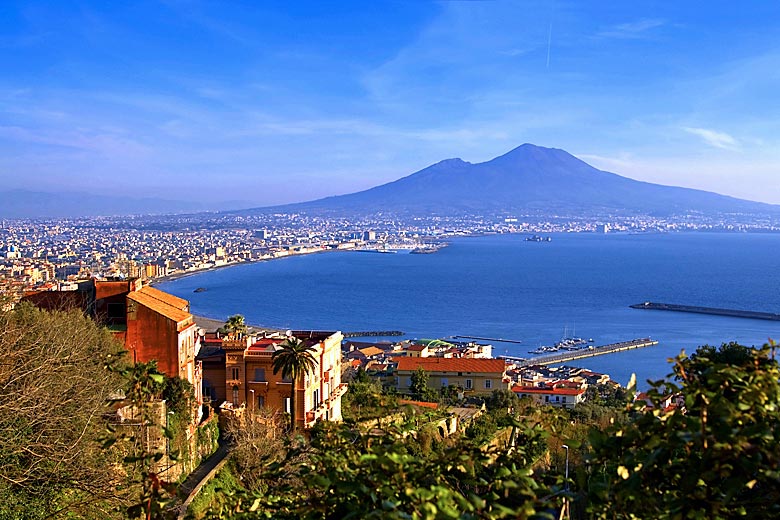 Getting to Naples: check out the latest deals to this fascinating, ancient city with leading holiday providers TUI* and Jet2holidays*.
Naples for newcomers: a brief guide to the city
Home to opulent squares lined with grand buildings that sit cheek-by-jowl with dark narrow alleyways scribbled with graffiti, the city also boasts world-class museums and churches decorated with Baroque treasures.
It spreads around the Bay of Naples, harbouring the ancient Roman sites of Pompeii and Herculaneum, which were destroyed when Mount Vesuvius erupted and buried both in volcanic ash and pumice. Read on to find out more about Naples and how to make the most of it as a newcomer to the city.
Getting around
The best way to navigate the city's narrow streets is on foot. Driving is not recommended as finding your way around the one-way streets and dealing with erratic temperamental drivers is best avoided. Renting a scooter is an option, but drive at your peril.
Centro Storico
The old part of the city is the liveliest quarter and arguably its most authentic. Teeming with energy, the area's narrow crowded streets are crisscrossed with hanging laundry, scooters racing past and hawkers yelling for custom.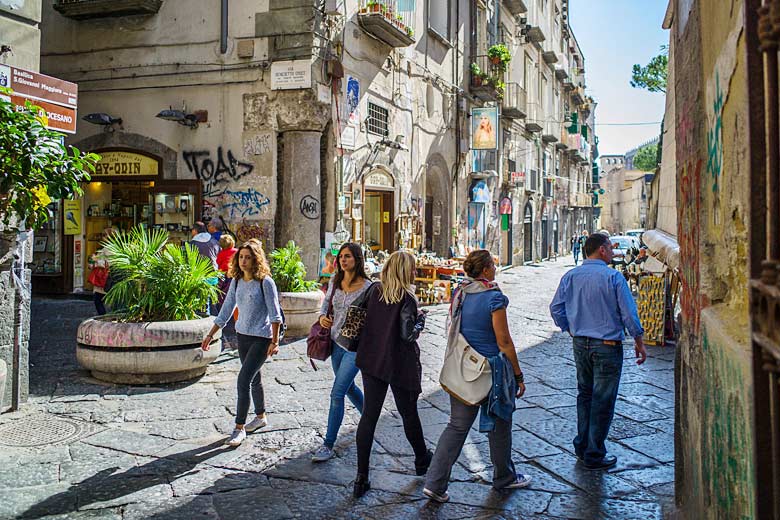 With buildings rising high, it's dark and dingy, but it's the best place to get a sense of the city and is a must on any itinerary. Don't miss the Gothic Duomo dedicated to the patron saint of Naples, San Gennaro.
Naples National Archaeological Museum
Located in a 17th-century building, the Naples National Archaeological Museum houses an extensive collection of finds from nearby Pompeii and Herculaneum.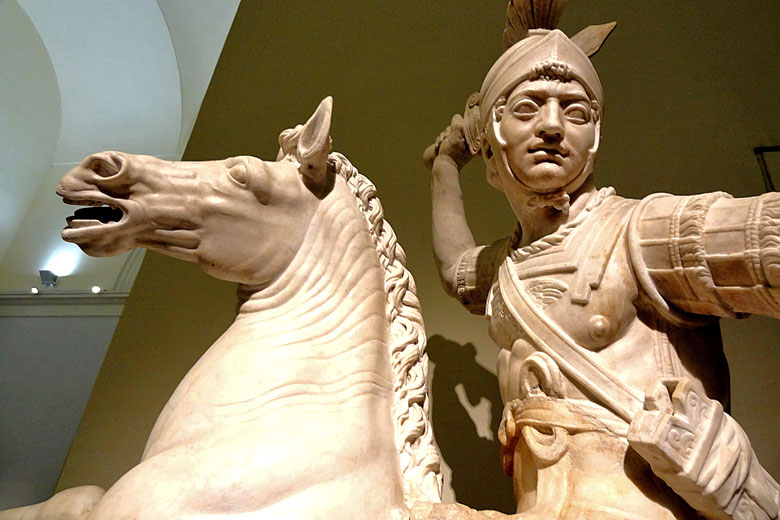 With over 3,000 displays from the prehistoric era to late antiquity, the museum holds the richest collections of archaeological artefacts from sites in southern Italy, along with an impressive selection of classical works of art from the Farnese Collection.
Capodimonte Museum
The Palace of Capodimonte was the former residence of the Bourbon King Charles III. Built in 1738, today it houses a superb collection of important works of Italian schools of painting, along with ancient Roman sculptures, fine porcelain, and majolica from the royal residences.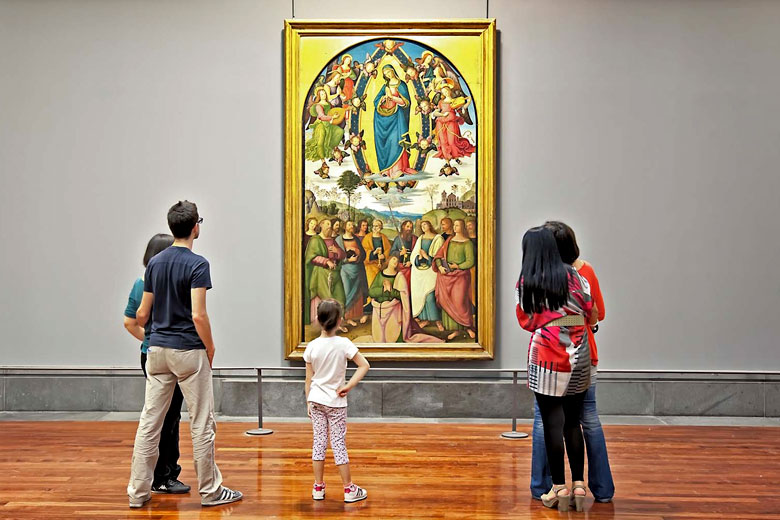 It's the best place to see works by Campanian artists such as Luca Giordano and the Neapolitan Caravaggisti.
Vomero
Immediately above the old city, the peaceful district of Vomero can be reached by funicular railway. A short walk from the station is Sant'Elmo Castle, a 14th-century fortification once used to incarcerate political prisoners.
Lying at Naples' highest point, it offers spectacular views of the city and the bay. Nearby is the Certosa San Martino, a former Carthusian monastery home to the National Museum of San Martino, which displays paintings by Neapolitan masters. The views of the city and beyond from the terraced gardens are impressive.
Day trips
Looming over the city is Mount Vesuvius, the only active volcano in mainland Europe whose most infamous eruption in 79 AD reduced the nearby commercial centres of Pompeii and Herculaneum to ashes.
It's possible to walk around the crater, a deep bubbling cavity that throws out plumes of smoke while enjoying the impressive sea views.
Today one of Italy's major touristic sites, the ruins of Pompeii will take at least half a day to explore.
Among the highlights is the Villa Dei Misteri, Pompeii's best-preserved building that is decorated with wonderfully-clear frescoes depicting initiation rites into the early imperial era cult of the Dionysiac Mysteries.
Herculaneum is smaller than Pompeii, although has better-preserved buildings, many featuring impressive mosaic courtyards and intricate wall paintings.
Cuisine
Neapolitan cuisine consists of simple dishes prepared with fresh seasonal ingredients. The city is the birthplace of pizza, baked in wood-fired ovens, a sloppy mouth-watering affair topped with juicy ingredients.
Street food is readily available at friggitorie, with the likes of exquisite fiorilli (battered courgette flowers), panzerotti (potato croquettes) and zeppole (deep-fried dough balls).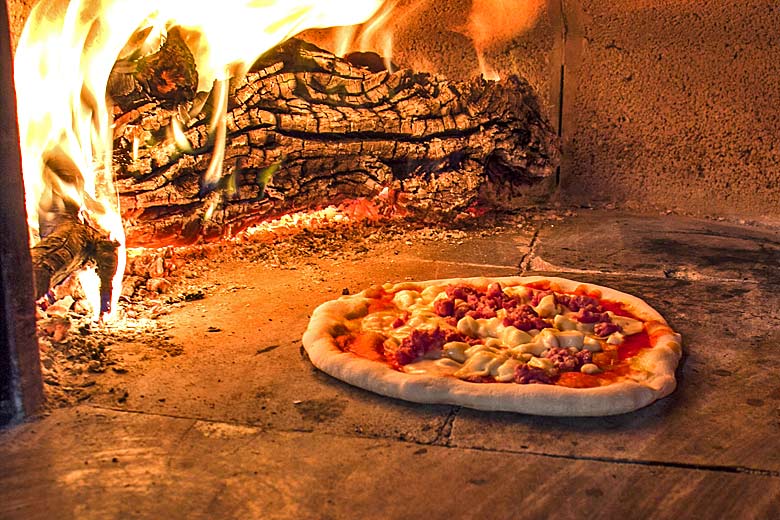 Founded in 1870, Da Michele is one of the city's most popular pizzerias - get there early as the queues start to form from mid-morning.
Di Matteo, in the heart of the Centro Storico, serves delicious pizzas - to tickle your appetite order a frittatina, a deep-fried speciality made with pasta, mince, peas and cheese.
Fresh fish and seafood dishes are excellent too, paired with white wines from the slopes of Mount Vesuvius.
Weather amp; climate: you can keep an eye on the weather right here but we can tell you that it's lovely and hot in summer - perfect for a long weekend away or as the starting point of a road trip on the Neapolitan Riviera.
Ready to tackle Naples? The city is easily reached within around two and a half hours of the UK, and we have the latest deals from Jet2holidays and breaks from TUI to get you there from less.
More about the Naples
Naples by month
Jan Feb Mar Apr May Jun Jul Aug Sep Oct Nov Dec
Explore holidays in the sun for less
Be inspired
Get your weekly fix of holiday inspiration from some of the world's best travel writers plus save on your next trip with the latest exclusive offers
We promise not to share your details
Related posts