8 highlights of Cleveland, Ohio
*affiliate links: find out how we are funded and why this helps us remain free to use.
With eastern-European influences and a rock'n'roll undertone served with a warm, American confidence, Cleveland is the unsung American city you need to visit.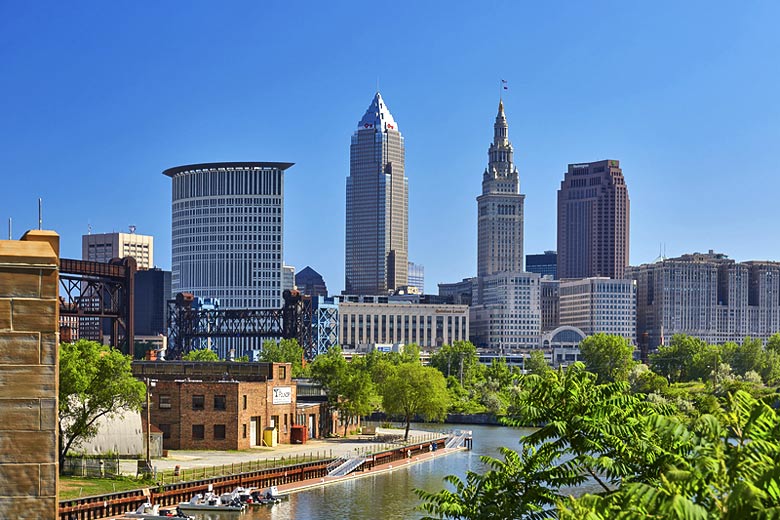 Spreading back from Lake Erie's shorefront in the state of Ohio, Cleveland offers a combination of itineraries, from salivating cuisines to high-value arts and emerald-forested parks. Here are eight highlights of what to see and do in Cleveland.
Getting to Cleveland: you can fly from London Heathrow to Detroit with Delta Air Lines, partner of Virgin Atlantic*. From here, Cleveland is a two-hour drive or twenty-minute connecting flight away, making it an excellent stopping point on a wider road trip or as a city break destination in its own right.
1. For music lovers: Rock & Roll Hall of Fame
There's no missing the Rock & Roll Hall of Fame, nor should it be: with rock music blasting from the entrance and its huge 'LONG LIVE ROCK' red sign planted outside the pyramid-style building (the same architect who designed the Louvre), this is an institution for music lovers around the globe - and in 2020, it celebrates its impressive 25th anniversary.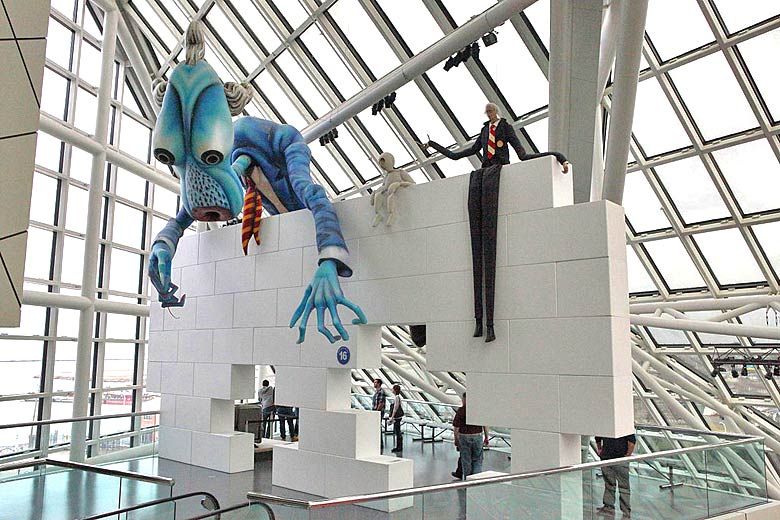 The building is comprised of five roomy levels; start on the lower level (level zero) and work your way up. Level zero details the origins and history of the rock genre (from Blues and Gospel to Bluegrass and Folk) and is studded throughout with the likes of Janis Joplin's, The Ramones' and Jimi Hendrix's battered guitars, statement outfits and scribbled song sheets as well as documentary footage of Elvis and The Beatles.
It's broken down decade by decade, providing an insight into the development of the genre and its lasting influence across culture worldwide.
Levels 1, 3 and 4 feature backstage stories, changing exhibitions and the legendary Hall of Fame; visitors can cast their votes for the 2020 inductees. It's best to round off the trip on level 2, at 'The Garage', essentially a jamming room for amateurs and enthusiasts alike, who sometimes even join forces and perform together.
Take your pick from the guitars, basses, keyboards and drum kits lined up to either follow on-screen tutorials or release your inner rockstar. Instead of leaving a museum feeling tired, the Hall of Fame will leave you wired.
Afterwards, head to level 1 for lunch at the café, or exit the hall and wind your way along the shoreline for scrumptious Thai cobia tacos (and plenty more options) at Nuevo Modern Mexican Restaurant.
2. For heritage: West Side Market
West Side Market is where hip meets heritage. It was built in 1912 and was a hub for immigrants who could find their native foods and spices here. It was also a centre where they could meet and catch up with one another within its standout yellow brick and sandstone walls.
Today it is just as popular with over 100 stalls selling all manners of unique delights, from Russian pastries and Hungarian sausages to bundles of pasta and Irish treats.
Adjacent to the food hall is its colourful fresh fruit and vegetables covered market, with sellers poking their heads out between streams of asparagus, peppers and cherries to offer samples.
West Side Market retains that classic Cleveland vibe of bustling but homely; this is a place where you're just as likely to find visitors eyeing up a Reuben sandwich as you are locals catching up with vendors, while haggling for fresh fish, wheels of cheese or bratwurst.
Located on the corner of West 25th Street and Lorain Avenue, there are a few worthy shops and cafés nearby, notably Mitchell's and Glass Bubble Project.
Yet West Side Market is unique, in that it hails the title as one of the 10 great public places in America. It is also one of the only public markets in America that solely focuses on food and food-related products - something that doesn't seem to be dying down any time soon.
3. For arts and culture: University Circle
The glittering University Circle area is Cleveland's arts and culture hub, filled with more than 20 artistic and cultural venues. It's best to start at the Cleveland History Center, a well-curated display of the history of the city, including artefacts such as the tobacco pipe and pouch gifted from Native Americans to city-founder Moses Cleveland in 1796 to a restored period house attached to the same building.
There is a real variety on display here that tells the story of this hardworking city, but the standout is the auto-aviation museum. For decades, Cleveland was a huge industrial base - predominantly automobiles - of which they have many on display.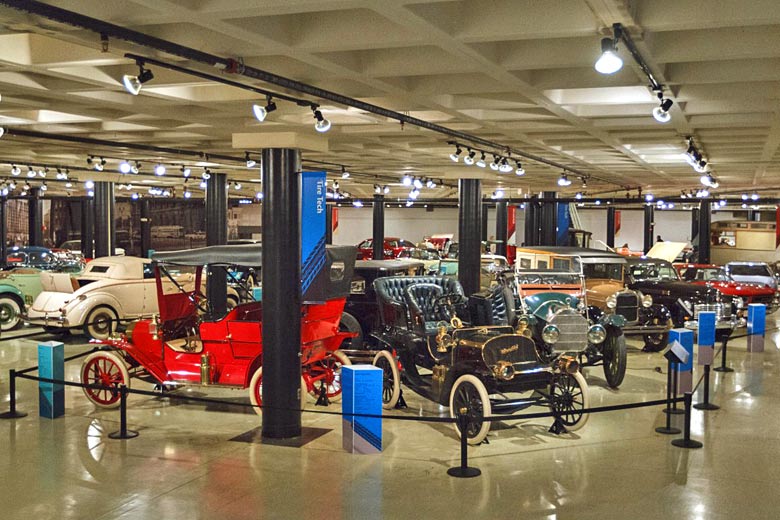 You don't have to be a car enthusiast to appreciate the one-and-a-half floors dedicated to cars throughout the ages at The Crawford Auto-Aviation Museum, from basic 20th-century vehicles to gleaming Cadillacs and a 1981 DeLorean.
Next, take the ten-minute walk around the leafy bend to the Museum of Art, the country's only major museum that still offers free entry. You may not believe your luck as you step into the spacious atrium, with its scattered beanbags, calming garden areas and classical music drifting up to the high ceiling, and the onsite Provenance Café makes a perfect pause for lunch.
Special exhibitions (for a fee) are on the lower level, while the ground and upper levels display over 45,000 works of art from all corners of the world, from ancient Greek red-figure amphorae to cow-horned "ear necklaces" in the Native American room, as well as modern paintings by the likes of Matisse and Rousseau.
Continue around the bend to the refreshing Botanical Gardens (if time permits) or hop in a taxi to the Museum of Contemporary Art (MOCA). Exhibitions focus on a range of themes and are held in its standout building, a gem-like geometric shape with a six-sided base and four-sided top. You will need roughly half an hour to explore the four floors of innovative, abstract exhibitions that change three times a year; and to top it off, it's free.
4. For all things foodie: East 4th Street
Cleveland is a lover of homegrown chefs and independent restaurants, which is best served in the likes of Mitchell's, Mabel's, The Greenhouse Tavern and Collision Bend Brewery.
Despite award-winning chefs and restaurants, Cleveland is still very much an underrated foodie city, so now is the time to get in on the food scene before the rest of the crowd arrives.
And East 4th Street is the best place to start your foodie experience, with many wonderful eateries slotted down its short pedestrianised road. Cleveland-native chefs Michael Symon (Lola's; Mabel's) and Jonathan Sawyer (The Greenhouse Tavern) use eastern-European influences to serve the likes of kielbasa and kraut alongside beef brisket and pork ribs. For another slice of the food scene, head to Little Italy, filled with homely trattorias and bakeries serving a range of authentic Italian dishes.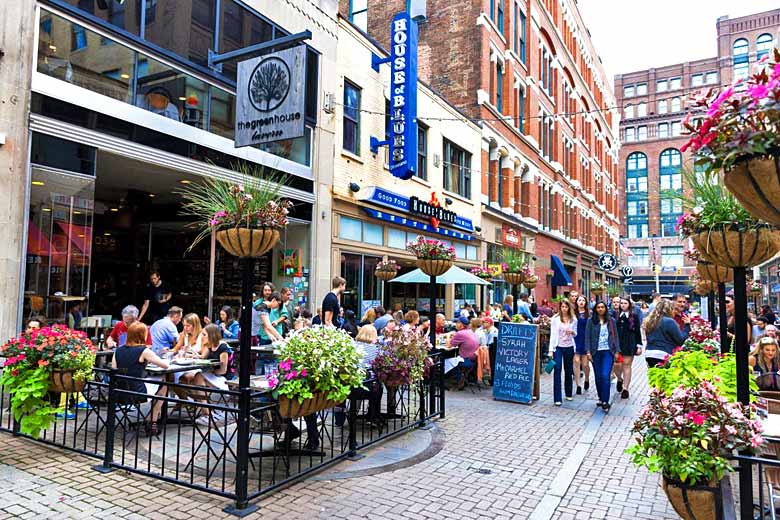 Also worth a visit is Collision Bend Brewery, situated in the Flats district by the Cuyahoga River. This artisanal brewery serves more eastern European notes: for "small formats" (4-6 in a bowl) think deep-fried sauerkraut balls, roasted brussels sprouts, Moroccan lamb ribs alongside "large formats" such as burgers and pulled pork.
It is stylish yet down to earth, where you can enjoy meals at breakfast, lunch or dinner with the choice of dining inside with the big TV showing football or out on the patio (covered in winter).
It's a great spot that overlooks the winding Cuyahoga River - Cuyahoga means 'crooked' in the local Native American's language - with the Powerhouse-turned-Aquarium on the other side.
5. For the great outdoors: Garfield Park
Twenty minutes from Downtown Cleveland lies Garfield Park, a 217-acre reservation of wetlands and dense woods. There are walking trails that wind through the park and an All Purpose trail which circles the area, with a row of quaint houses on the other side.
Situated in Garfield Heights, it is part of the Cleveland Metroparks system, which consists of 18 nature preserves covering 23,700 acres across Greater Cleveland. Because of their expansive greenery, they are collectively referred to as the Emerald Necklace, with the likes of Garfield Park making up one of the 'jewels'.
Garfield Park dates back to 1895, when it originally opened as Newburg Park, and much of the stonework from the early 1900s is still present, such as the Old Boating Pond Bridge. In earlier years residents could take a rowboat out on the pond, whereas today it has been largely overtaken with a beautiful abundance of nature.
There are also a few picnic spots, and it is a haven for birdwatchers, wildlife-enthusiasts and joggers alike. It makes for a brilliant excursion from the hustle and bustle of urban city life, allowing you to explore the park at your own pace. And, as you crunch your way through the depths of the park, you may spot red squirrels and deer, with songbirds chirping and squawking from the treetops above.
You can either head out individually or request a tour of the park, with informative guides like LaDonna Sifford on hand to explain the various nature and habitats that you find yourself embedded in. Just a ten-minute drive away (or lace up your boots for a two-hour hike) is Mill Creek Falls, home to Cuyahoga County's tallest waterfall at 48 feet. Whatever you choose to do, it's well worth a visit to one of the parks and reconnect with nature.
6. For colourful urbanscapes: Hingetown
Pick up a map and take yourself on a self-guided art walk in the Hingetown area of Ohio City. There are 11 points to discover, which are all located between West 25th and 32nd Streets. The project, The Creative Fusion, was formed by The Cleveland Foundation, and the walks can be enjoyed year-round.
The murals and sculptures were created by both local and international artists, and following the route will see you pass a number of cafés, small restaurants and shops perfect for a respite.
Alternatively you can swing by the Transformer Station (free entry), a substation-turned-contemporary photography gallery which consists of just two but very interesting, expansive rooms, presenting one or two main exhibitions that change regularly.
Hingetown is becomingly increasingly recognised as an arts area, but its roots lie with the LGBT community: this was where the first Cleveland Gay Pride took place in 1990, and there were once many LGBT bars, clubs and spaces along here.
Keep an eye out for the informative 'Historic Landmark' sign (these insightful markers are dotted around the city), which details more about the history of this neighbourhood. If you want to find out more about Cleveland's LGBT scene, nearby on Detroit Street is the newly opened LGBT Center of Greater Cleveland.
7. For understated charm: Tremont
As you approach Tremont, you'll wonder where everyone is, but this is what adds to the neighbourhood's small-town charm. Students and hipsters will be in Loop, a café serving daily-roasted coffee and vintage vinyls, modern CDs and local merch.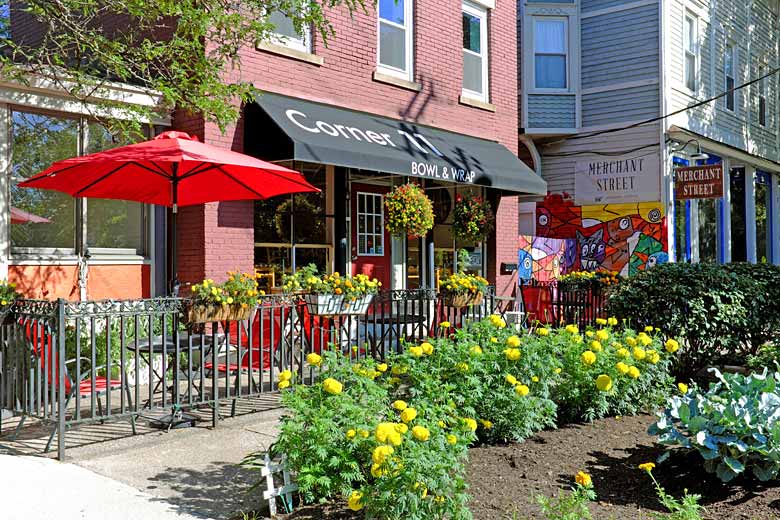 Fine-diners, meanwhile, will be feasting on delicious sushi, fresh food and steak in Parallax, washed down with an extensive wine menu; while work-hard-play-harders will be selecting their own ingredients for strong concoctions down at The Spotted Owl.
The skyline is hidden around the corner on University Road, which you can easily walk to, but a more exciting way is to use their handy hire-bike service on the corner opposite Parallax, UHBikes.
This is a good way to cover the area: you'll pass old cottages, striking churches, a quiet park and more cosy-looking eateries. As you reach University Road, get ready for a picture-perfect view of the city skyline, with the roaring freeway up above and the river snaking around the bend below.
Also overlooking the same view is Sokolowski's University Inn, an award-winning Polish restaurant. It's a renowned restaurant for good reason, serving the likes of pierogis, bratwurst, cabbage and noodles in a hearty, traditional style that instantly makes you feel like you're home. Adding to its charm is that it's a family-run business, with the third generation of the Sokolowskis currently running the joint.
Tremont is also home to A Christmas Story House, where parts of the eponymous film was set. Fully restored to its classic movie splendour, the house is open for visitors to take pictures of its most iconic parts and see original props, photographs and memorabilia.
8. For the full monty: Lolly the Trolley sightseeing tour
Lolly the Trolley is a fun sightseeing tour that covers twenty miles of the city, including Downtown Cleveland, the Flats, University Circle and Ohio City districts.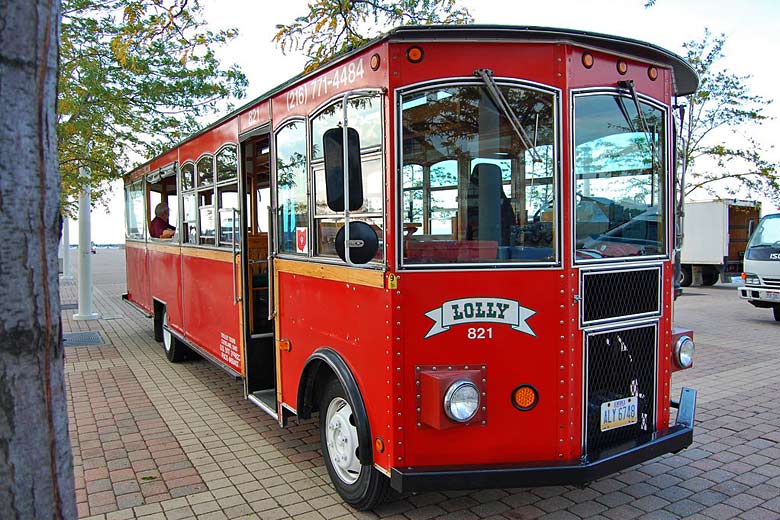 With its statement red colour, this trolley tour is a nationally recognised sightseeing tour that lasts two and a half hours and can seat up to 38 passengers, making it a perfect choice for any type of traveller. Pick up and drop off is at the Aquarium (just over the river from Collision Bend Brewery).
During the tour, you'll find out all about the heritage of Cleveland, from 19th century Irish and German immigrants settling in the Flats area to wealthy New Englanders building their colourful Victorian-style houses in Ohio City.
It's also a great way to discover places for you to return to later on and explore at your own leisure, such as the aforementioned Museum of Art as well as others like the Monument to Sailors and Soldiers. In fact, it's probably a good idea to build this into the beginning of your trip, as it sets you up with your bearings of the city.
As well as a city history and overview, passengers also learn about the community of Cleveland; such as One World Day, where the city's 35 ethnic groups congregate at Cleveland Cultural Gardens in their national dress to celebrate their heritages - an event which has been proudly run for 75 years.
Weather in Cleveland
| | Jan | Feb | Mar | Apr | May | Jun | Jul | Aug | Sep | Oct | Nov | Dec |
| --- | --- | --- | --- | --- | --- | --- | --- | --- | --- | --- | --- | --- |
| Maximum daytime temperature °C | -0 | | | | 20 | 26 | 28 | 27 | 23 | 17 | | |
| Hours of sunshine (daily) | | 4 | | 7 | | 9 | | | 7 | | | |
| Days with some rainfall | 16 | | 15 | | 13 | 11 | | | | 11 | | 16 |
| Sea temperature °C | | | | 4 | | 17 | 22 | 23 | 21 | 15 | | |
Find out everything you need to know about the weather in Cleveland, plus when we think is the very best time to go to experience these city highlights.
Ready to book your city break to Cleveland? Check out the latest deals on flights to Detroit, from where you can book a connecting flight or hire a car with the likes of Alamo Gold. Browse the latest sale fare offers on flights with Virgin Atlantic's partner Delta today.
More about Ohio
Jan Feb Mar Apr May Jun Jul Aug Sep Oct Nov Dec
Explore holidays in the sun for less
Be inspired
Get your weekly fix of holiday inspiration from some of the world's best travel writers plus save on your next trip with the latest exclusive offers
We promise not to share your details
Related posts