Your guide to little-visited Messenia, Greece
*affiliate links: find out how we are funded and why this helps us remain free to use.
Remember the Greece of yesteryear? It's still here, actually, hidden in the Peloponnese peninsula's far southwest and named Messenia.
In this enchanting idyll, forested mountainsides or gorges still give way to olive groves and a glut of yellow-sand beaches. Simple, soulful tavernas still line quaint villages, and uninhabited islands still beckon just offshore.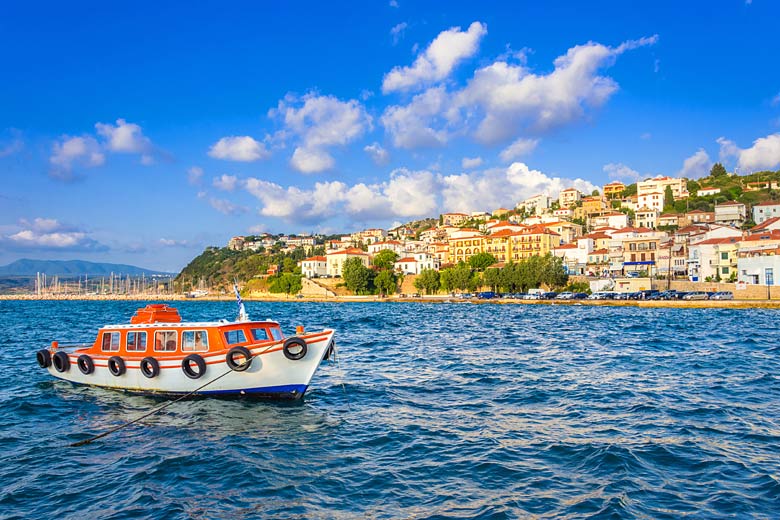 As in any classic Greek destination, historical sites also proliferate: Venetian castles, Mycenaean palaces, even an entire ancient city. Most are amazingly well-preserved, too, and ably supported by superb little museums.
The recent emergence of Costa Navarino's superb resorts has, admittedly, raised Messenia's profile, encouraging even more airlines to serve capital Kalamata. Even so, a marvellous sense of authenticity happily endures - especially if one swerves the school summer holidays.
Getting to Messenia: check out the latest deals on holidays to Messenia* in Greece's Peloponnese* from TUI.
Costa with a conscience
Though the term can refer to a wider, gorse-scented seaboard from Pylos to Marathopoli, the Costa Navarino* is foremost a development of vast luxury resorts just north of the former. Exceptionally run, these cater to sybarites, sports fans and families equally well.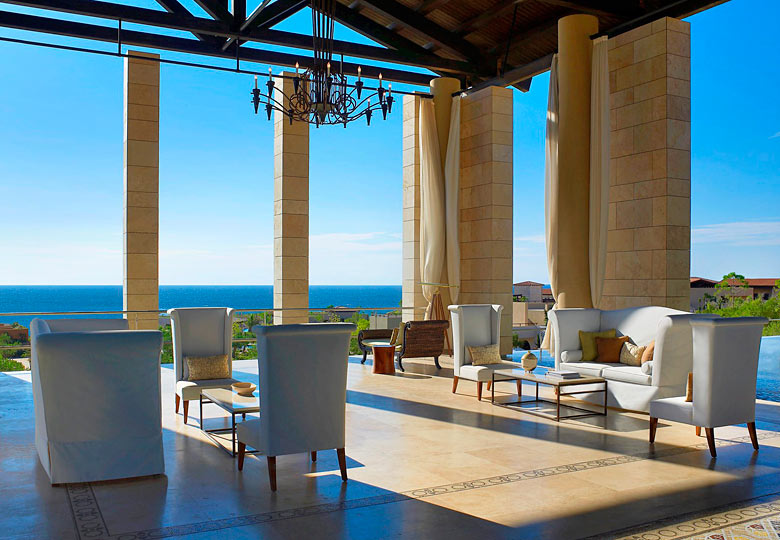 Their mind-boggling array of facilities include water parks, surf schools, spas, open-air cinemas, tens of restaurants, tennis academies and two of Europe's foremost golf courses.
Pleasingly, there's also an admirable amount of sustainable tourism at play: many excursions promote meetings with locals, while waste is minimised and the area's ecology safeguarded.
One example is Costa Navarino's efforts, in league with local charities, to preserve space for the loggerhead turtles which nest on these toffee-hued shores.
Sites for sore eyes
Messenia has ancient wonders galore, with castles a particular strong suit. On Navarino Bay alone, the remnants of 13th-century Frankish affair Paleokastro afford sensational sea views back over Voidokilia Beach - more on which shortly.
Then there's Pylos's Turkish-built Neokastro, which boasts a mosque-turned-church and museum inside its walls. Superbly maintained, it figured in the Greek War of Independence's decisive naval Battle of Navarino.
Further south is the stone-built port of Methoni, whose vast Venetian castle features a distinctive octagonal Ottoman tower, with a similar seaside fort awaiting in stately Koroni* on the Akrítas Peninsula's eastern flank.
Back towards idyllic Pylos stands a grand Mycenaean palace which once housed Nestor - that wise, heroic king from Homer's Odyssey and Iliad.
The area's historical headline act, however, is undoubtedly its ex-capital, ruined Messene. Found on Mount Ithomi's slopes, its ruins are as extensive as Olympia or Epidavros and better-preserved, yet bizarrely-few visitors come.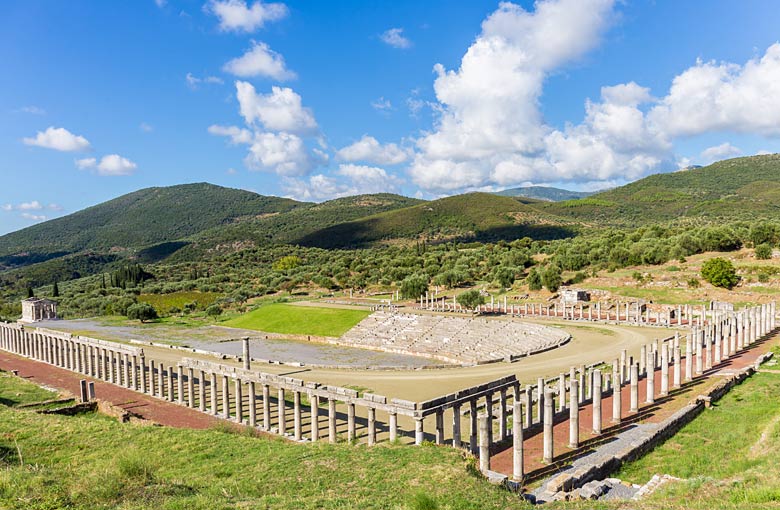 Exulting at the lush views, work your way downwards from an original marketplace to one of the most impressive Ancient Greek stadiums of them all.
Outstanding olives
Arranged below another 13th-century kastro, Messenia's modern-day capital is a charmer. Kalamata*'s red-roofed old town is a pleasant place to stroll before some people-watching over coffee on focal Aristomenous Square.
Ten minutes' walk away is the Archaeological Museum of Messenia, exhibiting everything from golden Roman jewellery to funereal objects discovered in Nestor's palace's beehive-shaped tombs.
Kalamata is best known for its namesake dark purple olives, ones which also power superlative oils. Stock up on both, as well as delicious dried figs, at a food market held near the castle on Saturday and Wednesday mornings.
A beach for everyone
Shaped with surreal precision like the last Greek letter omega (Ω), Voidokilia Beach separates Gialova's lagoon and wetlands, home to flamingos, from the Ionian Sea below Paleokastro.
Despite being Messenia's most iconic spot it lacks facilities, so bring supplies and, if visiting in summer, arrive early.
The same thrillingly turquoise water also laps bays big and small as far north as Kyparissia, including those Costa Navarino shores.
Elsewhere, Kalamata possesses a long pebble beach and sandier littorals await on the Akrítas Peninsula's east side, around Koroni.
Down on the empty Ákra Akrítas cape, asphalt roads lead to sandy Tsapi Beach and its superb taverna; otherwise, only thyme-perfumed dirt tracks lead to Marathi's pair of golden coves.
Islands worth investigating
Boat tours from the attractive, three-beach town of Finikounda offer another route to Marathi's beaches and also serve Sapientza, one of the mostly-uninhabited Messenian Oinousses chain.
Wild, ram-like mouflon sheep can be seen from the lone, shingly cove here, and there's a late-19th-century, British-built lighthouse, up whose 75 steps one can trudge, plus a shipwreck-deposited Roman sarcophagus visible to snorkellers.
Rather less suited to snorkelling is the Calypso Deep, further southeast: at 5,267 metres, this marks the Mediterranean Sea's deepest point.
Slender Sphacteria and other smaller islets in Navarino Bay contain monuments to Battle of Navarino victims, with one on teensy Helonaki remembering British soldiers.
Further north, crocodile-shaped Proti has ruined temple remains and superb diving opportunities.
Outdoor fun
Inside an eponymous gorge east of Kalamata atop the Akrías Peninsula and up to 25 metres high, the 15 connected Polylimnio Waterfalls form aquamarine pools in which visitors can bathe.
Though the walk along them is quite physical, it's only two miles long and thus well attended - so try to set off at breakfast time for a more secluded experience.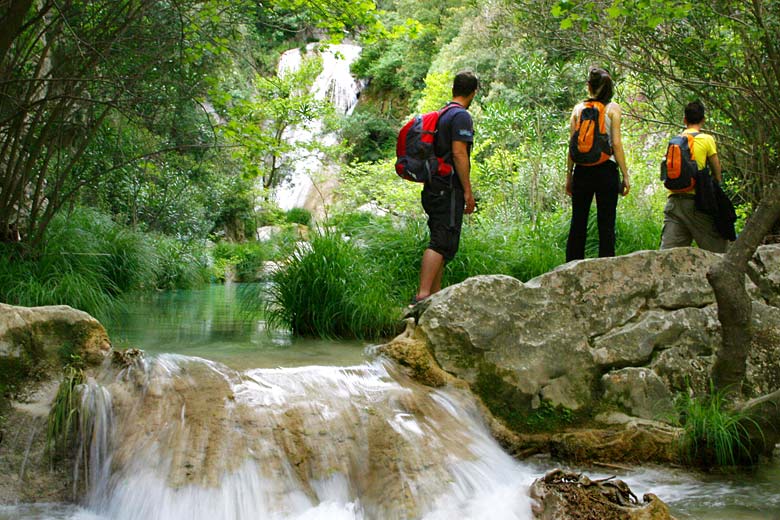 More easily accessed is the Valta Waterfall. Not far inland from Marathopoli, it enjoys a fairytale forest setting and a safely-swimmable lake.
Anyone into canyoning, meanwhile, is directed to the Neda River gorge, on Messenia's northern border. Visually stunning, this verdant ravine features several waterfalls of up to 25 metres and is great fun to hop, swim, scramble and abseil on guided excursions.
A tasty taverna or two
Southeast of Kalamata, Messenia extends onto the Mani Peninsula below precipitous Mount Taygetus.
Twisting roads lead to cutesy Kardamyli, a "castellated hamlet on the edge of the sea" according to travel writer Patrick Leigh Fermor, who settled here. His house, now open to visitors, and one of the region's rectangular Maniot towers border flowery, pebble-beach tavernas facing the ocean.
They serve modern takes on local food; for traditional fare, head to the church-filled, time-trapped villages above.
Elsewhere, Pylos and Koroni proffer plenty of good dining options serving the best Messenian wines. Regional meze dishes to look out for include orange-flavoured loukaniko sausages and diples, fried dough tubes coated in warm honey, almonds and cinnamon.
Weather in Messenia
Ready to visit Messenia? Don't miss the latest offers on holidays from TUI.
More about the Peloponnese
Jan Feb Mar Apr May Jun Jul Aug Sep Oct Nov Dec
Explore holidays in the sun for less
Be inspired
Get your weekly fix of holiday inspiration from some of the world's best travel writers plus save on your next trip with the latest exclusive offers
We promise not to share your details
Related posts