Why Turkey's southwest coast is heaven for history lovers
*affiliate links: find out how we are funded and why this helps us remain free to use.
Lapped by turquoise waters and framed by emerald pines, Turkey's sun-kissed southwest coastline is as pretty as a postcard. But the treasures here are more than just skin deep.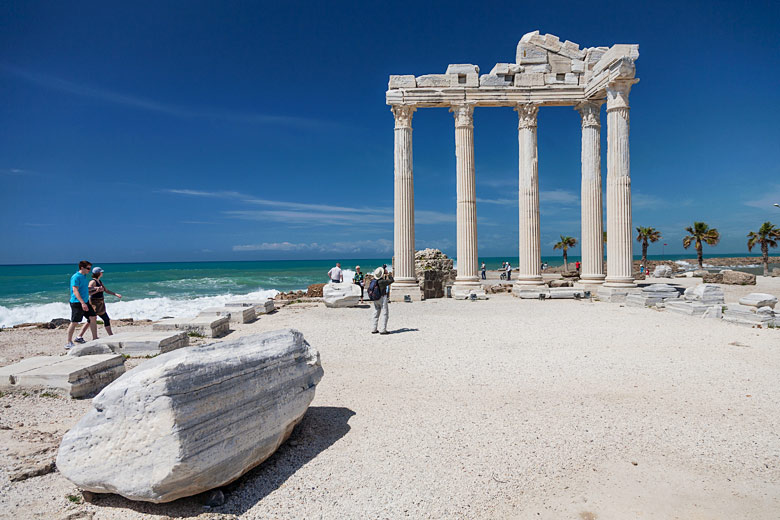 If you're looking for historical fun and bags of sun, consider this stretch of Turkey*, where ancient civilizations have imparted UNESCO-protected ruins and one of the Seven Wonders of the Ancient World.
Read on for our rundown of cultural go-tos, which range from one of the world's best preserved Roman settlements (Ephesus) to a sunken city you can kayak over (Kekova).
Getting to Turkey: there are so many options when it comes to booking a holiday to the Turkish Riviera. Why not check out the latest offers from TUI Blue*, the contemporary collection of hotels for couples, families and groups.
The ancient ruins of Ephesus
Ephesus was once the most prosperous trading centre of the Roman world. Today the perfectly preserved city is Turkey's most popular ancient attraction.
Stroll through a 2,000-year-old UNESCO World Heritage site. Selfie shots include an ancient amphitheatre and a row of marble toilets. But time your visit early in the morning or later in the afternoon to dodge the crowds.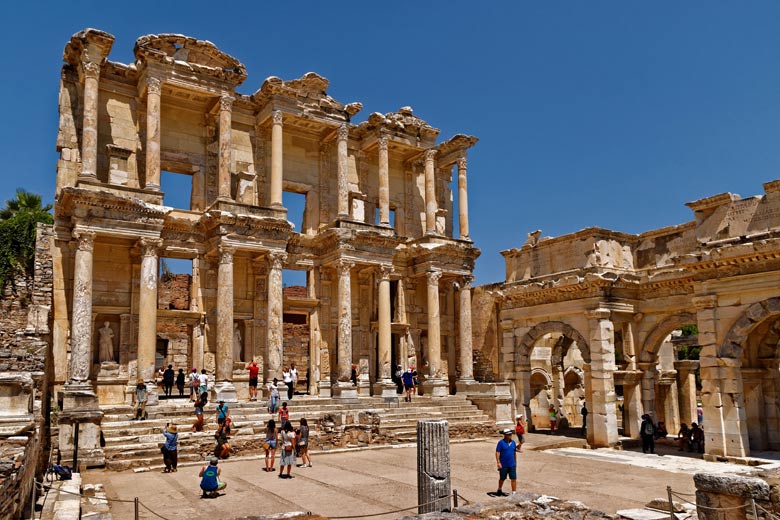 Stroll downhill from the Upper Gate to take in the outstanding terraced homes, complete with frescoes and mosaics, where discoveries are still being excavated.
Follow the central avenue further to the famous Library of Celsus, the former brothel (follow the stone footprints!) and the vast amphitheatre.
Just outside of Ephesus's main complex sit the scarce remains of the Temple of Artemis, which was one of the Seven Wonders of the Ancient World.
The ghost town of Kayaköy
Scattered with carob and fig trees, the peninsula to the south of Fethiye* offers a sun-dappled escape from the city's bustle.
At its verdant heart is the hauntingly beautiful ghost town of Kayaköy. The settlement was completely abandoned after the Greco-Turkish population exchanges of 1923.
Stroll among its frescoed churches and handsome town squares: it's not uncommon to find yourself exploring this unusual place with just the odd bleating goat for company.
For a deeper understanding of Kayaköy and its history, pick up a copy of the novel Bird Without Wings, in which Louis de Bernières authored a fictionalised version of local events.
The birthplace of Santa Claus
Take a boat trip to Gemiler Adasi, also known as St Nicholas Island. Yep, the very isle that's believed to be the birthplace of Santa Claus, a modern adaptation of the 4th-century Christian saint famed for his gift giving.
St Nicholas Island is sleepy, scattered with silvery olive trees and very, very sunny.
This speck of land sits just along the coastline from Ölüdeniz*, Turkey's most famous beach.
The uninhabited island also is dotted with Byzantine ruins, including villas, rock-cut tombs and ancient churches, many of which tumble right into the surrounding sea. After your tour, you can jump right in.
Subaquatic Roman ruins
A visit to the seaside village of Üçağiz, east along the coast from Kaş, offers the perfect pairing of adventurous fun (sea kayaking) with an impressive history lesson (the Roman ruins of Kekova).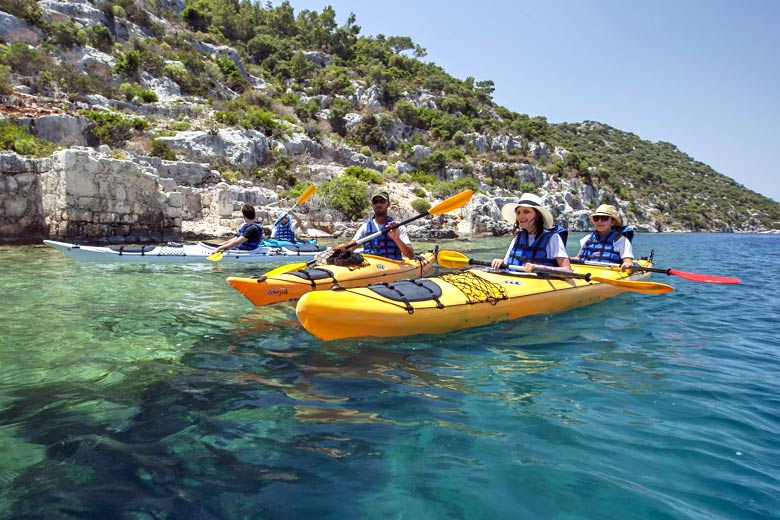 Two thousand years ago, an earthquake shook this ancient town directly into the Aegean Sea. The settlement was almost completely submerged.
Today guided kayaking tours paddle past watery churches, underwater harbour walls, Roman villas (keep your eyes peeled for mosaics and sub-aqua staircases) and Lycian tombs. The trips pause for swims and picnics in designated areas on Kekova Island.
Eternal flames
Hike a couple of kilometres inland from the seaside town of Çirali to stumble upon a unique natural phenomenon: the Chimera.
Known as yanartaş in Turkish, these spontaneous flames, which burn day and night, lick skywards from the ground's rocky surface.
Scientists say they're caused by a combination of gases, including methane, which are slowly emitted from vents in the earth before bursting into flames. But their omnipresent appearance makes them utterly otherworldly.
Historical records confirm that these flames have been burning for thousands of years. In fact, ancient ships used the Chimera as an important landmark during their voyages. Today visitors are welcome to explore the protected area.
The perfect peninsula of Phaselis
A bustling Roman trading port, Phaselis is now one of Turkey's most picturesque ancient sites.
It's tucked into Turkey's coastline an hour's drive west of Antalya*, within the protected Olimpos Beydağlari Coastal National Park. Here softly shaded ruins spill over a peninsula that's trimmed by three beautiful bays.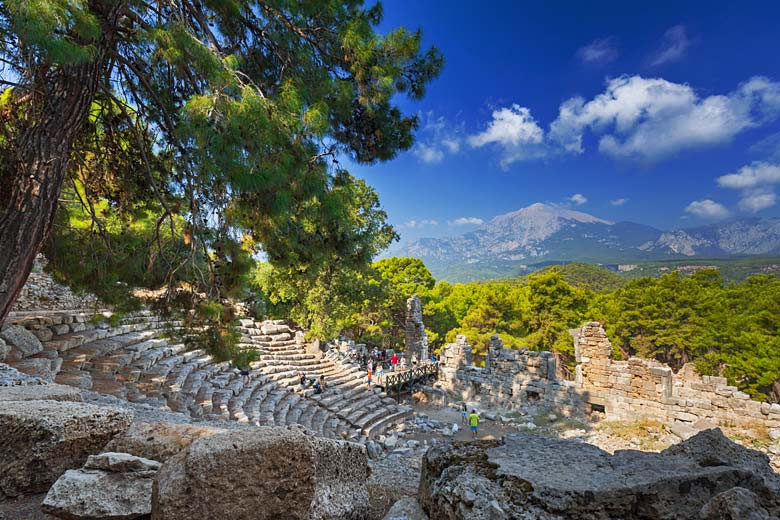 Explore the remains of the city's Roman aqueduct. Or wander Phaselis's main thoroughfare, Harbour Way, which passes the ruins of the town's public bath house. The ancient theatre boasts a panoramic mountain backdrop; it's Insta-heaven.
During summertime, a dip into the sea at one of the site's pristine beaches hits the spot. History buffs, be sure to keep an eye out: you may well paddle over the remains of an amphora or an ancient column.
Aspendos's impressive amphitheatre
The ancient Roman amphitheatre of Aspendos, 40 km east of Antalya's coastal city centre, is a living, breathing cultural space.
Constructed during the 2nd century AD, the theatre remains incredibly well preserved, with 41 rows of intact limestone seating.
In fact, its acoustics are still so superb that each year the Aspendos International Opera and Ballet Festival takes place each summer. Past performances have included Giuseppe Verdi's opera Aida as well as a ballet production of Swan Lake.
There's plenty more to see on the ancient site too: step back in time to take in the impressive Roman aqueduct as well as the ruins of the agora marketplace.
Weather along the Turkish Riviera
| | Jan | Feb | Mar | Apr | May | Jun | Jul | Aug | Sep | Oct | Nov | Dec |
| --- | --- | --- | --- | --- | --- | --- | --- | --- | --- | --- | --- | --- |
| Maximum daytime temperature °C | 14 | 14 | | | | 30 | 33 | 33 | 30 | | 20 | 16 |
| Hours of sunshine (daily) | | | 7 | | 10 | | | | 11 | | | |
| Days with some rainfall | | | 10 | 7 | | 4 | | | 4 | | | |
| Sea temperature °C | | | 16 | 18 | | 24 | 27 | 29 | 27 | | | 19 |
The above guide shows the weather in Kemer. Find out more about conditions in other destinations in our complete guide to the weather in Turkey.
Ready to discover historic Turkey? See the latest offers on super stylish TUI Blue holidays.
More about Turkey
Turkey by month
Jan Feb Mar Apr May Jun Jul Aug Sep Oct Nov Dec
Explore holidays in the sun for less
Be inspired
Get your weekly fix of holiday inspiration from some of the world's best travel writers plus save on your next trip with the latest exclusive offers
We promise not to share your details
Related posts