Park life: San Francisco's best gardens & green spaces
*affiliate links: find out how we are funded and why this helps us remain free to use.
In recent years, green spaces have been popping up all over San Francisco* , which now has over 400 km of walking trails and, in 2017, became the only city in the United States* where every resident is less than a 10-minute walk from a park.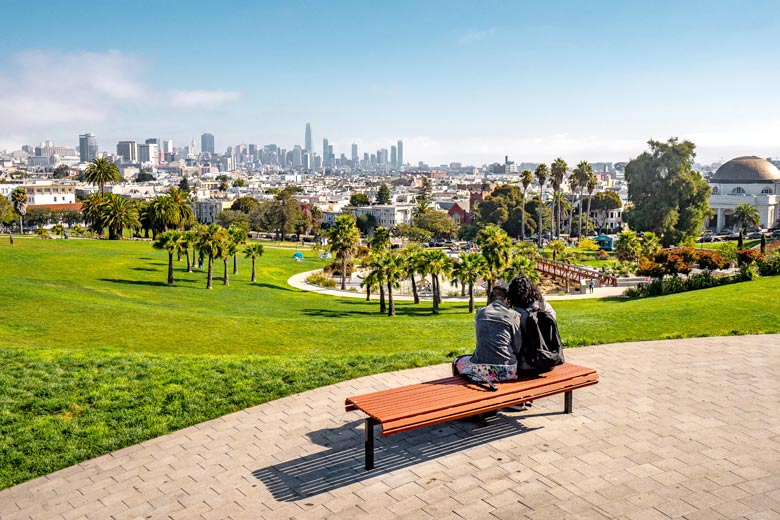 While many head for San Francisco's superstar attractions, such as the Golden Gate Bridge and Alcatraz (which also happens to have one of the city's most beautiful gardens), the city's green spaces are just as worthy of your time. Here, we look at just some of the finest gardens and parks to check out on your next visit.
Getting in San Francisco: find a great value holiday with TUI City Breaks*, which offers flight and accommodation options for all budgets in one.
Presidio Tunnel Tops
This spectacular park was unveiled in 2022 (you can thank a certain pandemic for the construction delays). Built over the Presidio Parkway highway tunnels, the park comprises 14 acres of green space and was created by the design firm behind New York's High Line.
Walk its length to soak up stunning views of the Golden Gate Bridge and the city, but take the time to explore its different areas; there are spots to picnic, play including a very cool playground built with fallen tree trunks and wildflower meadows filled with 180 species of native plants.
Battery Bluff
Full disclosure: Battery Bluff is actually part of the Presidio National Park, but the name refers to a six-acre extension unveiled in 2022.
It's a great spot from which to take in views of the bay (there are plenty of picnic tables) and a network of walking trails offers easy access to several historic military batteries, which were recently reopened to the public for the first time since 1936.
Built by the army between 1899 and 1902, they've even been given names: Blaney, Baldwin, Slaughter, and Sherwood. You'll find them in the Chrissy Field area of Battery Bluff.
Golden Gate Park
Say hello to one of the world's largest urban parks. Love a stat? The park has 680 acres of forest, 33 acres of lakes, 130 acres of meadowland and one of the city's largest public greenhouses.
For many, its pièce de resistance is the 55-acre San Francisco Botanical Garden, which has 8,000 plant species from all over the world.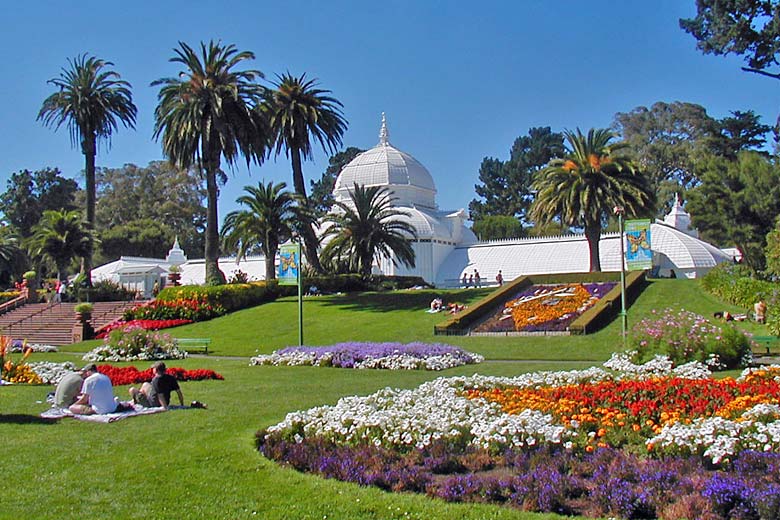 The park's on-site attractions include the de Young Museum, the Japanese Tea Garden, the Queen Wilhelmina Tulip Garden, a nine-hole golf course and a bison paddock where you can watch a herd of North American bison keep the park's grass in shape.
Francisco Park
When the four-and-a-half-acre Francisco Park opened on Russian Hill in 2022, it became the largest park in San Francisco's downtown area. It's incredibly family-friendly; there are viewing platforms, a 25,000-square-foot main lawn and a children's playground.
Don't miss the park's interpretive centre, which provides an insight into the issue of water conservation in the bay area; a fitting subject matter given the park sits on a previously abandoned chunk of land alongside the Francisco Reservoir.
The Great Highway
Another disclosure: the Great Highway doesn't have an abundance of flora and fauna, but it's still one of our favourite places to hang out in San Francisco. It's actually a short section of the Great Highway, but bear with us.
During the pandemic, it was decided this stretch would be closed to vehicles in order to provide residents with somewhere to exercise and relax. It was such a hit that, post-pandemic, vehicles are still banned during the weekends.
Head here to roller-skate, people-watch, picnic and cycle, and take in the views over Ocean Beach.
Salesforce Park
Boring name aside, this urban park in the centre of San Francisco provides tourists and locals with a great opportunity to escape the city for a moment or two. Perched atop the Salesforce Transit Center (hence its name), this park floats 21 metres above street level, offering visitors a brilliant perspective on the city.
It's a popular spot for photographers and fans of plant life; the park's botanical gardens and lawns have over 16,000 plants (including 600 trees) and are divided into 13 different botanical ecosystems.
Black Point Historic Gardens
Proof that the best things come in small packages comes courtesy of the Black Point Historic Gardens. This one-acre national park, which opened in 2021, connects Aquatic Park with Golden Gate Park and is filled with terraced gardens.
It's a great location for anyone looking to soak up the views over the bay without having to dodge selfie sticks; crowds are few and far between here.
The park is a true labour of love. Prior to its opening National Park Service employees joined hundreds of volunteers to remove almost one tonne of trash (the area had been neglected for decades) and plant 8,000 native species.
Crane Cove Park
Another relatively new park (it opened during the pandemic, in October 2020), this is one of San Francisco's best parks when it comes to historical artefacts. The area, close to San Francisco's Pier 70, was once a shipbuilding site, and visitors can check out the rusting hulks of two shipyard cranes, along with one of the city's few remaining shipbuilding slipways.
Head to this often-overlooked park and you'll find a two-acre lawn dotted with picnic tables and barbecue areas, a gorgeous sandy beach and several children's play areas. Its creation was part of the city's Blue Greenway plan, successfully transforming dilapidated waterfront sites into parks and public gardens.
A top tip? Head to Dogpatch Paddle to rent a kayak or SUP for some water-based fun.
Crosstown Trail
More of a walking and cycling route than a park, it's still worthy of inclusion, simply because the 27-km route passes through some of San Francisco's prettiest green spaces, including McLaren Park, the city's third largest, and the recently restored Glen Canyon Park.
It's a great way to explore the city's different neighbourhoods, although arguably the best section is the stretch which weaves through the Visitacion Valley Greenway, a network of community-maintained parks.
The Presidio
Regarded as the city's park with the richest history, and one of California's top national parks, this vast green space is a former army base (the Grateful Dead's Jerry Garcia was once stationed here), which encompasses numerous period buildings and covers 1,500 acres overlooking the Golden Gate Bridge.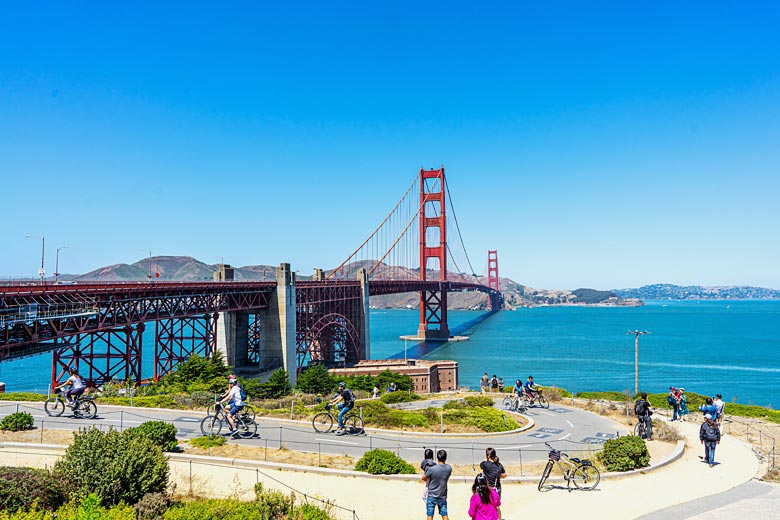 There are 38 km of hiking trails and 40 km of cycling trails, along with numerous beaches, forests, historical sites and plenty of restaurants and cafés where you can refuel.
Opt for the avocado toast at the Round House Café before heading to the nearby Walt Disney Museum, which provides a fascinating insight into the early life of the illustrator-turned-theme park pioneer.
Alcatraz
Don't get me wrong: prisoners sent to Alcatraz didn't have it easy, enduring horrendous conditions ranging from their tiny cells to strict rules (at one point prisoners were banned from either singing or talking to each other through the bars).
But a lucky few were given work duties in the prison island's garden, created by both prisoners and the guards who watched over them, and the gardens have recently been restored to their former glory.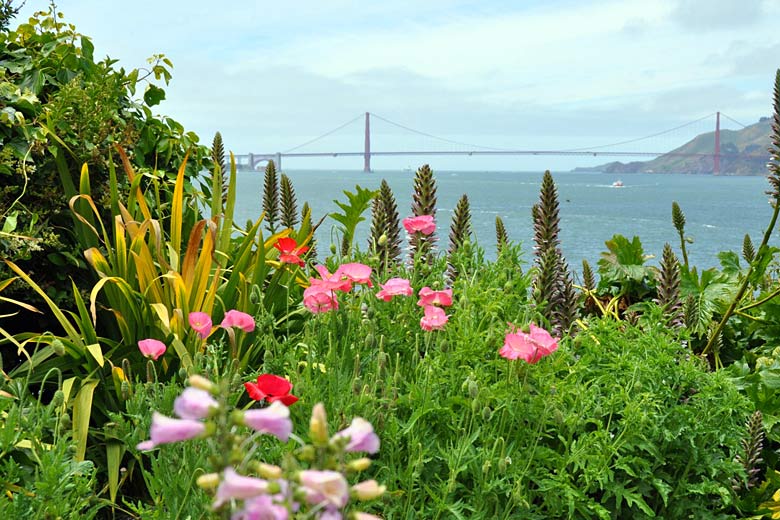 Head to the Rock's gardens and you'll find thousands of species of plants and dazzling explosions of colour, whether it's the vast swathes of bright purple bearded irises, the fragrant rose terrace or the bright yellow calendulas.
One of the prettiest spots is the officers' row gardens, where footpaths weave through clusters of bright pink centranthus.
Weather in San Francisco
| | Jan | Feb | Mar | Apr | May | Jun | Jul | Aug | Sep | Oct | Nov | Dec |
| --- | --- | --- | --- | --- | --- | --- | --- | --- | --- | --- | --- | --- |
| Maximum daytime temperature °C | | 16 | 16 | 17 | 18 | 19 | 20 | 20 | 22 | 21 | 17 | |
| Hours of sunshine (daily) | | 7 | | | | | | | | 8 | | 5 |
| Days with some rainfall | | | | | 3 | | | | 2 | 4 | 8 | |
| Sea temperature °C | | | | | | | | | | | | |
The above guide shows the weather in San Francisco. Find out more about the conditions across California and the weather in the wider United States.
Ready to go? Don't miss the latest offers on urban escapes with TUI City Breaks.
More about San Francisco
San Francisco by month
Jan Feb Mar Apr May Jun Jul Aug Sep Oct Nov Dec
Explore holidays in the sun for less
Be inspired
Get your weekly fix of holiday inspiration from some of the world's best travel writers plus save on your next trip with the latest exclusive offers
We promise not to share your details
Related posts