Turkey versus the Canaries: which is best for a family holiday?
*affiliate links: find out how we are funded and why this helps us remain free to use.
First off: I seriously love the Canaries, an archipelago that's brilliant for a holiday. I head there as much as I can and I've taken my family more than a dozen times.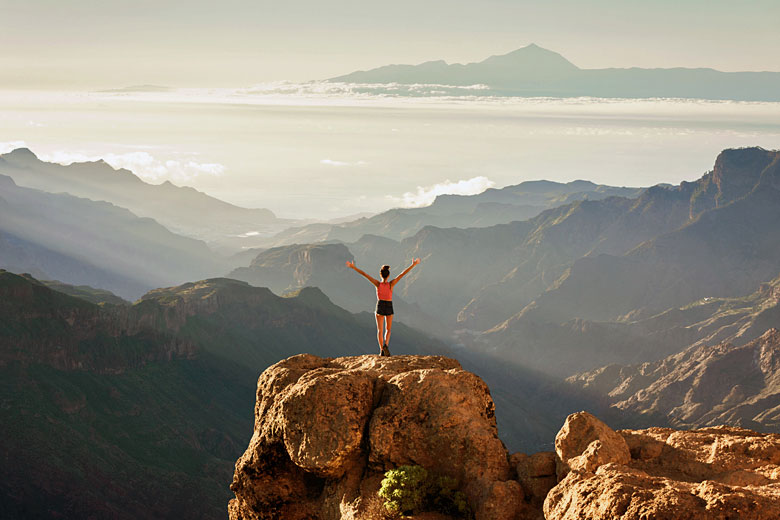 But, of course, there are plenty of other places for a family holiday. Indeed, lots of my friends swear by Turkey*, so I've just been back out (with my kids in tow for the first time) to see how the country stacks up against my beloved Canary Islands*.
If you're swithering between these destinations, which both lie a similar flight time from the UK, buckle up for the ride as I help you decide which to choose for a sunshine holiday by comparing them in seven all-important ways.
Getting there: whether you choose to go to Turkey* or the Canary Islands*, TUI has countless great offers on holidays* to both destinations departing from airports across the UK.
Let's talk about the beaches
I hear the naysayers at the back complaining that Tenerife* only has black-sand beaches. It does have black sand, but also stretches of golden sand in the south and the white sands of Teresitas in the north.
And then there is Gran Canaria*, with its sweep of white sands, most striking in the protected ocean dunes of Maspalomas. And best of all Fuerteventura*, which sports some of the most dramatic starched white beaches on the planet.
Turkey has a hard act to follow then, but it's right up there with a 7,000 km-long coast sporting a rich necklace of beachfront sprinkled around the south and west of the country.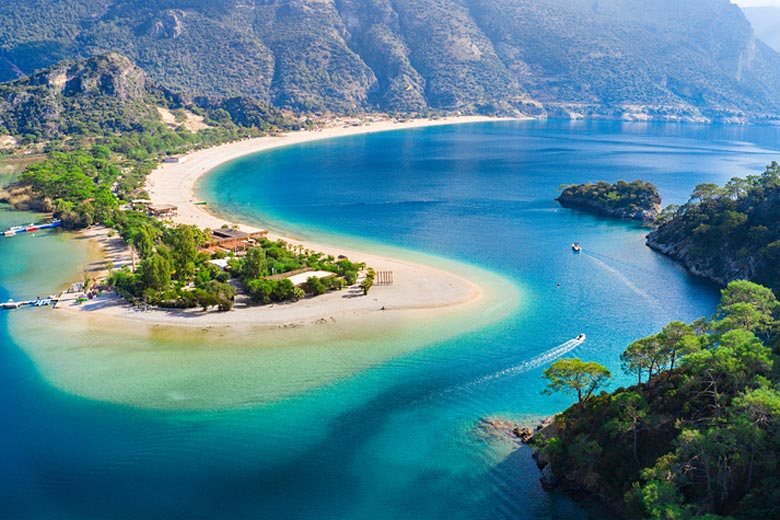 Oludeniz* deserves its place on those world's best beaches lists, with its little lagoon protected by its white sand spit, then there is the 18km-long Patara, with its turtles, and the bountiful beaches of Bodrum*.
Turkey delivers on strength in serious depth. We'll call this one a very honourable draw.
Then there are the resorts
There are resorts of all shapes and sizes; all demographics too. There are all-singing all-dancing resorts in the Canaries like Playa de las Americas on Tenerife or Playa del Ingles on Gran Canaria, but also more chilled-out resorts too, as well as others catering more to families.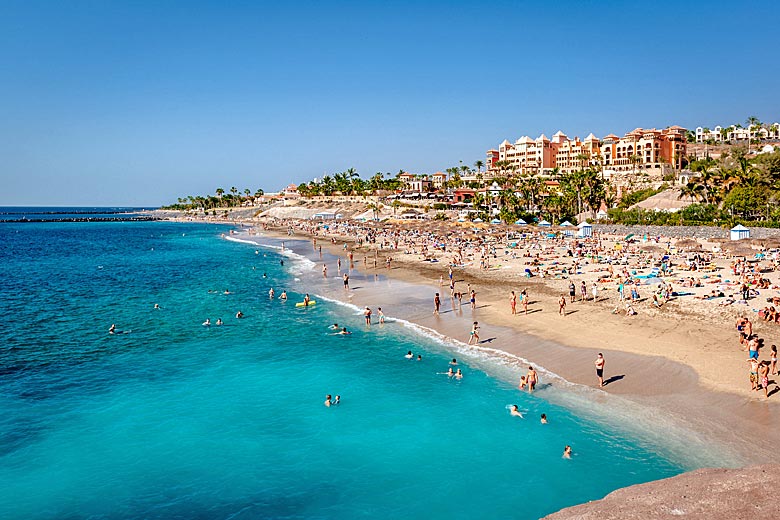 My pick of the bunch in the Canaries is Corralejo; find out why. In Turkey, I like the all-encompassing nature of resorts like Bodrum and Kusadasi*, which offer resort facilities with natural beauty and a splash of history too.
I enjoyed Antalya* on my latest trip, a resort built around a city with its own beaches, so you can hop into the urban action if you want more than a hotel beach to chill on.
As yet I've found no Corralejo in a dozen trips to Turkey though, so on this one the Canaries shade it.
...and the cities
People don't often associate the Canaries with thrilling cities and I'm not a huge fan of the likes of Arrecife or Puerto Rosario. But Santa Cruz de Tenerife packs a punch with its brilliant Auditorio arts venue and the world's second-largest Carnaval after Rio.
Las Palmas takes it up another level with its Rio's doppelganger Canteras, its own buzzing Carnaval, thrilling port city nightlife and an old town once strolled by Columbus.
On my recent Turkey trip I tried the resort city of Antalya, which just didn't compare despite its waterfront old town, but then Turkey has Istanbul*.
Turkey's largest city, with a population of over 15 million, is utterly beguiling: the city literally has one foot in Europe and the other in Asia.
You could spend weeks trying to take in myriad mosques, palaces and bazaars. When it comes to cities, Turkey blows the Canaries out of the water with Istanbul alone.
Family-friendly hotels
Travelling with kids is a whole different ball game. So many hotels reckon they are 'family-friendly', but the reality is sometimes disappointing. So I've picked my favourite family hotel in each destination.
The Hard Rock Hotel*, not to be confused with the Hard Rock Café brand, in Tenerife, is just wonderful for littluns. From live music in the lobby to DJs playing tunes at the pools, through to memorabilia from various pop and rock stars throughout, it's such fun.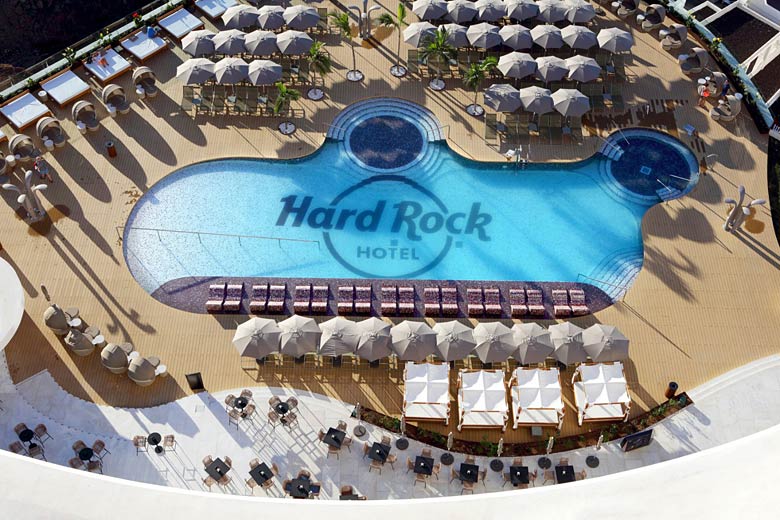 My daughters love swirling around looking for Taylor Swift's dress. They also love the kids' club drum kit and the year-round heated pool. The lagoon down by the beach is ace too, with a huge pool and a massive stage where they lay on gigs.
It is hard to beat, but The Land of Legends Kingdom Hotel* in Turkey goes for it. You don't need to travel far for a theme park experience as the eponymous park sits right by the hotel.
Walk across the Venetian-themed canal and you enter a world of full-on rollercoasters and thrilling water park action alongside gentler pleasures for kids. My daughters told me they had as much fun here as they did at Disneyland Paris, which is saying something.
The only thing they don't have is outdoor pool space at the hotel. This one was hard to call but I've gone for a draw as the Hard Rock Hotel is brilliant, but it doesn't have a theme park attached; whilst Turkey's finest doesn't have an outdoor pool at the hotel.
Both are superb for families and, crucially, entertain both kids and big kids alike.
Depth of culture & history
On the face of it you might expect Turkey to come out way on top here with its wealth of Ottoman and Roman heritage and myriad historic sites. That is not the whole story, however, as beyond the modern tourist resorts, a very different version of the Canaries emerges.
This is a land alive with the ghosts and the traces of their indigenous peoples, searching for more is fascinating, leading to the likes of hikes up Mount Tindaya on Fuerteventura to seek out the rock carvings.
Then, of course, there are the Spanish conquistadors, who have left their own far more indelible imprints. Columbus was here too; indeed, La Gomera* was his last landfall before crossing the Atlantic in 1492.
That Spanish culture is woven deeply into the Canaries, architecturally remarkable in that they 'practised' some of the architectural styles you find in South America here en route in the Canaries; you'll never forget strolling around UNESCO World Heritage-listed La Laguna in northern Tenerife.
And then there is contemporary Canarian culture, an amorphous beast spread across eight very different islands.
Over in Turkey, there is an almost embarrassing richness of culture. The Greeks, Romans and Ottomans all left their imprints and Istanbul is one of the most captivating cities in the world.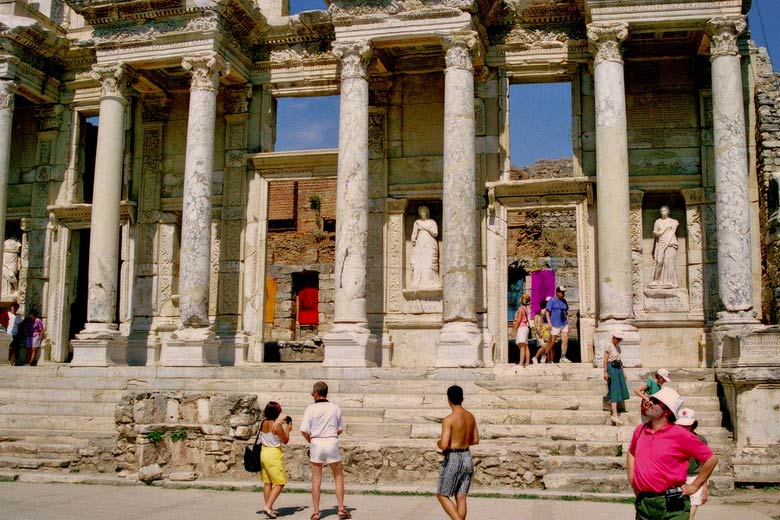 At Ephesus, you have an ancient city mentioned in the 'Book of Revelation' that is easily accessible from the resort of Kusadasi.
It's a real time warp that transports you through the millennia and then takes you on a trip back through the ages in its remarkably well-preserved and reconstructed sites. It's tricky to compare cultures against each other, so on this one, I'll say they both get a gold star.
The taste test
Both the Canaries and Turkey offer superb food and drink. The Canarian wines, especially the bone-dry volcanic whites from Lanzarote are world-class and seriously underrated.
The crisp beers Dorada (Tenerife) and Tropical (Gran Canaria) are great on a sunny day too. Fresh Atlantic fish, those delicious wrinkly potatoes, spicy mojo and richer dishes drawn from the hinterland tempt along with all the international comfort dishes in the resorts.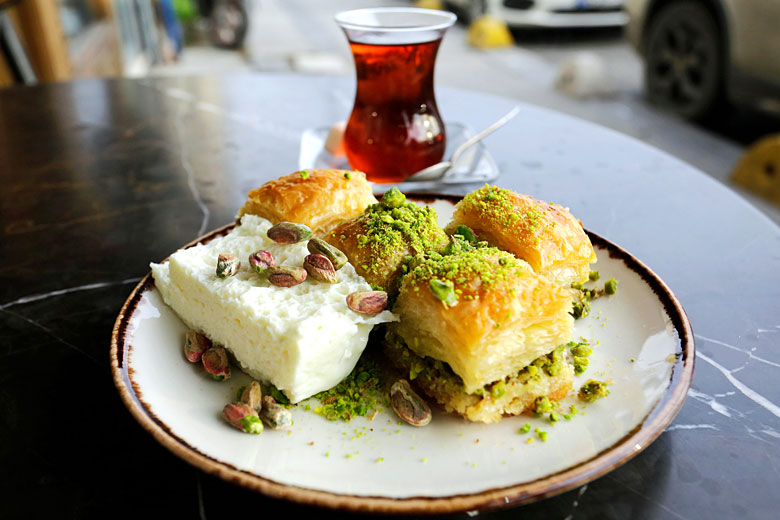 The resorts offer those in Turkey too, but then you literally have a continent of cuisine to sample too, drawn from Europe to the west and many points east.
They grill meats and fish brilliantly in Turkey (so much more than kebabs) and Istanbul is one of the world's great foodie cities. Turkish wines are often excellent too; again the whites excel.
Efes is a superb Turkish pilsner. Both destinations offer ace food and drink; Turkey shades it for the diversity of food from another continent.
And, of course, the weather
One of the main reasons people flock to both the Canaries and Turkey for beach holidays is the weather. To be fair to Turkey it has great weather, but Istanbul and the north can be chilly in winter, as can the interior.
The south enjoys classic Mediterranean weather with long, hot summers, and balmy spring and autumn weather. In summer, of course, it can get a little too hot for some, though all the tourist facilities are on hand to help you cool down.
Then there are the Canary Islands. They quite simply boast my favourite climate in the world. They never really get cold, bar up in the mountains, in winter; they are the classic winter sun escape with good reason.
The Canaries are the 'Eternal Spring' cliché writ large. Actual spring and autumn are just glorious. Summer can be hot, but even then, the cooling Atlantic Trade Winds often mask the worst of the heat.
If I had to give the Canarian weather a score out of 10 it would be 11 so, for me, they win here.
Compare weather
Use the graphs below to compare conditions in different resorts across Turkey and the Canary Islands. You can also find out more about the weather in Turkey and the weather in the Canary Islands in our complete guides.
Antalya Coast, Turkey vs Canary Islands, Spain
Maximum daytime temperature (°C)
Antalya Coast, Turkey (Antalya)
Canary Islands, Spain (Santa Cruz de Tenerife)
Jan
Feb
Mar
Apr
May
Jun
Jul
Aug
Sep
Oct
Nov
Dec
Hours of sunshine per day
Antalya Coast, Turkey (Antalya)
Canary Islands, Spain (Santa Cruz de Tenerife)
Jan
Feb
Mar
Apr
May
Jun
Jul
Aug
Sep
Oct
Nov
Dec
Days with some rainfall
Antalya Coast, Turkey (Antalya)
Canary Islands, Spain (Santa Cruz de Tenerife)
Jan
Feb
Mar
Apr
May
Jun
Jul
Aug
Sep
Oct
Nov
Dec
Monthly rainfall (mm)
Antalya Coast, Turkey (Antalya)
Canary Islands, Spain (Santa Cruz de Tenerife)
Jan
Feb
Mar
Apr
May
Jun
Jul
Aug
Sep
Oct
Nov
Dec
Sea temperature (°C)
Antalya Coast, Turkey (Antalya)
Canary Islands, Spain (Santa Cruz de Tenerife)
Jan
Feb
Mar
Apr
May
Jun
Jul
Aug
Sep
Oct
Nov
Dec
Made your choice? Check out the latest offers on holidays with TUI.
More about Turkey
Jan Feb Mar Apr May Jun Jul Aug Sep Oct Nov Dec
Explore holidays in the sun for less
Be inspired
Get your weekly fix of holiday inspiration from some of the world's best travel writers plus save on your next trip with the latest exclusive offers
We promise not to share your details
Related posts