UK staycation ideas for 2021/2022
Planning a staycation in 2021/2022? Why not check out our guide to holidays in the UK and Ireland with top tips, destination ideas, detailed weather guides and more.
Find staycations
Why book a staycation?
Staycations are an increasingly popular alternative to holidays abroad for many reasons. Some people prefer not to fly or don't want to travel too far while others are keen to explore the beauty and culture on their doorstep.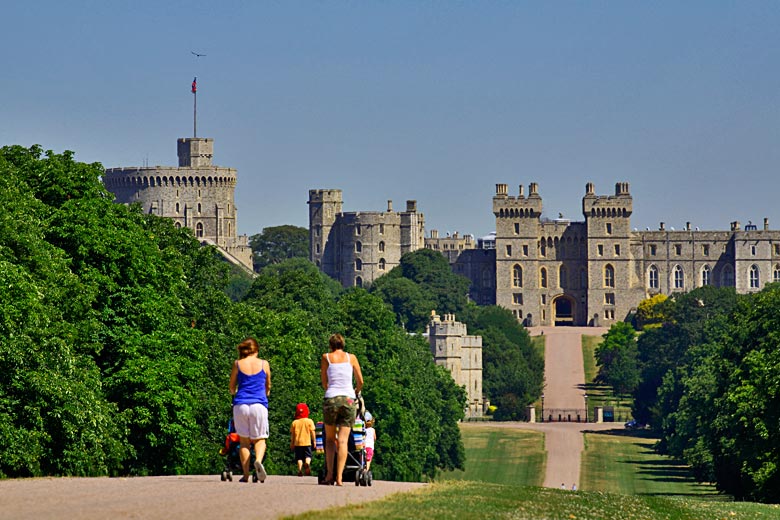 If you choose to take a staycation you can save time and money on flights and potentially reduce the carbon footprint of your holiday.
Staycations in the UK and Ireland are likely to be popular this summer, with current restrictions on international travel and the potential risks of the coronavirus affecting foreign holidays.
What is a staycation?
A staycation is a holiday in your own country rather than abroad. This might be time off from work at home or another location.
If you're considering a staycation in 2021/2022, there's a wide choice available from family holidays and holiday parks to a break for two or a spa retreat.
Destination inspiration
UK staycations come in all shapes, sizes and budgets. From camping by the seaside and renting a luxurious country house complete with a swimming pool to exploring ancient cities you've always wanted to visit and hiking or kayaking in the national parks, there's so much to do on a staycation in the UK.
Beach holidays
Ok, so, the UK might not be the first place you think of when it comes to planning a beach holiday but stay with us as you can book a break that centres around the joys of indulging in the beaches and bays that make up our numerous islands' near 20,000-mile-long coastline.
There are huge golden sandy stretches such as those in Norfolk, Dorset, Northumberland and Pembrokeshire, platinum beaches reminiscent of the Caribbean in Scotland's Hebrides, not to mention shingle and pebbly shores such as those in Suffolk and East Sussex, among many others.
The secret to making the most of a beach holiday in the UK is to have a backup plan if the weather misbehaves. If it's a warm and sunny day, make sure you've got all your beach essentials including SPF and a picnic.
If, however, sunbathing and swimming are off the agenda, pack hiking boots for a coastal walk, take a day trip wildlife watching and ensure your accommodation is somewhere close to attractions relevant to you be that a local pub, museums or a family-friendly theme park. You really can make what you want of a beach holiday in the UK.
City breaks
With close to 70 major cities and countless more sizeable towns across the UK, there are lots to choose from when it comes to deciding where to go for your city break staycation.
Whether you like to seek out the coolest foodie joints, browse the latest gallery exhibitions, walk in the footsteps of the Romans or shops in the chicest boutiques, the UK is crammed full of varied and vibrant urban centres.
Handily, a city break doesn't rely solely on the weather for you to have a fabulous time, either. From the maritime heritage found in the likes of Glasgow, Belfast and Liverpool and the history of Viking York and Georgian Bath to the bright lights of lively London and Manchester, there's a world of experiences waiting for you across the UK.
As well as taking your pick from a wide range of different accommodation from self-catering and Airbnb-style rentals to five-star hotels, you can choose a city that's not only bursting with its own attractions but is situated close to other interesting sights.
Whether that's somewhere near an Area of Outstanding Natural Beauty (AONB) or a national park - think Cardiff, Norwich, Stirling and Chichester, for example - or perhaps within easy reach of a theme park like Alton Towers*, LEGOLAND* or Thorpe Park*, you can shape your city break whichever way suits you best.
Family holidays
Families are well catered for in the UK. You can really build your family staycation however you like, from the type of accommodation - such as self-catering cottages, campsites with play areas or well-equipped holiday parks - to the type of place you want to go, be it rural, urban or a bit of both.
You could choose a seaside resort where beaches and coastal activities such as boat trips and watersports blend with all of the child-friendly amenities you'd expect from a city or large town. Then there are the national parks, where a huge range of things to do for all ages can be found from Snowdonia to the Cairngorms, including Go Ape-style zip lines, rafting and cycling.
Alternatively, you could head straight for the likes of Warwick Castle* and Chessington World of Adventures*, where it's possible to only take thrilling rides, try one-off experiences and make a splash in the swimming pool but stay on site for an immersive experience for all the family.
Spa breaks
For some, nothing says 'holiday' quite like the soothing sounds and herbal scents of a spa treatment room. And why not, we all deserve a little pampering.
Whether you book a spa break for the extensive treatment menu or just want to find some solitude and unwind through taking a swim and sweating it out in the sauna, there are plenty of spas, from the well-known to the independent, offering a range of deals on short spa breaks.
While a day at the spa goes a long way to rejuvenating the skin and the soul, a stay at one of the stylish country retreats or five-star inner-city hotels offering even more indulgence can be too tempting to miss.
Big names such as Champneys, Marriott, Macdonald Hotels* and The Belfry* have luxurious accommodation alongside relaxion lounges, plunge pools, outdoor hotubs, fitness classes, dual treatment rooms to name a few facilities.
What's more, taking a spa break is the perfect opportunity to plan some much needed time together be it as a couple, group of friends or a for some daily bonding on a special mother-daughter escape. A spa break is also a wonderful surprise to give someone who deserves a little R&R.
As well as treatments such as massages, facials, scrubs and soaks, spa breaks often include tasty extras such as Champagne, afternoon tea or a fancy evening meal.
Theme & water parks
Fun for all ages can be found at theme parks and water park around the UK. However, there's no denying that visiting these attractions can be an expensive pastime, which is why booking ahead is the smart way to plan a staycation to one of these well-known resorts.
Whether you're visiting on a day trip or hoping for a thrilling night or two onsite, you're likely to find the most affordable tickets and package deals online.
Then it's simply a question of which park to choose: LEGOLAND* is an all-time favourite with children and adults alike who delight in the numerous rides, play areas and wonderful LEGO creations.
Then there's Thorpe Park* with its heart-stopping rollercoasters and super slides, not to mention the games and playful rides of Drayton Manor, among many others.
If you've a budding Attenborough in your midst, make for Chester Zoo or Whipsnade Zoo, which are both renowned for their spacious grounds and work in conservation.
History & heritage
Digging down through the many layers of the UK's history, from prehistoric to modern times, is made simple thanks to organisations such as English Heritage*, the National Trust* and National Trust for Scotland*, and the RHS*.
With well-managed and dedicated sites spread across the country, you can delve into everything from Roman ruins, Tudor castles and dissolved monasteries to period architecture and immaculately landscaped gardens, each one with a story of its own to share.
Take Dover Castle on England's south coast: this fascinating fortress, originally built in the 12th century, has outlived monarchs and went on to serve as a vital base during WWII. Then there's RHS Wisley, a stunning garden built around its historic laboratory with a magnificent glasshouse and exciting outdoor play areas for kids.
In Wales, 13th-century Chirk Castle dominates, while the Giant's Causeway remains one of Northern Ireland's most capitiuvaig attractions. In Scotland, momentous sites - and sights - such as the battlefields of Bannockburn and Culloden offer history in the great outdoors.
You could visit North Norfolk and download the re Discovery Coast app to follow in the footsteps of woolly mammoths, go fossil hunting along the Jurassic Coast, explore the nation's maritime history in Portsmouth or learn about textiles in Dundee, rural life in northeast England at Beamish Open Air Museum and the realities of the Industrial Revolution in the likes of Manchester and New Lanark.
Walking & rambling
There is no shortage of walking and rambling options for UK staycationers. In fact, with a massive network of local, county and national trails, we really are spoilt for choice. From short circular routes to lengthy pathways, there's something for every ability across England, Wales, Scotland and Northern Ireland.
Sixteen National Trails zigzag Egland and Wales, including the England Coast Path, which takes in sections around the country, Hadrian's Wall Path, which mixes Roman ruins with your ramble, North Yorkshire's splendid Cleveland Way, the mighty Pennine Way and Pembrokeshire Coast Path, to name a few.
Each offers something a little different in terms of effort and scenery, from rocky peaks and dramatic cliff tops to rolling beach paths and snippets of local history.
Meanwhile, in Scotland there are close to 30 long-distance great trails that you can dip in and out of, such as The Speyside Way, West Highland Way and John Muir Way. Then there's Scotland's National Trail, which snakes from the Scottish Borders to the furthest end of Sutherland in the very far north of the country.
Did you know that rambing rights vary by nation? Be sure to familiarise yourself with the country code wherever you plan to walk in England, Wales, Scotland or Northern Ireland.
In Northern Ireland, another excellent series of short to long-distance trails can be found crisscrossing the countryside, from the Causeway Coast in the north to Saint Patrick's Way: The Pilgrims Walk towards the border with the Republic of Ireland. All can be dabbled with or completed in sections, leaving you free to choose just how much walking you want to do.
Don't forget, the National Trust* and National Trust for Scotland* have a plethora of walking routes as well.
Even more staycation ideas
If you're still on the hunt for that dream staycation, consider the following options. Love to catch a West End show? Perhaps you're all about teeing off or finding romance in whichever way suits you. One thing's for certain, there's no shortage of ways to create an ideal staycation in the UK.
Theatre breaks
Golfing breaks
Romantic breaks
Activity holidays
Don't forget you can find out more about the UK weather and also check out the latest UK travel deals and discounts to save on your staycation in 2021/2022.
More about UK holidays
Be inspired
Get your weekly fix of holiday inspiration from some of the world's best travel writers plus save on your next trip with the latest exclusive offers
We promise not to share your details
*affiliate links: find out how we are funded and why this helps us remain free to use.