Serving up the best of Sandals: top restaurants to try on holiday
If your image of dining at an all inclusive resort is stuck in a timewarp of faceless buffets and poor local wines, then you haven't experienced dining Sandals style, where the cuisine served across its 16 luxurious Caribbean resorts* is no afterthought.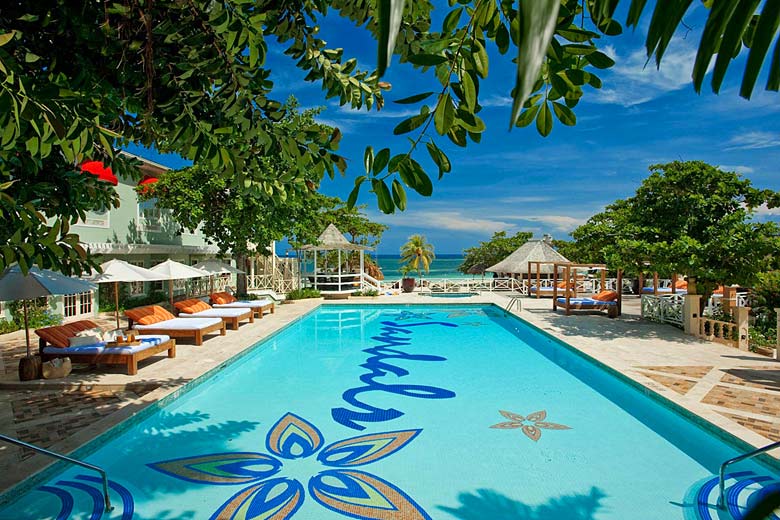 We're talking a huge choice of restaurants, bars and cafés, à la carte menus, superb wines and an epic range of dishes guaranteed to keep discerning foodies happy on holiday.
There's a place for every mood and taste, from simple oh-so-Caribbean beach spots and lively British pubs, through to smooth French eateries, steakhouses where the beef is always cooked exactly how you like it and seafood temples where lobster is king.
Book a Sandals stay: check out the latest deals on all inclusive holidays to Sandals resorts* across the Caribbean.
Quality runs through Sandals, whether it's the half dozen Robert Mondavi Twin Oaks 'house' wines, the Jamaican Blue Mountain coffee, the top-notch Wagyu beef or the local breadfruit.
And if the multiple award-winning restaurants are not enough you can dine in private with butler service or choose to have a very special curated candlelit dinner for two. In the world of Sandals, the gastronomic possibilities and experiences are endless.
Sandals Grande Antigua
This glorious Antiguan hideaway by famous Dickenson Bay* has been voted the 'Caribbean's Most Romantic Resort' and it more than delivers for amorous foodies with 11 restaurants and seven bars. It's set too amidst an oasis of swaying palms and cooling Trade Winds.
You can dive right into the fiery world of local island cuisine at Eleanor's, named after 18th-century Scottish noblewoman, Lady Eleanor MacDougall, who is said to have run off to the Caribbean from her native land.
Here, the delicious signature dish is peppered reef shrimp, which is cooked with peppers, carrots, onions, garlic and thyme, and comes with steamed rice and a Scotch bonnet sauce.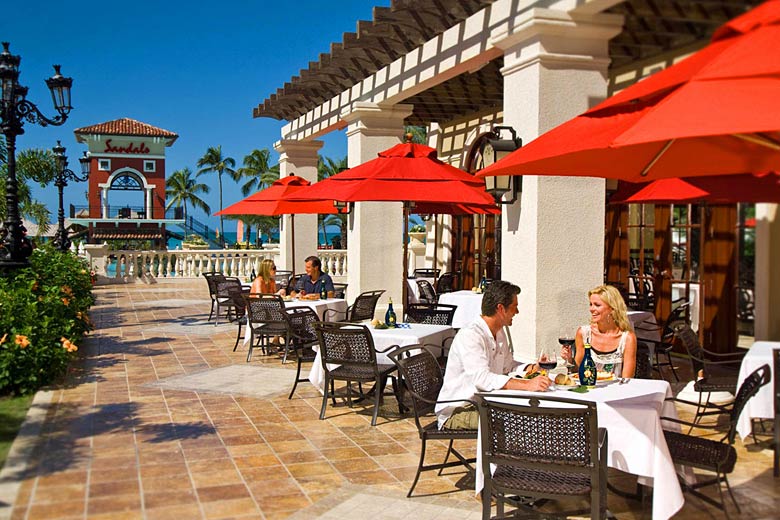 If it's classic Italian you're after Mario's hits the spot whether you are in the mood for a spicy arrabbiata or the creamy comfort of a carbonara. For dessert, how about that perennial Italian sweet winner tiramisu?
Sandals Emerald Bay, Bahamas
This spectacular retreat*, which spreads itself over 500 acres in the Bahamas and boasts a mile-long beach, is also home to 11 restaurants, along with half a dozen tempting bars.
If you want to posh things up a little settle in amidst the blue velvet wall décor and be transported to the Left Bank of the French capital at La Parisienne.
This is the Bahamas, though, so the option of a terrace bathed in tropical greenery awaits too. Dine on the likes of snails cooked Burgundy-style in garlic, French onion soup or treat yourself to a succulent chateaubriand. That French classic of crème brûlée awaits for dessert.
At the other end of the scale if you just want to chill out Barefoot by the Sea is the place right down on the sand. Go the whole hog and turn up barefoot - it's positively encouraged in this laidback eatery!
Seafood is the star here. Want it grilled, blackened, pan-fried or steamed? No problem. Prefer it served as is or with a lemon and caper sauce, a sticky teriyaki glaze or a sultry coconut curry sauce? Just ask.
Sandals Barbados
Escape to the St Lawrence Gap area to a resort that delivers in every way*. It is spread across three distinct villages and Barbados' largest and longest lagoon pool.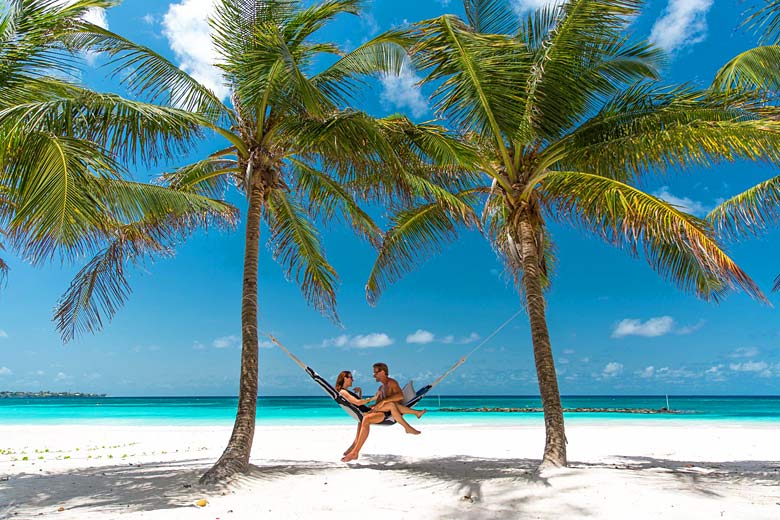 If the 11 restaurants here are somehow not enough for you another half dozen options await at the island's other abode, Sandals Royal Barbados*.
There are handily seven bars on site too. If you are craving an exotic touch of spice Bombay Club hits the spot.
The bewitching aroma of cardamom, ginger, coriander and nutmeg fills the air as you switch continents and enter an oasis adorned with brightly patterned rugs and billowing silk.
Kick off with a deliciously slow-cooked tandoor oven starter of meat, fish or paneer cheese, before the likes of rogan josh lamb or Goan shrimp curry.
For a real treat opt for the lobster butter masala. You'll, of course, need a proper naan bread to soak up that delicious spice-kissed sauce whatever you order. And let's not forget the papadums - Sandals never do.
For flavours of a different kind check out bright and airy Spice's, where myriad Caribbean delights tempt, from jerk chicken to a vegetarian roti and that Caribbean signature, mutton curry.
Sandals Curaçao
The latest addition to the Sandals family is Sandals Curaçao*, which is due to open in spring 2022. Plans are afoot to create one of the most lavish resorts in the collection, including no fewer than nine dining options.
Curiously, eight of these will be brand new restaurants, exclusive to the Dutch Caribbean island resort. Among the various delicacies on offer will be a special Dutch cheese bar with wine pairing, offering a reminder of the island's European links.
There will also be three beachside gourmet food trucks for a casual bite to eat. These will serve a variety of cuisines, namely local Curaçao dishes, Spanish tapas and Asian-style snacks.
The west-facing resort will also have 10 bars to choose from; ideal for watching the sun sink into the Caribbean Sea after a hard day's holidaying.
Sandals Grenada
Pink Gin Beach on the idyllic island of Grenada is the perfect setting for what Sandals calls the 'world's most innovative all-inclusive resort*'. Eye-catching features include 'pools in the sky', 'living rooms in swimming pools' and private plunge pools.
Here, half a dozen bars and 10 restaurants beckon. Butch's is a dedicated steakhouse with cuts cooked to perfection, which wouldn't be out of place in New York.
We're talking Black Angus and Wagyu beef served in cut countless ways, from filet mignon and ribeye, through to classic strip loin and a whopping T-bone, all cooked, of course, just how you like it with a sauce to match.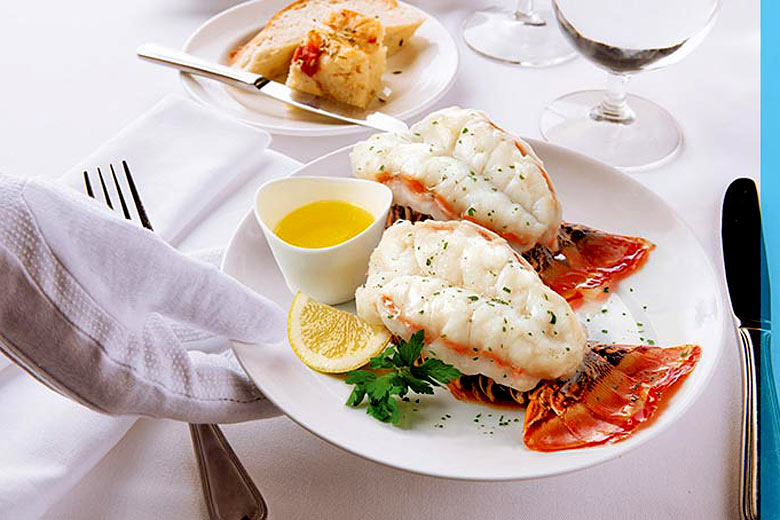 Crossing the Atlantic Neptune's circles the Mediterranean bringing its famed healthy diet with it. Eggplant, artichokes, squash and juicy tomatoes star alongside lobster and fresh fish.
For a bit of a Marseille moment you can even try their bouillabaisse, which has a little bit of everything maritime in it. A delicious fusion is a chermoula-crusted mahi-mahi accompanied by scallop potato with fennel and a lemon-herb drizzle - delicious.
Sandals Grande St Lucian
This oasis on St Lucia has been described as the 'closest holiday to a picture-perfect postcard*'. The calmest waters drift along a mile-long beach under epic blue skies and the watchful gaze of a hulk of emerald tree-clad volcanic mountains.
A dozen restaurants keep visiting foodies happy with six bars too, plus a further 15 restaurants to savour at the two other resorts, Sandals Halcyon Beach and Sandals Regency La Toc.
You are right out amongst the fish at Gordon's Pier Restaurant, which spectacularly reclines on its own pier jutting out into the water. It's an ideal place for a romantic dinner for two whether it's your first or last night - why not come on both?
Creole fish chowder appeals as does a perfectly cooked swordfish fillet in ponzu butter, alongside surf and turf, with prime beef tenderloin topped with local shrimp.
An eatery would struggle to be any more Caribbean than the Jerk Shack. It draws on Caribbean Jerk cooking techniques with their paste alive with spices and Scotch bonnet peppers.
Want to know more about the weather? Don't miss our dedicated guide to the weather at Sandals resorts across the Caribbean all year-round.
Sandals Montego Bay, Jamaica
If it's a party you are after you've come to the right place. Montego Bay is Sandals' flagship resort* and enjoys a prime location on what could just be the finest private, white sand beach in all of Jamaica.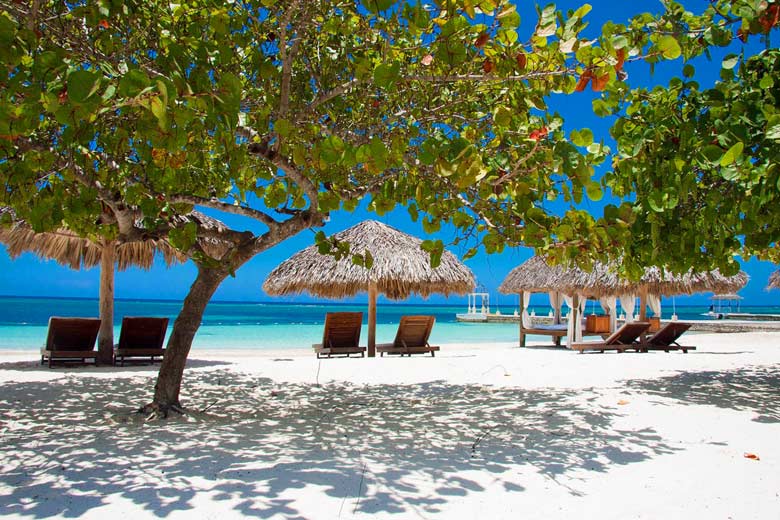 To get the party started, The Cricketer's Pint is on hand with a decent Guinness or a Newcastle Brown ale to go along with your shepherd's pie, bangers and mash or classic fish and chips.
The latter is served as you'd expect: properly with mushy peas and tartare sauce. A curried vegetable pie is on offer too.
For something a little lighter Tokyo Joe's sets you up for the night with a visit to Japan, and across to China too.
Kick off with sumptuous sushi or gyoza dumplings, before you get the chance to create your own wok dish, which is then fried in a wash of gorgeous fragrances right here.
FAQs about dining at Sandals
What's included on a Sandals holiday?
All of your meals (including fine dining and snacks) and top quality alcoholic drinks (yes, cocktails too!) come as part of the all-inclusive package as standard with Sandals.
Do I have to pay extra to dine at a speciality restaurant?
Sandals proudly claims that each and every one of its restaurants is as good as the next, just different. As such, you don't need to pay extra to dine at any of them. One of the best things about a Sandals holiday is that there are absolutely no hidden costs - even tipping is not allowed.
Do I have to dine at a certain time and at a designated table?
Something that makes many people's toes curl is the thought of assigned tables and set timings when it comes to meals. Thankfully, no such rules apply at any of the Sandals resorts - dine whenever sit wherever and eat whatever you like!
Does it cost extra for premium spirits?
No. All drinks are included and unlimited when you stay at a Sandals resort.
What's the dress code for the restaurants at night?
This varies from restaurant to restaurant, so it's worth checking to see if it requires either 'Resort Casual' or 'Resort Evening Attire'.
What's 'Resort Casual'?
This dress code means either shorts or jeans, t-shirts or polo shirts. No visible swimwear, a top and footwear are required.
What's 'Resort Evening Attire'?
This dress code requires smart trousers or jeans for men, long or short sleeve dress shirts (with or without collar). Dress shoes or sandals. No shorts, t-shirts, sleeveless shirts, sneakers, flip flops or slippers. No hats.
Do I need to reserve a table for dinner?
You don't need to book in advance for most restaurants but if you wish to do so, reservations can be made once you arrive at the resort - but not before.
Will Sandals accommodate food allergies?
Yes, if you contact Sandals in advance* with your arrival date and booking reference.
Do all Sandals restaurants open and close at the same time?
No. Check the website for individual restaurant opening days and times*.
Can I visit restaurants at other Sandals resorts?
Thanks to the "Stay at One, Play at All*" exchange programme, yes, you can, with free transfers between resorts in the same town. This applies to Sandals resorts in Barbados, Jamaica and St Lucia.
Popular cuisines at Sandals resorts
Resort
Caribbean
Italian
Sushi
Teppanyaki
Seafood
Sandals Grande Antigua*
St Johns, Antigua
✓
✓
✓
✓
✓
Sandals Emerald Bay*
Great Exuma, Bahamas
✓
✓
Sandals Royal Bahamian*
Nassau, Bahamas
✓
✓
✓
✓
Sandals Barbados*
Maxwell Beach, Barbados
✓
✓
✓
✓
✓
Sandals Royal Barbados*
Maxwell Beach, Barbados
✓
✓
Sandals Royal Curaçao
Curaçao, Curaçao
Sandals Grenada*
St George's, Grenada
✓
✓
✓
✓
Sandals Dunn's River
Ocho Rios, Jamaica
Sandals Inn*
Montego Bay, Jamaica
✓
Sandals Montego Bay*
Montego Bay, Jamaica
✓
✓
✓
✓
Sandals Negril*
Negril, Jamaica
✓
✓
✓
✓
Sandals Ochi*
Ocho Rios, Jamaica
✓
✓
✓
✓
✓
Sandals Royal Caribbean*
Montego Bay, Jamaica
✓
Sandals Royal Plantation*
Ocho Rios, Jamaica
✓
✓
Sandals South Coast*
Whitehouse, Jamaica
✓
✓
✓
Sandals Grande St Lucian*
Gros Islet, St Lucia
✓
✓
✓
✓
Sandals Halcyon Beach*
Castries, St Lucia
✓
✓
✓
Sandals Regency La Toc*
Castries, St Lucia
✓
✓
✓
Sandals restaurants
Tempted to book your all-inclusive stay? Browse our collection of the latest Sandals deals and sale offers for 2023/2024 so you can stop salivating and start packing today.
Discover more about Sandals
Be inspired
Get your weekly fix of holiday inspiration from some of the world's best travel writers plus save on your next trip with the latest exclusive offers
We promise not to share your details
Explore holidays in the sun for less